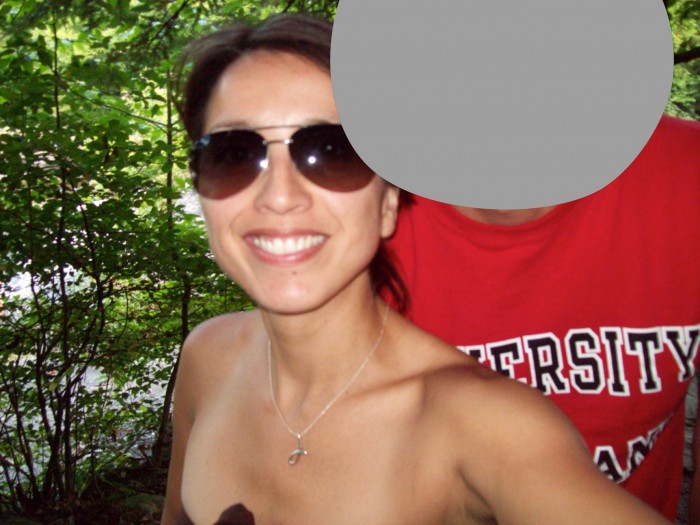 Embarrassingly, I recently finished watching the first eight seasons of How I Met Your Mother pretty fluidly. And even more embarrassing, after watching it, I now find myself evaluating most attractive men I cross paths with as possible "to-the-end" mates.
Listen, this is not an all-day, all-encompassing kind of thinking, but it does cross my mind that the first time this supposed person and I meet, it will be something we talk about for as long as we are together.
And as an in-her-thirties female on the dating scene with three long-term relationships, including an engagement under her belt, I know the beginning is an important aspect to our story.
My first relationship came about in a small Canadian city mall at the ripe age of 17, next up was someone who sat beside me on a plane from the UK to the US, and then finally someone who sat at my counter in a cute diner in Washington, DC.
All three had their charm and way of flowering into a relationship full of love, then evolving to slight disappointments and finally to the absolute end where we have either identified it as a learning lesson or a big mistake.
I know I'm not alone in this search for the perfect mate, as it's innately human, but man-oh-man sometimes I feel quite alone in this quest. (Although it's pretty hilarious right now in this moment as I sit here all single in this cafe reading dating blogs, laughing my tail off while Elvin Bishop's, I Fooled Around And Fell in Love blares above me—the song is about someone who destroys women, finally falls in love and is eventually himself hurt.)
And as funny as this moment is, reading these dating blogs is slightly disheartening because the math is not looking good for someone in her mid-to-late thirties—I'll let you guess. Men my age want someone younger and someone younger wants to sleep with someone my age but not consistently date or get into a relationship.
Really though, does a Gen-X-er really want to date a Millennial? Please re-consider if you are at all thinking about it.
Here's the deal, things change a lot from when you are in your mid-to-late twenties—back then, it's all about having a fun time. As the thirties and even mid-thirties approach, things change. There's more thought put into the choices of dates one goes on, and a desire to pair up takes hold.
Personally, I was off the market from my late twenties up until two years ago and thought my dating years were long past. Now, having re-entered this "market" or "scene," I have many moments of feeling completely lost. To be honest, most of the time I can't tell if people are flirting with me or just wanting to talk. Am I really supposed to figure this stuff out? Anyone who wants to talk about anything significant seems like they just want to be friends. Seriously, I need some guidance here.
Yes, I am enjoying my single-hood very much—the freedom to come and go as I please and do whatever I like is pretty sweet. And I do often think that this will pass and that I really need to enjoy these moments, relishing my precious alone time while I still have it.
But, there is a deep part of me that simply wants to curl up in someone's arms, enjoy a sleep-in with them and to be taken care of once again quite soon. Maybe even have a conversation outside of yoga talk, about the entrepreneurial life and of healthy living—the hustle and bustle of my life needs me to take it down a notch and the Libra in me so badly needs the lovin'.
Now, the way I dated before is much different than the way I think I need to date now.
Previously, I would meet people out having drinks or cocktails, all the while being super cute and merry. With alcohol as a base, I was able to loosen up and be a bit more open about what I was interested in—whether it was true or not. Now at this stage in my life, as a yoga teacher working on living a clean lifestyle, I don't want to have to drink to get to know someone. With truth as my base and always being in the context of a yoga room, I find that things are much harder to open up to with the few men nearby.
So the limited times I was able to meet some men, I have wondered about how we would fit into each other's lives.
And even, sometimes I would think, "Is this the person I will spend my life with? Is this the meeting that we will end up laughing about?"
Crazy, huh? Or sorta silly. I am embarrassed, but not enough to shy away from sharing this: sometimes I think that maybe this "person" is already within my orbit and I have no idea this union will occur—which I really wouldn't see at this stage anyway, right?
I'll assume I'm dateless these days because I'm simply not ready and that's the vibe I'm giving off. I have friends that have gently nudged me towards setting up profiles on dating sites, but I am a romantic and feel that I'll meet someone the old fashioned way—by crossing paths with them. Just as Ted Mosby eventually does on How I Met Your Mother. He doesn't give up no matter how solemn and lonely the path is and seems. He and his friends carry on with their lives creating something special and making great memories as life unfolds before them.
So, until that day arrives, with my over-stimulated mind, I'll move forward creating funny story lines with my friends in real life.
Love elephant and want to go steady?
Editor: Travis May

Photo: Author's own