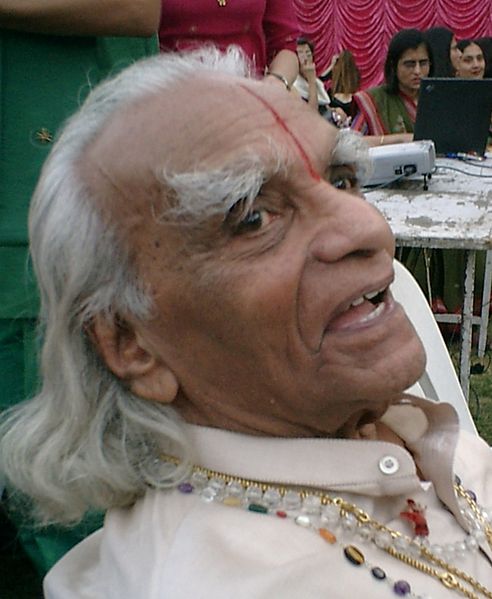 This evening I viewed a post from a respected Iyengar Yoga teacher saying:

Guruji has left us—his passing confirmed as 3 a.m. India time.
As expected, the news is flooding social media.
According to the page "BKS Iyengar Yogashala" on Facebook:
Guruji BKS Iyengar has left his mortal body on August, 20 , 2014. But he lives with us all the time through immortal teaching.
A week ago, we heard news that BKS Iyengar, the founder of Iyengar yoga and world-renowned yoga teacher, was admitted to the critical care unit of a private hospital in Pune, India.
Well-wishers from all over the world sent love and light, and prayed for a speedy recovery for Guruji.
Following the news of Iyenar's admittance to the hospital, the Iyengar Yoga National Association of U.S. reported that: "Everything is in control and as we all know Our Dear Guruji is a lion-hearted man, he can come out of any storm."
It did seem as though Iyengar's health was improving; doctors reported that Iyengar was conscious and orientated and is eating light food.
However, per the Times of India, the guru was put on dialysis on Sunday due to his kidneys failing to adequately filter waste products from his blood. At first, Iyengar's kidneys responded to treatment and his health condition appeared to improve somewhat. However, the aforementioned article also stated that his urine output later dropped and hadn't picked up again.
The 96-year journey of the adored and respected teacher has come to an end, and no doubt Guruji has transformed the consciousness of many.
May his journey to the other side be an amazing accumulation of all that he has manifested.
"The hardness of a diamond is part of its usefulness, but its true value is in the light that shines through it."― BKS Iyengar, Light on Life
Love elephant and want to go steady?
Editor: Catherine Monkman
Photo: Wikimedia Commons