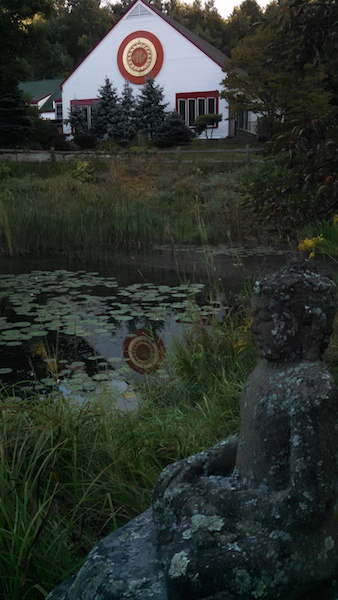 Friday, August 15, 2014
Car packed, oil changed, goodbyes said, on the road at 10am.
Fourteen hours later, check-in to motel in Hartford, Connecticut.
Wired. Up until 3am.
Saturday, August 16, 2014
Up at 8am.
One hour meditation. Shower. Dress. Breakfast. Drive.
Arrive in Barnet, Vermont at 3:30pm.
Exhausted and excited, turn down wrong street.
Quickly realize I'm on wrong street. Start to turn around.
Tires touch well-groomed lawn.
Livid lawn-groomer storms out from behind house.
"Hey!! What are you doing!?"
Startled by his ferocity. "I'm sorry."
"No you're not! You dumb bitch!"
"No really. I'm really sorry."
Livid lawn-groomer storms back toward house. I bet he has a gun.
I burn rubber.
Now on the right road, pulse is returning to normal.
Karmȇ Chöling's slightly over-grown lawn smiles a warm welcome back.
Park in the lower lot and walk up the hill
to the cheerful white farmhouse with red trim.
The spicy-green aroma of countless conifers
is as pungent and intoxicating as I remember.
The flowers.
More varieties than I will ever know, blazing in every color known to man, wave hello.
The flags do, too.
Up the steps onto the chair-lined porch. Big smile.
Once inside, there's an efficient/chaotic line
to check-in, get work, sleep and seat arrangements.
See some familiar faces, make new friends on the spot.
Such is the Kingdom of Shambhala.
All checked-in, drive up to the house,
unpack clothes, books, essential items into my cubby.
I am not a light packer.
Many non-essentials stay in the car.
Park in lower lot, walk back up to visit the most magnificent garden ever.
Linger until dinnertime.
I don't remember that dinner or much else from that night.
Except bedding down in that gleaming shrine room
where thousands of hearts have opened.
The least expensive accommodations at Karmȇ Chöling,
and they are the most sublime.
I am exhausted. And tingling with anticipation.
Sleep is slow to come,
then deep and utterly peaceful.
Sunday, August 17, 2014
Up at 5am.
Shower. Dress. Put away bedding.
Walk slowly down to parking lot to get my coffee cup from the car
(one essential item I'd forgotten).
The land is shrouded in cool morning mist.
Fearless deer glance nonchalantly as I pass.
Remembering that the coffee is so good here.
The parking lot is more full than it had been yesterday.
Remembering I'd parked next to the trailhead.
Wait a minute. Where's my car?
Walk the length of the parking lot twice.
It's not a big lot. Maybe 15–20 cars.
But not one black Honda CRV. Not one.
WTF???
Walk halfway back up the hill.
Back down to look again.
Still no black Honda CRV.
This is happening. My car is gone.
Up to the house to tell someone.
No one at the front desk. Page the Kasung on Duty.
He is there in minutes, rubbing sleep from his eyes.
"Did you page me?"
"Yes. It appears my car has been stolen."
"Uh, what?"
"My car is not in the lot. I walked the length of it three times."
"Let's look again to be sure."
"Yeah, let's."
The two of us walk the lot. There is no black Honda CRV.
I show him the spot where I knew I'd parked.
He sees it first. The broken glass.
This is happening. My car is gone.
A Vermont state trooper comes.
I have my first ride in a squad car (front seat, not back).
It's the first day of Enlightened Society Assembly.
An announcement is made.
Other things have been stolen at Karmȇ Chöling this summer.
But only one car.
I am instantly famous.
I am determined to be fine.
I am fine.
People express concern and kindness.
Tears come.
I am not fine. I feel fragile.
Tears come and go throughout the day.
People comfort me. I let it in.
Second night of sleeping in that gleaming shrine room is deep and impossibly peaceful.
Monday, August 18, 2014
I am here for two weeks.
I don't need to go anywhere.
Not having a car is irrelevant.
I came here to open my heart and bear witness to others doing the same.
So I do.
Tuesday, August 19, 2014
A call from a police officer in Groton, Vermont.
"I have some things that I believe belong to you."
No black Honda CRV,
but laptop, purse (I had wallet with me), CDs, glove box contents.
The peace sign that hung from the rearview mirror.
Found by a hiker in a nearby state park.
Wednesday, August 20, 2014
We take the Enlightened Society Vow together.
"I fearlessly commit to benefiting all beings
by creating enlightened society."
"Knowing that such courage intimidates others,
through enlightened reflection and deep contemplation,
I have come to this conclusion:
if humanity and all beings who suffer at the hands of their own doubt
are to be truly happy,
they must discover their own basic goodness."
This includes the person who took my car.
The livid lawn-groomer.
The child-molesting step-father.
Those who have raped.
Those who have killed.
Those whose politics make me bristle.
There are no exceptions.
For two weeks, we contemplate basic goodness.
Our own.
That of all beings.
That of society itself.
We have the audacity to proclaim that the ground of all being
is fundamentally good and complete.
We create a society founded in this conviction.
It is not a utopian la-la land.
It is a real society
of real people
who experience real pain.
And real joy.
In the mountains of Vermont
we create enlightened society.
Sunday, August 31, 2014
Up at 5am.
Shower. Dress. Breakfast. Pack.
I am given an envelope.
It contains $500.
The amount of my insurance deductible.
The generosity of enlightened society.
Tears come.
I am fine.
I meditate for the last time in that gleaming shrine room.
Alone.
People saying their goodbyes outside.
The spicy-green aroma of countless conifers still pungent and intoxicating,
wafting through the open windows.
I leave a piece of my heart in this gleaming shrine room,
there with thousands of others.
A shared ride to a town in New Hampshire
Where I rent a car and drive home.
Monday, September 1, 2014
My dog, Banjo lavishes me with kisses and fervent tail wags.
Dad hugs me for a long time, tearful and smiling.
Betty the cat meows, "It's about time you showed up,"
and purrs her forgiveness.
Sleep in my own bed is deep and utterly peaceful.
Tuesday, September 2, 2014
Awakened at midnight by a call from police in Stowe, Vermont.
"We've found your car."
Love elephant and want to go steady?
Editor: Travis May