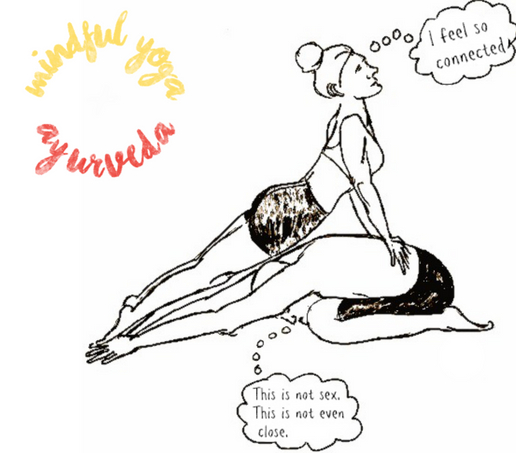 25 Reasons Yogis are Bad in Bed:
Yogi Sex Debunked.
"Dude, your girlfriend is a yoga instructor? Nice."
We've all heard it. The truth is a little less sexy than the projection.
Here's what he wishes they knew:
1.     Her Ayurvedic Dosha only permits sex twice a month.
2.     She makes him set an intention. "To have sex" is inadequate.
3.     He gets pumped up with Bon Jovi but the only tunes to turn her on are Bon Iver's.
4.     It's about self-acceptance not self-improvement, but she demands he up his ginger intake—to stimulate blood flow.
5.     She calls each position a pose. She prefers long holds.
6.     She insists on doing everything in front of the mirror, "to check alignment."
7.     Each pose is, as the Yoga Sutras prescribe, "steady and comfortable."
8.     Bouncing is bad for flexibility.
9.     Her dirty talk consists of "melt your heart", "surrender" and "let it go."
~
*Mayan culture & Caribbean vibes at Maya Tulum Resort, Tulum, Mexico – book now and get a discount when you mention Elephant.
~
10.  Her moans sound like she's fogging up a mirror with her mouth closed, or like Darth Vader. Occasionally she lets out an augh-m.
11.  Her interpretation of the Kama Sutra is sleeping pigeon: the one instance he wishes she'd take sacred texts more literally.
12.  He wants it doggie style and she gives him cat/cows.
13.  She thinks floor frog is the same as reverse cowgirl.
14.  She mistakes missionary for Savasana.
15.  "Lose the breath and you lose the pose" is her mantra. Oddly this doesn't apply to him.
16.  Her time outs are often accompanied by a mid-sex sermon. Alternatively, she decides that when he's upside down, out of breath, and sobbing sweat is an ideal time to lecture on the chakras.
17.  Her prioritization of stretch over sex occasionally makes him feel like a prop.
18.  She calls this a "practice," but cues him like she's deploying him.
19.  He's as deep as humanly possible but still she orders him to activate his Mula Bandha.
~
*Wine & Wellness at Dahlonega Spa Resort, GA- book now and get a discount when you mention Elephant.
~
20.  Just as he's about to blow she demands he "find stillness."
21.  She instructs him to "arrive in this moment" and then blames him for … too fast.
22.  She tells him to practice non-attachment by not focusing on the outcome; exempt is her preoccupation with her own "peak posture."
23.  Sex is broken up into "series": after climax he has a whole other half.
24.  Around that time it becomes explicitly clear her DIY deodorant isn't working.
25.  She decides when it's over, leaving him on hard ground in a dark room on his back.
~

Relephant Fun Reads:
Love elephant and want to go steady?
Editor: Waylon Lewis
Photo: Author's Own