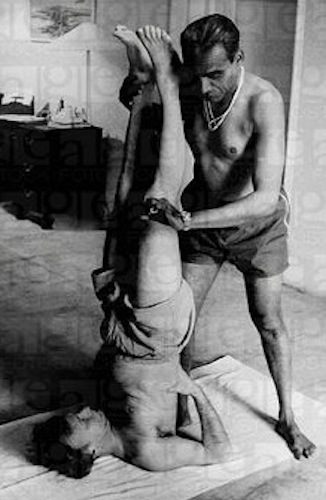 One day in l968, Dr. Haridas Chaudhuri, founder of the California Institute for Integral (Asian) Studies put a newly published book in my hand Light On Yoga by Mr. B.K.S. Iyengar.
There were only a handful of yoga teachers and teachings in the US at that time and I was always searching for more knowledge and wisdom to bring to the yoga teachers I was training. This was the 1960's and there was growing interest in yoga.
It was difficult to believe that the man in the photographs was the writer of the text. His poses flowed like music and the writings inspired like poetry. The text felt ancient as if great masters were speaking through the pages to bring the practitioner back to the original tenants of yoga and its vast integration into all spheres of philosophies and life.
I did not know that Light on Yoga and B.K.S. Iyengar would one day change my life, my practice and teaching. I devoured the pages of the book, gnarling my limbs into replicas of the photos and fervently inhaling and exhaling pranayamas that cooled like the moon and burned like the noonday sun.I tried to emulate the pictures stretching my arms across the world plane to the pole star in the night sky.
Through the book I was finally truly grasping that Yoga brings inner peace and harmony through integration of body, mind and spirit.
I learned that Yoga can bring about a self-realized state of being, an experience of the world as an illusion in the vast array of universal consciousness. Mr. Iyengar's book filled my heart with knowing that yoga was a doorway to ever-expanding consciousness. These were the teachings I longed for. The author alluded to what I had felt but at times doubted—that all eight limbs of Astanga Yoga including Samadhi could be experienced in one Asana.
Who was this man? Where could I find him? We needed him to come to the West Coast and train our teachers and students.
After many inquiries someone remotely remembered Mr. Iyengar teaching somewhere in the area of Bombay, India. My husband and I ventured to India with the intention of finding this master, who I felt was to one day become a major evolutionary giant in the world of yoga but we could not find him.
The last day of our India trip I was asked to sit in on a private yoga session for our host's daughter. As I watched her teaching and demonstrating the headstand wearing a sari I marveled at her gracefulness and precision of the pose, especially in a Sari. By this time I had given up on my search for the elusive Mr. Iyengar when she offered I have a wonderful teacher. His name is Mr. B.K.S. Iyengar. Have you heard of him?
My eyes filled with tears of relief that the journey was not in vain.
After an exhausting pilgrimage to Pune and a series of miracles we finally found Freny Motiwala, the one who would take us to Mr. Iyengar.
The search had ended but the journey was about to begin.
Mr. Iyengar lives in a very small dwelling, said Freny preparing us for our meeting. He sleeps in one room and teaches in the other. You will not be able to join in the class as there is no room and it's already in session. Freny gave me hope. But you may observe his class and later meet with him in private. My heart was pounding with anticipation. At last, after two years of inhaling his book I would meet this great master in person.
My husband and I squeezed into a small, tiled vestibule where we removed our dusty shoes. With whispered instructions, we were guided a few steps into the main room of the Kutir where only seven students were standing with outstretched arms and legs. The man pictured in Light on Yoga appeared smaller than he had in the book. With a scowl on his face his large hands and loose wrists stung a student with a blow beneath an outstretched palm and fingers that seemed to snap to attention.
"I am not slapping you," he said to the surprised student and all others in the room. "I am awakening the sleeping intelligence that lies within you. Consciousness is pervasive. It is in every cell of your being. As you do the pose, expand the consciousness throughout every part equally. We are not just shifting consciousness but we are expanding consciousness through the alignment and precision of Asana."
Head balance barked Mr. Iyengar his voice bigger than the tiny room. Students scurried for blankets, aligned hands, feet and spine and lifted like parchment flying into the air with only space to support them.
Mr. Iyengar worked like a sculptor moving bodies into an exacting alignment with or against the gravitational pull of earth. He lifted hips to alleviate lumbar compression, corrected spinal and neck curvatures, extended ankles and opened arm pits to take the pressure off the neck.
Your armpits have been lying in darkness, he said, Now, open them to the light.
He used his hands and arms like a conductor's baton bringing the instrument of the body into a harmonious symphony.
"Paschimottanasana," the words were barely out of Mr. Iyengar's pierced lips when seven bodies folded in two with foreheads on chest, knees or shins depending on the flexibility of their hamstrings. Mr. Iyengar jumped on the back of one of the students, using his toes like fingers, moving the back skin towards the hips to achieve a desired affect in the Asana.
I glanced at my husband whose face was colorless with fear as he watched Mr. Iyengar move bodies into a full act of surrender as the upper and lower halves converged into one. You want to study with him? he whispered through clenched teeth. I'll have to take you home on a stretcher.
Just then Mr. Iyengar jumped on the back of an American student who moaned under the weight of the Yogi. He turned his head slightly to one side to direct his voice upwards. Oh Mr. Iyengar, how I love to hear the pitter-patter of your little feet upon my back. Mr. Iyengar laughed and his smile lit up the room. He jumped off the student's back and, with what seemed like great affection, slapped him on the shoulder and walked away laughing, Class over.
My husband sighed and the color returned to his face. He's wonderful, he whispered as we were led into the room where Mr. Iyengar slept and ate. We perused the pictures on the walls—Mr. Iyengar, with the Queen of Belgium, with the famous violinist Yehudi Menuin, with J. Krishnamurti.
My husband was impressed and stood as Mr. Iyengar stepped through the doorway.
We sat on his bed and he in a chair across from us. With tears in his eyes he showed us pictures of his late wife Ramamani, who had recently passed away and told of his desire to build a Yoga Center that would be a lasting monument to her memory. We sipped tea and munched on sweets as he shared stories of his Guru, Sri Krishnamacharya, who I knew to be one of the great Yogis who walked the earth. It seemed like a dream that would be over way too fast. Mr. Iyengar, would you…could you…I stammered…come to California and teach our teachers?
He came. He lived and practiced in my home and taught many Yoga students and teachers in the U.S.
I did not know that moment in Pune would lead to my starting his first national non-profit organization, Iyengar Association of Northern California and developing the curriculum and foundation for his first US Yoga Teacher's training school, The Iyengar Institute of San Francisco.
I did not know that day how much his teachings would ignite America and the world, transforming and revolutionizing the lives of hundreds and thousands of Yoga aspirants. I could not see how his teachings of alignment would one-day open new pathways of Asana drawing practitioners deeper into the essence and infinite expression of the pose as the essence of life.
As he escorted us to our waiting taxi I blurted out one more question. There are times I just don't want to teach anymore but the students keep coming. I never think I know enough. As we slid into the car Mr. Iyengar smiled and a thousand suns lit the night sky. The car door closed and through the open window he did not say goodbye but instead said,
"When I walk into a class and there is someone there, I say, "Thank God I have someone to teach. One day, when I walk into the class and no one is there, I will say, Thank God, I am Free."
Mr. B.K.S. Iyengar has changed the course of Yoga and left an indelible imprint. The legacy of his work is a gift to his students and to all humankind. This great light of yoga is not extinguished but will continue to grow brighter. His presence will be missed on this earthly plane but his teaching and writing will continue to light the path of Yoga for generations to come.

~
Love elephant and want to go steady?
~
~
Editor: Ashleigh Hitchcock
Photo: pinterest