"The great thing about Ayurveda is that its treatments always yield side benefits, not side effects."  ~ Shubra Krishnan
Kashaya is an Ayurvedic drink which offers loads of health benefits.
While there are many variations of kashaya, this one is the easiest and has the same health benefits as well.
Kashaya comprises of four basic ingredients: black pepper corns, coriander seeds, cumin seeds and fennel seeds. The procedure to make this powder is fairly simple.
This is an excellent drink to keep the cough, cold and flu at bay as well.
Just a quick summary on how the ingredients used in this making of this drink actually help:
Coriander seeds

 are known to ease digestion and are a rich source of Vitamin C. It also contains iron that prevents anemia and is recommended for women who have menstrual  irregularities.

Fennel seeds

 helps in maintaining the blood pressure and and promotes better heart health because of the potassium levels in it. Fennel seeds also aid in digestion and it helps to rest the tired me!

Black pepper

 is an decongestant and helps to clear the sinuses. It is a recommended spice to cure the cough and flu. I also has anti bacterial properties that builds up immunity.

Cumin seeds

 are known to have a high content of vitamin E which keeps your skin healthy and glowing.  It is also an excellent detox that helps you to flush out the impurities from the body.
To make the kashaya powder, you need
1 cup coriander seeds
1/2 cup cumin seeds
1/4 cup fennel seeds
1 tsbp black peppercorns
I dry roast all the ingredients together till I get an aromatic fragrance. I took approximately five minutes at the lowest flame possible. Next, I spread the roasted ingredients on a plate and let it cool. I ground the dry spices to a smooth powder and stored it in an airtight jar.
To make the brew all I did was boil 200 ml of water and add half a teaspoon of the powder to this. Next I added half a teaspoon of grated jaggery to it.  I added less than two tablespoons of milk ( this is optional) and turned off the flame. Strain the mix and it needs to be consumed when it is still hot.
Sipping kashaya regularly has immense health benefits. For me they include:
Better digestion and improved appetite
Reduced intensity of headache
Regularized the menstrual flow and less painful cramps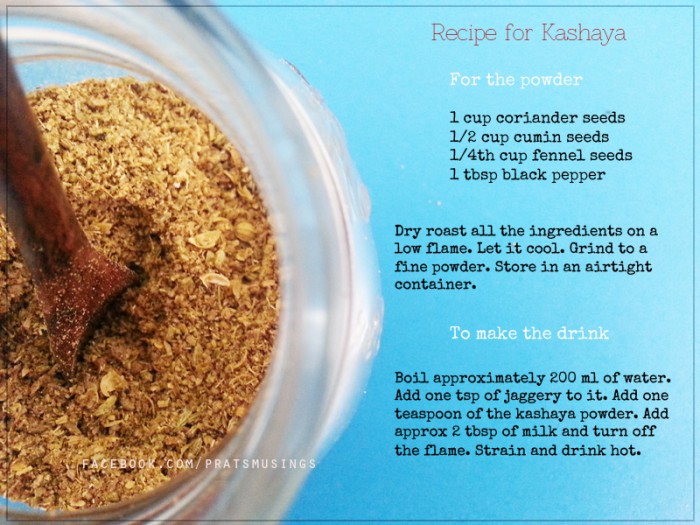 Disclaimer: Do check with your practitioner if you are allergic to any of the ingredients and consume accordingly.
Love elephant and want to go steady?
Editor: Renée Picard

Images: Author's Own.