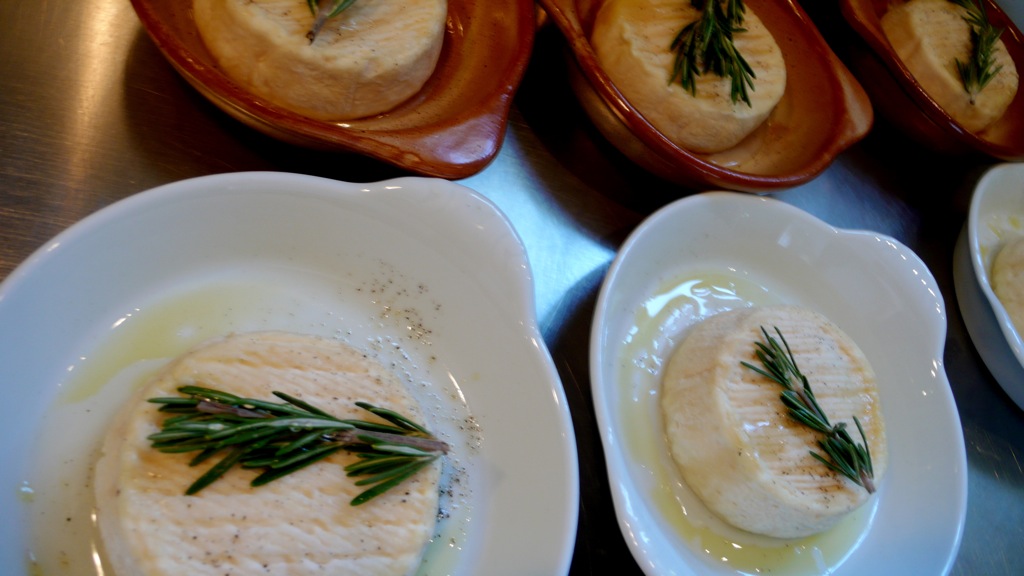 This is not a main dish, but it might just be the best snack ever!
Or appetizer, or dessert, however you choose to eat it, it's lovely. I had it for the first time as tapas at a Spanish restaurant in London, and I knew I had to learn to make it at home. It's not a food for every day… but as a special treat it is truly awesome.
Here's what you'll need:
One disk of goat cheese, (or more, depending on how much you want to make, but one disk is enough for two people to share as a snack or desert)
A couple handfuls of potato chips (try to find the healthiest ones you can, baked chips will work fine)
A few handfuls of dried persimmons
A drizzle of local, organic honey (approximately 2-3 tbsp)
1 sprig of rosemary (per cheese disk)
Now, this is how it was in the restaurant, but you can play around with some of the ingredients if you like.
The point of the dish is really to have a blend of salty and sweet flavors, and the contrast of the creamy cheese with the crunchy chips and dried persimmon. But you can switch some of these things around. You can try pita chips, sweet potato chips, freeze-dried fruits, anything that fits the bill of crispy, sweet and/or salty.
To bring it all together, place the disk of cheese on an oven-safe dish, scatter the chips around it, drizzle the honey on top of everything and last but not least place that sprig of rosemary on top. Then pop it in the oven and bake at 350 degrees Fahrenheit for no more than three to four minutes.
You may need even less time at that, but it just depends how cold the cheese is going in. You don't want to melt it completely, just get it a bit oozy and delicious. Just keep an eye on it and when its soft and yummy, take it out and serve it immediately.
And there you have it: a lovely, unique vegetarian and gluten free treat!
Love elephant and want to go steady?
~
Editor: Catherine Monkman
Photo: Flickr