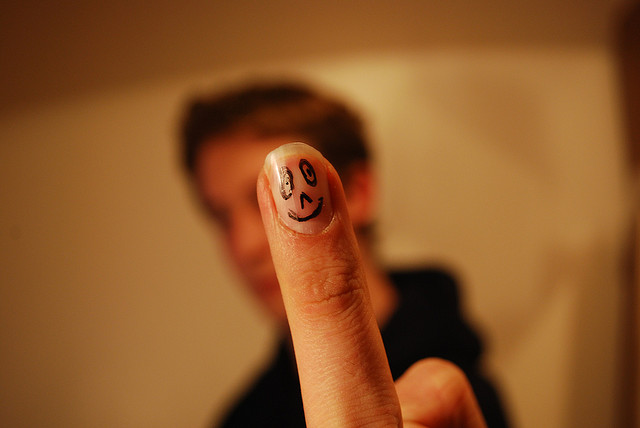 Warning: Naughty language ahead!
I wish I could please everyone.
I really do.
And, fuck do I try.
No, it's not that I just try, I mean, I really commit to that.
I become a shape-shifting chameleon so he'll like me and she'll like me and he'll think I'm interesting and she'll think I'm smart.
Oh, and you too.
Do you like me?
Ah! It's complete mayhem and utter madness, like a poorly executed mental circus.
I bend and I stretch until I can't bend or stretch anymore, until I've all-but snapped in half.
In my wonderfully choreographed number, "I Need You to Like Me," I somehow agree to compromise myself, my needs, and my voice because—wait for it…
I so desperately need you to like me.
Ah, my poor voice!
It's stifled, mostly by my own to hands.
Is yours, too?
Can we take our hands off our throats?
I know. This is hard.
Really hard.
Because it's a way of life that caters to everyone else.
It feels automatic choke out our sense of self.
To swallow our needs and completely censor our voices.
Is there a cure?
Yes.
Pry your hands off your throat and realize that there is actually only one person you need to please:
Yourself.
Your fucking beautiful, amazing, brilliant self.
Yep, you there.
Stand tall and bask in your beauty.
For fuck's sake, just be you.
Voice your opinions. Your needs. Your thoughts. Your feelings. Your love. Your irritation. Your sadness. Your pain.
Voice it all.
Because there are people out there who want to hear you.
I want to hear you.
…Okay, okay.
I know, it all sounds great in theory, right?
But, maybe you're wondering something:
How could I possibly get by if people don't like me? If they leave me?
Oh, you will get by better than ever.
Being liked doesn't mean shit, anyway.
Because, honestly, to get everyone to like us, we would have to shape-shift so severely that we would completely lose ourselves.
Because, honestly, there is no way we can mesh well with everyone.
Because, honestly, when it comes down to it, the people we don't have to try to impress are the ones we want in our lives.
They love us for who we are.
It's really that simple.
The ones who make us jump through hoops can fuck off.
The ones who are bothered by our personalities can fuck off.
The ones who think we're just plain annoying can fuck off.
I'm sorry, but it's true.
We don't need to try so hard.
We really don't have to try very much at all.
Because, most of the time, people's reasons for liking or not liking us actually have little to do with us.
So, isn't it better to just be ourselves?
(Hint: the answer is yes!)
And, I'm beginning to see that as long as I'm true to myself, I give much less of a fuck if everyone likes me.
I can accept it if someone doesn't happen to care for me.
Because at this point, for the first time ever:
I like me.
I really do.
And right now, that feels incredibly fucking empowering.
And right now, that is exactly what I need.
Love elephant and want to go steady?
Author: Sarah Harvey
Editor: Emily Bartran
Photo: stuartpilbrow/Flickr