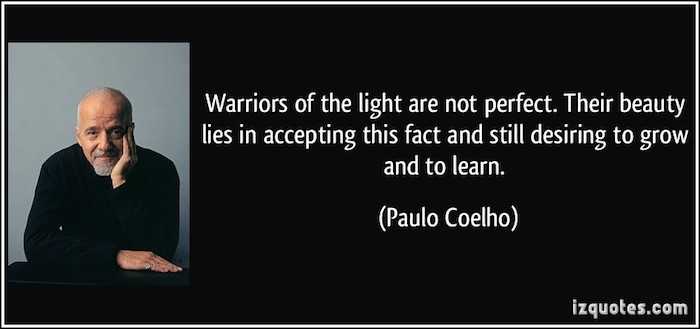 "What is a Warrior of the Light?" "You already know that," she replied with a smile. "He is someone capable of understanding the miracle of life, of fighting to the last for something he believes in—and of hearing the bells that the waves set ringing on the seabed." He had never thought of himself as a Warrior of the Light. The woman seemed to read his thoughts. "Everyone is capable of these things. And, though no one thinks of himself as a Warrior of the Light, we all are."
~ Paulo Coelho, Warrior of the Light
I have been fortunate enough to meet with Paulo Coelho on numerous occasions. Formally invited to parties he has held, I have gotten to know the writer a little more intimately than I did as a reader of his books.
The first time I heard about Paulo Coelho's writings was when I was at a particularly low point in my life. During one difficult week three different people gave me a copy of The Alchemist. Always one to believe in synchronicity, I knew that I was meant to read it.
The Alchemist opened my eyes, mind and life to a whole new world. Each time I read it I take something different away from it and I always seem to pick it up right when I need it most. It is the same with the other books Paulo has written.
I resonate deeply with the words he writes. I believe that is mainly because, I, like Paulo, consider myself to be a Warrior.
Below are a few of my favourite quotes from the Manual of The Warrior of Light by Paulo Coelho.
"No one is entirely good or evil; that is what the warrior thinks when he sees that he has a new opponent."
"A warrior of light does not go into battle without knowing the limitations of his ally."
"A warrior does not keep company with those who wish to harm him."
"A warrior makes decisions. His soul is as free as the clouds in the sky, but he is committed to his dream."
"A warrior of light is never indifferent to injustice."
"A warrior knows when an enemy is stronger than he is."
"A warrior knows his own faults but he also knows his qualities."
"A warrior does not worry that to others his behaviour might seem quite mad."
"A warrior lets go of the ideas of days and hours in order to pay more attention to the moment."
"A warrior shares with other people what he knows of the path."
Here are some characteristics of the Warrior personality.
Positive Traits:
Free spirit
An opportunist—always ready
Courageous
Quick Thinker
Determined—don't give up easily
Proud of battle scars
Resistance to being bullied
Challenges everyone and everything
Earthy and Grounded
A good appetite for food and sex
Very protective of those they love
Does not seek attention
Strong self-discipline
Naturally gets along with other warriors
Highly values loyaty
Fights for justice
Basks in victory after a challenge
High morals and strong ethics
Uncovers the truth
Compassionate
Embraces uncertainty
Negative Traits:
Can manipulate easily
Wreckless, at times to their own detriment
Can use intimidation to get results
Confrontational and sometimes aggressive
Overly competitive
Unpredictable (can be a positive, depends how it is used)
Blunt and abrasive at times
Hot headed and explosive
"Warriors of the Light always have a certain gleam in their eyes. They are of this world. They are part of the lives of other people and they set out on their journey with no saddlebags and no sandals.
They are often cowardly. They do not always make the right decisions. They suffer over the most trivial things; they have mean thoughts and sometimes believe they are incapable of growing. They frequently deem themselves unworthy of any blessing or miracle.
They are not always quite sure of what they are doing here. They spend many sleepless nights, believing that their lives have no meaning. That is why they are Warriors of the Light. Because they make mistakes, because they ask themselves questions, because they are looking for a reason they are sure to find it."
~ Paulo Coelho, Warrior of the Light
Love elephant and want to go steady?

~

~

Author: Alex Myles

Editor: Travis May

Photo: Iz Quotes