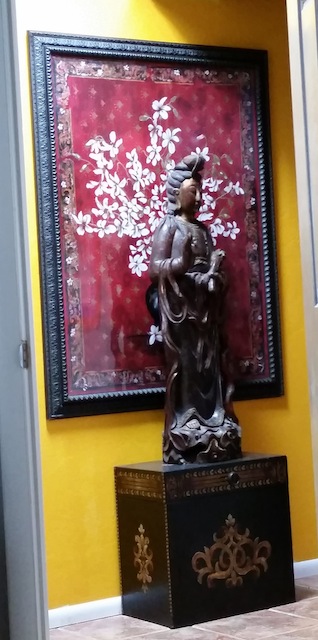 When my partner and I finally decided to break up after 18 years of living together, I wondered how we were going to divide up all our stuff.
Should we see a lawyer?
But he said no.
No lawyers.
He knew how to do it.
We would just go around the house and he would say what he wanted and I would say what I wanted. I could say whether he could have it or not and vice versa until we were both happy. We could also trade. Like if I wanted the TV and he did too, I could keep the TV but throw him back something else.
We tried it with small stuff first like…
"Do you want the cardamom?"
"Yes. I want it. It costs a fortune and there's a special coffee cake I make it with."
"Well, how about the curry we bought from the Russian grocery in Sacramento?"
"You can have that. I have some other curry."
Do you want this? Do you want that?
Mostly it was okay. He could have this and I could have that. But then there was the almost life size, hand carved wooden statue of Guan Yin at the end of the hall, which we both wanted. She's the Goddess of Compassion and she had stood there with her hand raised in blessing, her eyelids dropped in blindness to our faults, for 18 years.
"How about I give you the two red velvet chairs and the three drawer Civil War Chest for the Guan Yin?" I said.
"Okay, if you throw in a hundred bucks," he said.
"I'm not throwing in any hundred bucks. No money. None. Take it or leave it."
And so it went. Smooth. Sort of. A few little ripples here and there. But mostly smooth.
Until, that is, he wanted the Scrabble Game.
That was when the photo album in my mind opened up to all the pages filled with where we were when we had played Scrabble over the course of our relationship—naked at Harbin Hot Springs, wrapped in blankets in the freezing cabin in the High Sierras, sitting at the table with the windows opened to the barking seals and ocean breezes in Santa Cruz, whispering in the dining room at the Land of Medicine Buddha.
That was when the pages and pages of saved Scrabble scores flew by the inside of my eyelids like the pages of a calendar in an old black and white movie.
When I remembered how he used to be able to lay the tiles down quick as a wink and how, as the disease progressed, I had to learn to be patient while he fumbled with them—and patient as he couldn't place them quite in the spot he wanted—and more patient as he could barely even put them on his rack.
When I remembered how he used to be able to sit on the floor and play, lie on the bed and play, even sit at a table and play, without having to get up every five minutes to re-arrange himself or otherwise move his virtually unmovable-if-they-sit-in-one-place-too-long joints.
When I remembered his not in any dictionary in the world seven letter words and the jokes (his) and the fury (mine) at so many games won and so many games lost.
When I remembered telling him that God loved him and I could tell because he won so many more Scrabble games than I did, and when he said that if God loved him so much he'd rather lose at Scrabble and not have Parkinson's disease.
And that's when I remembered that it was with Scrabble that everything began to change.
When I started winning and he started losing and when I told him one night that in my heart, I had always been playing not to lose but that I was now playing to win and that playing to win felt like it was the end of my loving him.
That was when he said he didn't want a losing-at-Scrabble kind of love.
So when he said he wanted the Scrabble Game? That's when I burst into tears and told him, "You can't have it. You can't have it!" There were too many memories inside that stupid cardboard box and he just couldn't take them with him.
I told him he was lucky he'd met Deborah. She could help crowd out the memories, or erase them, or make new ones with him. Maybe she couldn't even play Scrabble, and when I said those "Scrabble Game" words again it made me cry again.
"Do you want the rug in the bathroom? The brown oriental with the blue birds on it?"
"No. You can have that one, but I want the deep red pile in the office."
"How about the Navajo rug on the wall?"
"You can have all the Navajo rugs. I want the 1930's turquoise blanket from Mexico.
I lay in bed that night debating about whether to drive to the Heart Hospital.
It was the second time I had that tight band around my chest feeling. My breathing shallow. My left arm and hand numb.
I reminded myself that just after he was diagnosed, I'd had those same symptoms and that I was in the hospital for 48 hours while they tested this and that and the other thing and told me it was anxiety.
They gave me some supersonic high tech stress test for my heart and told me there was nothing wrong with my heart. It was anxiety, damn it, and that night in bed I reminded myself "You are not having a heart attack. You are having an anxiety attack."
And to hell with it: I got up and took one of the old Oxycodones I had from years before (everybody saves their old Oxycodones) and finally fell asleep around 3:00 a.m.
I do not recommend this breaking up an 18 year live-in relationship thing to anyone.
Not anyone.
No matter how much a person might think they want it. Or how much better they think their life will be.
Getting from who gets to keep the cardamom to who gets to keep the Navajo rugs, just getting from here to there, makes me cry over Scrabble games and gives me pains in my chest in the deep, dark, lonely, I-don't-give-a-damn-about-the-cardamom, nights.Q
No. I don't recommend it.
Thank God, when it was finally over, I at least had Guan Yin to keep me company. And the Scrabble Game. And no lawyers involved.
Love elephant and want to go steady?
~
~
Author: Carmelene Siani
Editor: Ashleigh Hitchcock
Photo: courtesy of the author