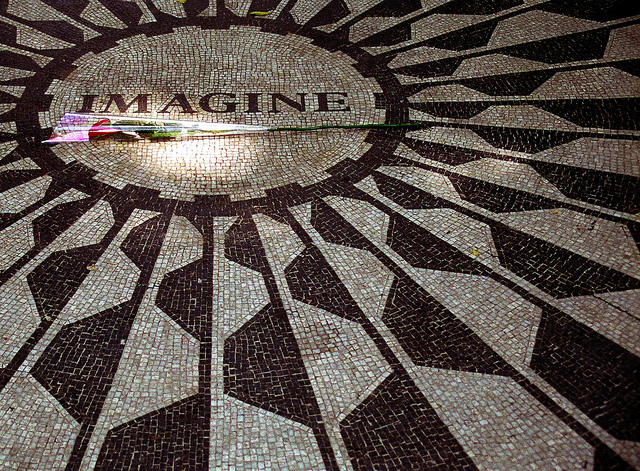 "It matters not Who you love Where you love Why you love When you love Or how you love It matters only that you love." ~ John Lennon
John Lennon transcends his own biography, and certainly anything I can say about him. The man, the singer, the performer, the artist, the activist, the writer, the cartoon-drawer, the dreamer, the agitator, the lover, the inspirer … his ever-special consciousness permeates our culture still, and for this, I—and the teenaged version of myself devouring every unauthorized biography and falling deeper and deeper in love—am so grateful.
More than ever (it always seems to be more than ever), we need to pause, breathe, let Lennon's words (and words-in-song) move through us, and reach the very limits of our capabilities in striving for the easing of suffering everywhere.
May we keep his eloquent, impassioned and enduring pleas for peace in our hearts.
In the words of John (it was 34 years ago today):
"We've got this gift of love, but love is like a precious plant.
You can't just accept it and leave it in the cupboard
or just think it's going to get on by itself.
You've got to keep watering it.
You've got to really look after it and nurture it."
"Count your age by friends, not years. Count your life by smiles, not tears."
"I believe in God, but not as one thing, not as an old man in the sky. I believe that what people call God is something in all of us. I believe that what Jesus and Mohammed and Buddha and all the rest said was right. It's just that the translations have gone wrong."
"Make your own dream."
That's the Beatles' story, isn't it? That's Yoko's story, that's what I'm saying now. Produce your own dream.
If you want to save Peru, go save Peru. It's quite possible to do anything, but not to put it on the leaders and the parking meters. Don't expect Jimmy Carter or Ronald Reagan or John Lennon or Yoko Ono or Bob Dylan or Jesus Christ to come and do it for you. You have to do it yourself.
That's what the great masters and mistresses have been saying ever since time began. They can point the way, leave signposts and little instructions in various books that are now called holy and worshipped for the cover of the book and not for what it says, but the instructions are all there for all to see, have always been and always will be.
"There's nothing new under the sun. All the roads lead to Rome. And people cannot provide it for you. I can't wake you up. You can wake you up. I can't cure you. You can cure you."
"You don't need anybody to tell you who you are or what you are. You are what you are!"
"I'm not afraid of death because I don't believe in it.
It's just getting out of one car, and into another."
"A dream you dream alone is only a dream.
A dream you dream together is reality."
And, from heaven itself, (or from "Across the Universe"):
"Words are flowing out like endless rain into a paper cup,
They slither wildly as they slip away across the universe
Pools of sorrow, waves of joy are drifting through my open mind,
Possessing and caressing me.
Images of broken light which dance before me like a million eyes,
They call me on and on across the universe,
Thoughts meander like a restless wind inside a letter box
They tumble blindly as they make their way
Across the universe
Sounds of laughter shades of love are
Ringing through my open ears inciting and inviting me
Limitless undying love which shines around me like a
Million suns, and calls me on and on
Across the universe"
Lennon's final interview:
Love elephant and want to go steady?
Author: Tammy T. Stone
Editor: Renée Picard

Photo: David Ohmer at Flickr