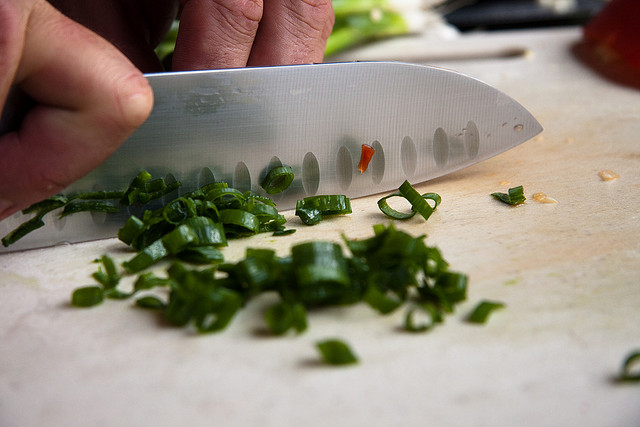 I was chopping lemongrass when I got the phone call.
"Shirley died", my friend said.
"No, she didn't", I yelled a little too loudly.
My inside voice was saying to her "We saw her four days ago, she was the one in the chair opposite us, remember? Venting about a troubling work situation! She was angry, she was passionate, she was only 41!"
"No, she didn't", I shouted again, in case my friend had missed it the first time.
"She died, Alison. On Thursday. It was sudden, it was unexpected. Her daughter found her. I'll call you when I know about the funeral."
Up until now, I had only looked death in the eye when my beloved 92 year old grandmother passed away—but she was old and sick and I got to hold her hand one last time. I had looked death in the eye when my husband and I put down our beautiful old dog, on a crisp September day that seemed like any other. She was old and sick too—and I cried and cried when we lost her.
But I had never had death reach through the phone lines and grab me by the throat until I couldn't breath. I was too shocked to feel. I was too shocked to cry.
I was numb. I wandered around the house looking for something that wasn't there.
I went to my massage therapist. I went to the gym. I sat in the hot bath until it got cold. I went to yoga, because now that ache in my throat had become a knot in my back so painful I could hardly brush my teeth. My grief was lodged firmly in between my shoulder blades that I decided only downward dogs, sun salutations and savasanas could release it.
It didn't.
I felt ill equipped to handle this reality, this grief, so after trying unsuccessfully to reach someone who would "oh honey" me (it was a Saturday night after all), I did what I do best.
I scoured my cookbooks to find recipes I had ingredients for because I couldn't face a trip to the grocery store. Then I started chopping. When I chop, I get into a rhythm of chopping, grinding, sautéing, simmering, salting, spicing, pureeing and tasting. When I chop, I have to pay attention to what I'm doing, which means I'm not thinking about much else.
Like friends dying.
Over the next week I made soup. I filled the fridge at home, I filled the fridge at work. I gave it away to the neighbors.
Soup is warm and comforting and makes me feel connected to the world. Soup makes me feel cared for. It makes me feel like everything will be all right. When I was growing up we ate a lot of soup for dinner. I don't know if it was because it was the 1960s and liberated moms had better things to do. Or if it was because there were six of us kids, only a year apart, and my mom was too exhausted to make anything else. Or whether she was dealing with her own silent grief about life, but had to keep going, keep being a mom, and maybe needed comforting herself. Either way, soup brought us together and became a big part of my culinary comfort zone.
And then it happened. I cried.
I cried for the daughters who would no longer have their mom to "oh honey" them. I cried for the fiancée whose dreams were left hollow, like an empty suitcase. I cried for the sister who wished she hadn't become so estranged. I cried for the parents who sat on opposite sides of the funeral chapel, suffering in silence. I cried for the best friend who spoke so eloquently about a friendship that was unbreakable, almost.
I cried for my remaining hope sisters, who face down cancer and their own tenuous mortality every single day. And I cried for me.
Because I never got to see her dance to those songs they played at her funeral. I never got to know my friend beyond our cancer survivor meetings every Monday night. I never got to know about her life, her loves, her favorite music. I never got to really know her until after she died.
And no amount of soup can ever change that.
~
Love elephant and want to go steady?
~
Author: Alison Wattie
Editorial Assistant: Rebecca Lynch/ Editor: Ashleigh