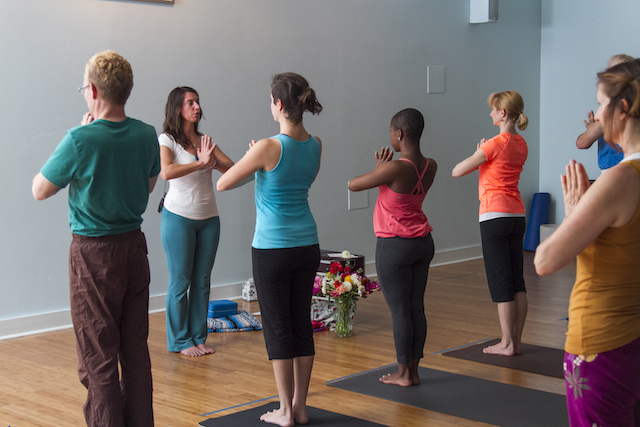 So, you completed your yoga teaching training and you're ready to get out into the world of paid teaching.
Maybe you even want to make your living from teaching yoga.
It all starts with that first gig. But, how do you get your first gig without any experience?
I can assure you, yoga studio managers get several emails a day from yoga teachers who want work. I have been on both sides of this—the one sending out emails trying to get classes as a teacher and the one receiving the emails and booking demos to hire teachers.
Getting the gig can feel challenging, especially for new teachers.
Most of the time when I was the manager I would ask for a resume and look it over. I'd judge the teacher based on if they had experience and invite them for a demo if I was impressed. But there were always those moments when a teacher just bowled me over by their confidence, alignment and charm that I was intrigued and excited enough to blindly invite them for a demo.
This kind of impact is what you have to cultivate to get your first public yoga teaching gigs in studios or gyms.
Here are a few secrets to getting in the door without any teaching experience.
1. Do your research. Make a document of all the studios or centers in your area that are prospective places to teach. Spend time on each website getting a sense of what's unique about the studio.
2. Yoga studio owners and managers hire based on who they know, like and trust. Emphasize personal connections over email connections. Go to the studio manger/owner's class before asking for a job or demo.
3. Believe in yourself and act like you're a pro. Experience or lack there of doesn't matter ultimately. Studios want to know you will be reliable, professional and charismatic enough to retain students. Show these qualities from the beginning in how you create relationship with the owners/managers.
4. Dress in your yoga "professional" outfit when you meet studio owners. Show them what you would look like as a teacher.
5. Exude confidence naturally by making sure that you feel great before going to meet studio owners. Have a dance break (the 'Happy' song?), say a prayer, take deep breaths, practice power postures or say positive affirmations to yourself in the mirror (I am awesome! I'm going to get this job!).
6. During class, be totally in your own personal practice. No need to show off or do the most advanced stuff. Be in your body, your breath and your power.
7. After class, say a few positive things about the class (truthful things) and engage the owner/manager. No matter what they say, leave them with your resume and business card and follow up the next day via email. Be persistent and stay on the top of their mind.
8. It's all about the demo. Even if you have no experience, if you rock your demo and give the owners/managers a great experience—you're in!
9. Always negotiate for a higher pay rate to demonstrate your value but also see the bigger picture. Sometimes it's more important to get your foot in the door in the first place knowing that your rate could go up later once you've established trust.
10. Talk about the experience you do have, like: "I was a physical therapist for 10 years so I know so much about the body. I love working with people on making their bodies feel better. It really lights me up! Do you feel that way when you're yoga teaching?"
11. Stake your claim as a yoga teacher. Declare it and own it! Lead the conversation with the studio like you would lead a yoga class. Basically, be the leader. Don't let their objections or questions stop you.
If you can embody these qualities and do these straightforward actions in this order, studio owners/managers (who are worth your time) will take notice. Sometimes they are overwhelmed, over-worked and stressed; sometimes they are really disorganized.
Don't take it personally and keep following these steps time and time again. You just might be the relief they are looking for!
Relephant Reads: 
Author: Julia Beauchamp
Editor: Renée Picard
Photo: author's own