My relationship with AcroYoga was love at first flight, as was my relationship with my husband.
After many years of practicing, teaching and getting hitched to my acrobatic partner, I have discovered more than I could have imagined about myself and how I relate to relationship. These are some of the most important lessons that may help you find happiness and healthy relationships on or off your mat.
1. Transitions are hard.
In life and in AcroYoga, moving from one job to another, one home to another, one pose to another, that space in between is the most difficult. The unlabeled, un-named place in between one thing and the next is the least stable, most uncomfortable and holds the highest potential for falling. Staying present and breathing through these times will be painful, but it can make the rest of the journey that much sweeter.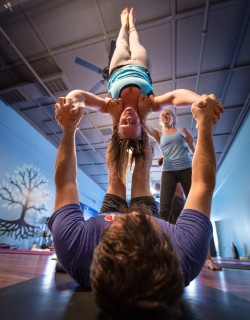 2. Ask for support.
There have been times that I haven't asked for help, and have been disappointed that my partner wasn't telepathic. This isn't a recipe for success for anyone. AcroYoga is a neutral zone where we can practice asking for help, looking for guidance or bringing in more assistance when there is struggle. You can recognize how you react when things get difficult and empower your inner voice requesting what you need. Why can it be so hard to ask for help? I don't know, but we can practice trying.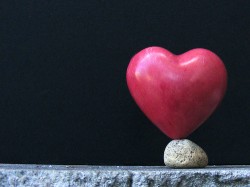 3. Exercise your trust muscle.
My job, when flying, is not to worry about falling, but to stay optimistic and trusting. I feel super supported when my base (the person supporting the flyer in an acrobatic pose) says, "I've got you," especially when I am little nervous during a new pose or transition. I encourage him to say it loud and often. I find I can trust more and more and more, even when nothing makes sense in my logical brain and fear is gripping me.
4. Honesty is the best policy.
Clear communication begins when you are honest with yourself first and foremost. Fundamentally, we all want to be kind, supportive and compassionate. Starting with knowing yourself, your expectations, and having clarity around your own understanding can eliminate a lot of tension and unnecessary struggle. You are not responsible for how anyone reacts, but that you did your best to know and then speak your truth.
5. Letting "it" go.
My partner and I met through AcroYoga and struggled for a few months when our acrobatic partnership became frustrating, it was miserable, while the rest of our romantic life was strong. We agreed to take hiatus from training together. Our relationship blossomed, and when we returned to practicing together we had a new, improved perspective and better communication skills. Research shows that couples who can let some disagreements slide without having to fix everything are healthier and happier in the long run.
What do you practice with your partner? Share your stories and pictures by tagging #SupportedYogis @DevenSislerYoga on Instagram.
Author: Deven Sisler
Editor: Catherine Monkman
Photos: Author's Own