Singapore is one of the largest hubs in South East Asia.
It is an ideal stop-over to travel onwards with budget airlines to countries like Indonesia, Thailand, Vietnam and Australia, but spending some time Singapore itself is also worth considering.
With many chill-out destinations such as Bali or Koh Samui in the vicinity, the Lion City may not be the first place that springs to mind when looking for an exotic, yoga-oriented, health-minded destination in the South-East Asian region.
Indeed, the prospect of walking around in an over-populated and over-commercialised city can be daunting. Around five and a half million people are stuffed onto an island about half the size of London or Los Angeles, so a quiet corner or a breath of fresh air is not easy to find.
Yet Singapore has a certain flair that cannot be found easily anywhere else in Asia.
In my opinion, it is one of those places that combines the best from the East and the best from the West.
Over the past years, I have spent a fair bit of time in Singapore, both as a tourist and as a resident. Along the way, I have discovered a few tricks to avoid getting sucked into its full-on, 24-hour consumerism culture. Or at least, a little less.
Here are my top-five tips on how to attempt to mindfully chill in Singapore.
1. Getting around. Remembering that Singapore is about one degree North of the equator and that a good sun screen is appropriate, it is easy to wander around the city. The side-walks are clean and spacious, street names are visible from every corner, crossings are clearly marked and traffic rules are respected by the majority of the traffic—jaywalking being a serious offense in Singapore. If it gets too hot outside, there is often the possibility to cool down by crossing through air-conditioned shopping malls.
For longer distance travel, the MRT (a.k.a. subway or underground) is the best way to go. The system is super efficient and cheap and it will get you pretty much everywhere in town. I have, in all my travels, never seen a better organised subway system.
By walking or taking the MRT, we avoid traffic jams that cannot be escaped when taking the bus—Singapore traffic is pretty congested—, save money on relatively expensive taxis and reduce our carbon footprint.
2. Eating out. I do not even know where to begin to praise the quality of the food in Singapore. In the food courts (also called hawker food centres), full meals can be bought for as little as USD 3,00 and, as everywhere in Singapore, the hygiene standard is world-class. To be sure, look for the food hygiene grade that each establishment must display and go for A or B grades. I have even eaten at C-graded venues and can happily report that I didn't notice a thing.
Unfortunately MSG (monosodium glutamate) is widely used in Asia, Singapore included. People sensitive to it will certainly feel it after a big, cheap pig-out at any given local food court. I usually wake up feeling like I have been run over by a road train, with puffy eyes and heavy limbs. It is therefore worthwhile looking out for the stalls that boast being MSG-free. They are few and far between, but growing in popularity. Just remember that when it's not mentioned, there is probably MSG in the food.
As a flexitarian, I do make (several) meat and seafood exceptions when I'm in Singapore. The crab, satay and crispy pork are just too good for me to pass on. For true vegetarians, it is best to double check before ordering. A lot of dishes may seem vegetarian, but the gravy or the soup of a bowl full of greens veggies will most likely be meat- or chicken-based. Of course, there are plenty of proper vegetarian dishes to be found, the best bet being Little India or Indian all veg stalls in the food courts. They probably also use less MSG.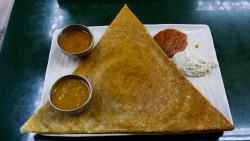 (Masala dosa in Little India)
Organic produce has not massively hit the shelves yet in Singapore but the volume is growing. Look for slightly more upmarket places. But in all fairness, also in Singapore, cheap and organic do not go hand in hand.
3. Finding green. Although Singapore seems to be one big concrete jungle, there is more green and nature to be found than one would expect. Getting out of the city is also a way to stay far from any shopping temptation. Pulau Ubin for example, is an island that has been kept green and purposely "undeveloped". Perfect place for hiking and cycling. Also, by visiting the water reservoirs (MacRitchie, Lower Peirce, Bedok and many more), one can get up close with nature. Singapore wouldn't be Singapore if walking tours wouldn't be mapped, marked and available on internet.
4. Dressing appropriately. I am not referring to any cultural or religious fashion requirement. As far as that goes, anything is allowed in Singapore. Rather, I'm talking about wearing clothes that will get one through an average day of hot and humid outside as well as freezing air-conditioned shopping malls, restaurants, cinemas, museums, MRT's and taxis. Singaporeans simply adore their air-conditioners. The harder and colder the machines blow, the happier the people are. I, on the other hand, love the heat and hate cold air drafts. So I usually walk around in a pair of shorts, a tank top and flip flops but carry a extra scarf or a light cardigan to cover neck and shoulders when entering the freezing zones. Trust me, you'll need it… For those who do catch a cold or get a stiff neck, I can recommend getting a massage. There are many great, affordable salons all around Singapore.
5. Keeping up the yoga practice. Remarkably enough, even hot yoga is popular in Singapore. I have never been to a hot yoga class in Singapore, but I imagine it would require heating up a yoga room in an otherwise air-conditioned building while it's just as hot outside. No thank you, I'll sweat it out a bit more mindfully in an Ashtanga yoga shala. But there is a wide variety of yoga schools available in Singapore, ranging from huge franchise chains to the more private yoga shalas. Some offer free trial-classes, others have regular drop-in prices.
Whatever yoga style tickles your fancy, a morning class is the perfect way to prepare for the hot and hectic day ahead—and to burn the calories of all the copious amounts of fabulous food that, I guarantee you, will be consumed…
May these tips be of benefit to all those trying to be mindful in Singapore.
Happy travels!
Relephant:
Author: Yaisa Nio
Editor: Renee Picard

Photo: WikiMedia Commons and Author's Own