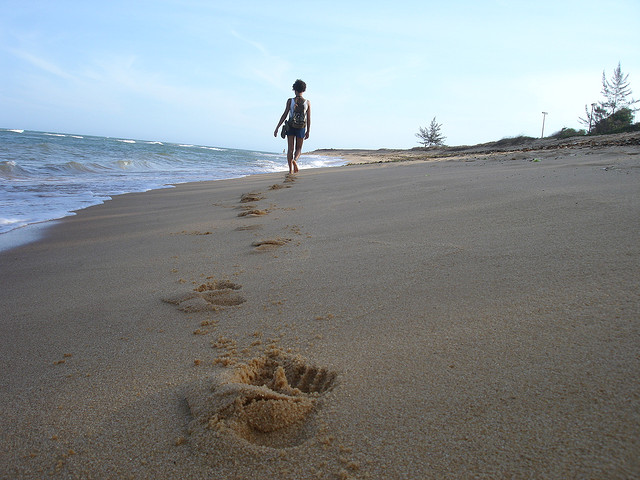 Warning: cursing ahead!
It's a seven letter word. Duh (note: double-count that).
Divorce is still shitty.
No one ever really desires to go through the agony, do they?
I didn't. In fact, it was the single hardest thing I've ever experienced in my life—and probably will remain this way for the entirety of my existence. It fucking sucks.
With rose-colored lenses on your wedding day, you look to the future with lofty expectation, passion and a big ol' world ahead of you. Two hands holding an empty globe, your job is to fill in its oceans, deserts, mountains—its every inch—as one. It's exhilarating.
It's scary too. Like, terrifying.
If there was anything more terrifying than giving yourself to one person for the rest of your existence on this earth, it was giving yourself to one person for the rest of your existence on this earth and entirely losing yourself. I did it anyway.
I believe in marriage. I believe in love. I was married. I was in love. Deeply. Somewhere along the journey, though, I lost that love and I lost myself. I lost sight of the truth. I believed I wasn't deserving of a love bigger than what I already had, and had perceived to be true love. But now I'm back. I'm alive. And, I do not want your pity.
I am not sad. I am thankful.
My divorce wasn't the first time I've taken the path less traveled at a formative juncture in life. When I was 25 I left the corporate world and all of its bullshit to pursue a dream of a life lived far away. I hopped the pond and moved to Prague, Czech Republic.
That was in 2009. Just after a major global recession.
People thought I was crazy. I was. Still am.
Though not many understood this decision, I listened to my gut and left a "secure" job for a life of the unknown. I chose to live fully, not for my soul to die a slow and painful death in a heartless track housing cubicle land. Life as an expat was like looking through a magical and freakishly askew kaleidoscope full of color and confusion. It was like a drug, and I fell deeply for it. But I chose to come back to the States in the name of love. And it was love and it was true and I believed in it.
Fast forward four years.
Here I am, on a flight from New York City to Minneapolis. In the last five months I've moved from Minneapolis to Dallas to Salt Lake, and traveled over 40,000 miles, with stops from the Czech Republic to Istanbul and beyond.
I am officially a professional gypsy.
Last spring, I left ad agency life to move over full time and with my full heart to a business I co-owned. And then I was cut out, as I was heart-deep in the dissolution of my four year marriage to a brilliant MD/PhD. Dazed and confused. Jobless, homeless, carless, insurance-less, and filled to brim with sadness, I decided to not wallow in self-pity but to emerge like a phoenix rising out of the ashes. I chose me.
Because God dammit, I'm worth being chosen.
It was the hardest decision I've ever made.
To leave a relationship that's good but not great…that's fucking hard. But to leave a marriage where you're not being true to yourself—well, that's been a little bit easier to swallow. I am crazy, weird, challenging, unruly, passionate, unapologetically myself, bizarre, and I am incredibly loving and caring. I am not by any means perfect. But I AM worth it.  And I don't ever want to be anyone else (except for a unicorn—I'd love to be a unicorn).
It took work for me to get here. It was not easy.
I nurtured the process en route to understanding. I practiced yoga. I looked for coaching in every nook and cranny imaginable. I leaned on family. And friends.
But it was this article on Elephant Journal that spoke to my troubled heart most clearly. It taught me a valuable lesson: the hardest relationships to leave are the ones that are just okay.
It reinforced what I already knew—that being true to myself, above all else, is essential to living a good, full, happy life. And then, in yoga that night, I was hit smack-dab in the face with an intention that entailed filling in the blanks: _______ is more important than _______.
My intention? Me is more important than us.
It's true. And yes, it's SELFish. Call me a selfish bitch. See if I disagree. I don't. How can one even begin to do any relationship justice if one doesn't love oneself and one is not being true to oneself?
Me is more important than us.
So I left. And in the process, I learned boundaries. I learned heartache. I learned loss. I learned struggle. And most of all, I've learned how to love myself again. A friend once asked me if I felt like I'd be more okay living without a husband and family for the rest of my life than I'd be living with my ex-husband and having a family. Holy fuck. Hard question.
My answer?! You encounter what you manifest in life.
So manifest good, manifest love, and manifest truth. I believe in good, I believe in love, and I believe in truth. I believe in the good things coming. "You are brave," they all said, "you are wise and strong." I made them think.
Remember that this world is bigger and brighter than you can imagine. Know that there is love waiting for you out beyond the limits of your imagination. Put in the work to find love for yourself and follow the call of your heart. But, don't take my word for it.
See for yourself and open your eyes, your mind and your heart.
I am.
And I'm ready to bring these eyes, this mind, and my big ol' heart forward. Oh, and I don't believe that divorce is a four letter word.
Because it's not—it's so much more than that.
It's seven letters. Duh.
Relephant: 
Author: Megan Harrod
Editor: Renée Picard
Photo: marcelometal at Flickr