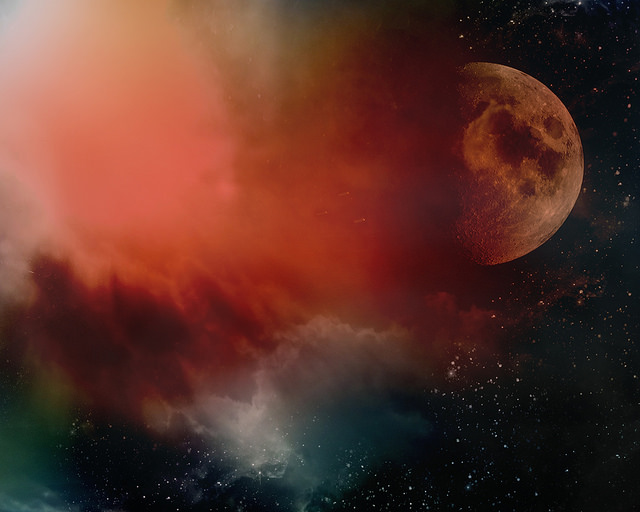 *Eleditor's note: Astrology isn't a religion. We're not sure it's a science, either. It's magic, maybe. But, as with feng shui, say, things affect things. So as long as we don't go blaming our problems on the stars, as long as we assume responsibility for our own actions…well, hell, a little auspicious coincidence and applicable wisdom can't hurt. And so, with that grain of salt…enjoy!
On February 18th, 2015, there will be a Super New Moon throwing a little magic—or something extra special—into the air.
The planetary energy behind this powerful new moon is energizing, rare and challenging all at the same time. It's a combination of two signs in one and its power will have the potential to affect each of us in different ways. Thinking about the possibilities is where the magic really begins.
Whether or not you believe in the hocus pocus of magic is a rather personal question. It's kind of like asking someone how much they weigh, their age or how much they make. How people respond to these questions is anyone's guess. Some may feel offended by the question and choose to not respond at all. Plus, it's never 100 percent that those that actually do will tell the truth.
If you want to ask me if I believe in magic—I'll respond with the answer that "I do." However, in my mind magic goes beyond turning a frog into a prince or finding a genie that'll grant you three wishes. Magic to me means…believing in the unbelievable and the unbelievable has the potential to happen every day.
I believe that we all have the potential to make our own magic every day no matter what the influences. However, it's up to us to begin somewhere, plant our seeds and set the magic in motion. This super new moon sets a stage where our potential to begin something new becomes a little greater—especially since creative energy will be so high.
The reason behind what I'm saying has to do with the number 29 because this particular Supermoon falls in the 29th degree of Aquarius. It marks a moment right before the Sun transitions into the magical, empathetic and caring sign of Pisces (quite literally since the Sun enters Pisces approximately two minutes after it takes place).
In Astrology, the 29th degree is the last degree of a sign and it marks a significant turning point. I like to call it Magic 29. Turning points are important and critical to us getting ahead and achieving our goals. They mark new roads and unexplored territories in the map of our lives.
Given the planetary circumstances it's probable that a major turning point is upon us and it will likely continue through the March Solar Eclipse also taking place in the 29th Degree (occurring on 3/20/15). This particular super new moon begins the motion of transition from Aquarius (thinking about things collectively from a group stand point) into the waters of Pisces (feeling the empathetic and creative nature of one-on-one relationships). It could also take us into a higher consciousness where we begin to connect the things that we perceive into the things that we intend to now do.
With the overabundance of Pisces energy in play, going within yourself is important no matter where this particular energy is affecting you. What you do now sets the stage for the next 6 months ahead.
Combining with these influences are heavier planetary energies that have been around us for some time. Over the last several years, many of us have been wrapped up in change and challenge. The root of all of it has to do with two planets (Pluto and Uranus) fighting it out since 2012 creating a big bru-ha-ha in the Zodiac. Thankfully, the fight is nearly over and a new way of operating is in the works. Endings create drama and beginnings are never that easy to embark upon. This Supermoon marks the point where energy heats up and we can actually visualize and take action on the things we've been wanting to do.
Something in the universe is pushing us to do something new and this is where the magical part comes in. One could even argue that Supermoons themselves are magical. If you've been aware of their presence in the past you would certainly agree. They create higher awareness, consciousness and unexpected events.
A Supermoon in the 29th degree, however, is more than just that. It's the point when things you never believed possible become possible. It's up to us to begin thinking about what our intentions might be for this powerful new moon. Maybe we even decide to think outside the realm of our personal possibilities as to where we go from here. We're in transition mode and if you look hard enough…there's a sprinkling of magic mixed in the planetary mania that we're all about to find.
For additional personal insight, here are the themes associated with the Supermoon energy for each Zodiac sign.
Something important to keep in mind is despite how this affects you personally; Supermoons naturally heighten energy around us. Awareness in general becomes greater and if you listen hard enough you can hear the universe talking—it's just not always saying exactly what you want to hear.
Aries: Your magic is coming from within or something secretive with this Supermoon. The hidden sector of your life is being highlighted and this is a good time to take a step back and get to know the real you. Opportunities or awareness could begin that help you make some sort of psychological breakthrough which could be ever so freeing. Secrets could come out or you might find yourself hanging out with someone in secret. Some new awareness or event could stem that comes totally out of the blue or in an unexpected way.
Taurus: Time to make some magic on the social scene! This is a great time to be with friends or embark upon creating a new group of some sort. Some new information or awareness about a group you belong to may reveal itself. You may also find that a lot of new invitations to various events start coming your way.
Gemini: If you've been looking for a new job or someone to tell you that you've been doing a good job—this Supermoon magic could deliver. Something brings you into the public eye or puts you at the forefront of people's mind. You will likely find yourself in a more public place or in a spot where others are looking upon you—in a good way. You've likely worked hard to get to this point so embrace it!
Cancer: Your magic could take you on a new spiritual journey, a long distance trip or begin the planning of one. Matters involving higher education (including new jobs), in-laws and things of a foreign nature could also come to the surface. If you've been thinking about going back to school—this is a great time to do so. The educational and teaching realm in your personal astrology is heightened now.
Leo: Your magic can be found in the realm of intimacy, help from other people, investments and inheritance/legacy themes . A new intimate/sexual relationship could begin or you have a new sexual encounter. Matters of deep nature may surface and you could begin to make discoveries about things you've hidden on a subconscious plane. The possibility of a financial gift of some sort could also surface.
Virgo: Close and personal relationships—including business partnerships are your focus. This Supermoon magic could deliver a marriage proposal or an initiation to embark upon some sort of new partnership. An offering of some sort could be on the table. If you own your own business you may find more clients initiating services from you.
Libra: The push to get a little more organized in your daily life could overcome you. Spring cleaning could come a little early for you this year. This is also a great time to embark upon a new routine or start something new at work. Perhaps a new project comes about or you are more involved with a co-worker. If you've been thinking about getting a pet, this Supermoon could deliver the magic you need to make the move and commit.
Scorpio: Creative energy is off the charts for you. If you've been looking for some personal inspiration this is a magical zone for you to tap into. You might also feel yourself very connected to your children—especially your oldest. It's time to have a little fun, let loose and maybe even embark on a new romance or love fest.
Sagittarius: Matters of your home, family, personal environment and real estate are your Supermoon focus. Maybe you find yourself in a new home or involved in something new regarding one of your parents. This is also a great time for you to self-examine your roots/spiritual foundation and become very connected with yourself. Your magic touches the realm of karma and past lives in your personal astrology—be aware of new people you're meeting. You might feel like you already know them from somewhere.
Capricorn: This Supermoon is affecting your communications realm and you may find yourself in some new types of communications (including all things gadgetry!). New learning activities could also be heightened. A quick trip—even purchasing a new car or mode of transportation could come about. Something new involving a sibling, cousin or aunt or uncle could crop up. If you've been waiting for news—this could be the time it's finally delivered.
Aquarius: Things that you value or possess are a central theme of this Supermoon. Thoughts about your financial resources may come into prime focus. You may begin thinking about what you need to do in order to acquire more assets or use your current resources to meet your goals. A new opportunity to make more money or gain a new possession could be in the beginning stages.
Pisces: It's time for you to come out from behind the scenes and let people see your special magic front and center. Personal emphasis, how you project yourself and self-focus are key for you. With your birthday already here or quickly approaching, this is a great time to start thinking about you and I know that's quite difficult since you likely put others first! Start thinking about a new health regimen, improving your look (time to go shopping!) or taking steps to improve you.
Relephant:
Author: Crystal B.
Editor: Catherine Monkman
Photo: yumikrum/Flickr