When putting together dishes for post-yoga nourishment, yogi and chef Belén prefers recipes that allow for culinary freedom and experimentation.
As part of Freunde von Freunden's Yogi Lunch Series with the yoga instructor and chef from Stockholm, we go for an easy meal and brunch staple with a twist: The savory veggie crumble.
Belén first started her Yoga & Breakfast sessions after someone admired the colorful meal jars she prepared and enjoyed, almost ritualistically, after every yoga class.
"There are a couple of things that led me to start the events: One morning after class, I was eating some kind of packed homemade breakfast and someone told me, 'you really have to sell these things that you eat everyday.'"
But, as we find out, it wasn't just that:
"Here in Sweden—and in the North in general—winter time is not easy for meeting new people and socializing in all sorts of places. Since people are likely to chat and be open while sharing a meal, I thought why not create gatherings where people with the same interest, like yoga in this case, nourish themselves with healthy food while tending to their social lives?"
As for the crumble's name—or lack thereof—Belén says,
"I invited some friends to try all my lunch recipes at home while I was testing them out. Everyone seemed pretty happy with the result but they somehow became obsessed with finding a name for the crumble. They couldn't accept that it was simply nameless. So, they were discussing the endless name possibilities around the table while I was in my own world trying to figure out if it was too salty, if anything needed some extra spices, if it was crunchy enough…It was a pretty funny discourse."
An element that's very inherent to Belén's ideology surrounding food is mindful eating, a term we've been hearing left and right lately, and for good reason. Belén's approach to experiencing food has its roots in Buddhist lessons—the key element of this practice is slowness, a concept we don't have much appreciation for nowadays as it's not compliant with our fast-paced lifestyles.
The technique involves certain challenging tactics for the hungry wolf, so if letting your fork rest for a minute after the first bite sounds like torture, it's understandable.
But by prolonging an act that brings satisfaction we naturally procure more enjoyment. Experiencing food more intensely keeps our brains switched on instead of going into an automatic gulping mode.
Since the rhythm of life is constantly growing more hectic and we don't give ourselves the time to be in the present moment, the practice of pausing can uncover other, deeper layers of enjoyment that might be worth a try as a good exercise in patience.
This hearty dish can be made differently every time by simply mixing up vegetables—and you can even throw a fruit or two in there—depending on whatever is in season.
Besides, the best part of this recipe is the ability to make it uniquely yours.

Ingredients:
For the crumble:
2 1/2 cup oats
1/2 cup corn flour
1/2 cup pumpkin seeds
5-6 tbsp coconut oil
Fresh basil
A pinch of garlic powder
Sea salt
For the filling:
1 Hokkaido pumpkin
2 tbsp lemon juice
1 tsp garlic powder
Olive oil
Sea salt
Black pepper
12-14 cherry tomatoes
250g fresh spinach or 3 handfuls
Fresh thyme
Method:
Preheat the oven to 250°C, and place all the ingredients for the crumble in a big bowl and work with your hands to create big crumbles. Work until you get nice lumps of dough.
Peel and cut the pumpkin in small pieces.
Combine the lemon, garlic powder, sea salt and pepper. Marinate the pumpkin with the lemon sauce.
Place the pumpkin on an oven form and bake for 15 minutes.
Let it cool down for a bit while preparing the crumble. Now add the rest of the veggies and then the crumble on top of the roasted pumpkin.
Place in the oven and bake for 20-25 minutes.
Before serving, drizzle the crumble with a bit of olive oil and enjoy this wholesome meal.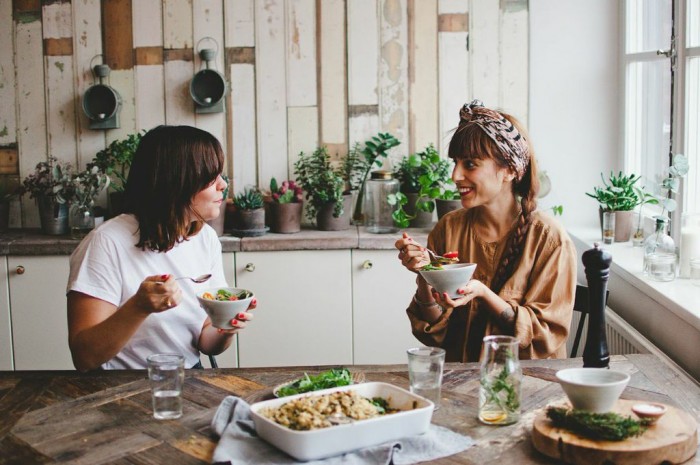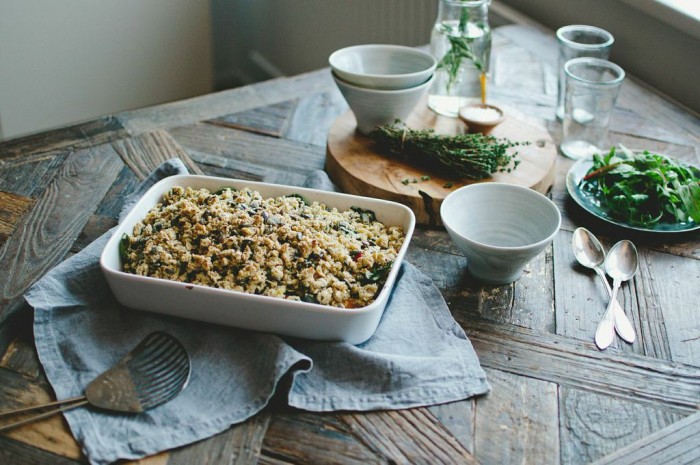 Find the complete story with more step-by-step photos on Freunde von Freunden.
Relephant Read:
Author: Effie Efthymiadi
Editor: Emma Ruffin
Photos: Marta Vargas