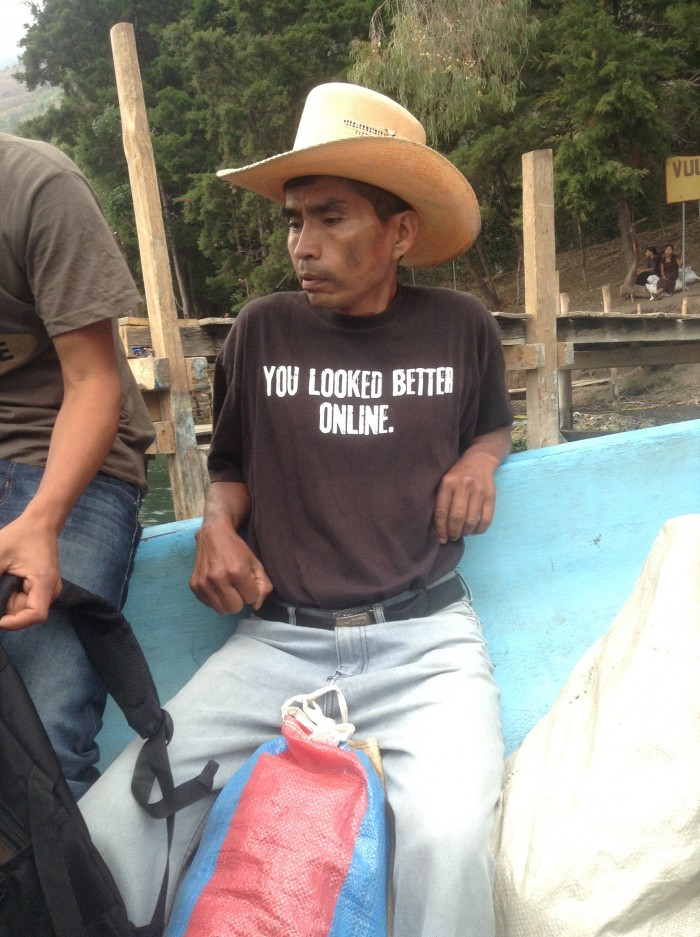 At first glance, this is a picture of a man with a bag.
But if you know how to look deeper, there is a lot more to be seen here.
This picture was taken in 2014 at Lake Atitlan, in Guatemala. (Where I live.)
The man in the photo is indigenous and of Mayan descent. He is sitting on a public boat, holding a bag between his legs.
The t-shirt he is wearing was, most likely, Made in China, shipped to the United States of America, worn, donated and ultimately transported down to Guatemala—that's how it ended up on his back.
The shirt is funny. It's black. In white all caps, it reads: "You looked better online."
It's ironic and creates a bit of cognitive dissonance. It makes us wonder whether this man has ever even been online, much less dated online.
It's kind of mean but it's funny because we've all (all of us lucky folks who've done any online dating) had that experience of seeing someone's gorgeous profile picture and then meeting up in person and being disappointed by the reality of the person sitting across from us.
So what's wrong with this picture?
Instead of wearing the traditional traje of his culture, he is wearing jeans and a t-shirt.
Why?
Perhaps because he is living in poverty, he cannot afford the expense of the handwoven typical clothing of his ancestors.

Perhaps because his home has been globalized, "Americanized" and eco-tourism'd out, he chooses to wear typical gringo clothing.

Perhaps both. Or neither.
Here is a question poem that was written by one of my 8th grade students in Guatemala City in 2012.
I stumbled upon it the other day and found it most poignant and relevant.
Why do humans say that violence is not the way to resolve problems and then create war?
Why is that so many people in the world suffer and others don't?
Why do humans exist?
I mean, why does life have to be sad for some people and not for others?
Why is it that some of the poorest people live happy and rich people don't even know what happiness is?
Is there a purpose in life we have to accomplish?
Am I living the way I'm supposed to live?
Why do animals respect each other and we just kill each other?
What am I doing wrong?
Why do we don't care for our home The Planet?
Is there any life out there?
Have they ever been here?
How was the world before humans existed?
Why do I exist?
Why is drug an addiction and not love?
Why do humans hate instead of love?
Why do we die?
Where do we go after life?
What do we do after life?
Is there some piece of gratitude and beauty left in the world?

~ Sergio C
What's wrong with this picture? What's wrong with our world?
Here are a few things.
For starters.
Not to be a pessimist.
Poverty. Homogenization. Americanization. Injustice.

Bullying. Oppression. Stupidity. Machismo. Patriarchy.

White Supremacy. Corporate control of everything, especially seeds.

Violence.

Greed. Corruption. Lies. Cheating.
So, we can go on caring about stupid shit like fashion, celebrity and how to polish our resume and get a better job so we can buy a bigger mansion.
Meanwhile, we will keep destroying the earth and ruining the world.
Or, we can cultivate wise hope.
Try to influence others. Strive to effect change. Be the model. Be open, honest, loving and kind.
It's your choice.
 ~
 Relephant read:
Author: Michelle Margaret Fajkus

Editor: Ashleigh Hitchcock

Photo: courtesy of the author