"Whatever you decide to do, make sure that it makes you happy." ~ Unknown
Let me start off by saying that I used to be one of those people who loved to count the negativity more than the blessings.
What did it get me?
Yes, it just got more moments that I could not be thankful for. What you think, is what  you get.
I heard about the #100daysofhappiness challenge last year and gave it a shot. What did I get in return? 100 days of priceless moments, memories and a journal full of gratitude.
Small things mattered. Baking a cake for the boys or snuggling in with them in the cold mornings, meeting old friends or just watching a sunset.
Small things mattered and small things made me happy. A hug or relaxing with a book on a lazy Sunday or that mug from Starbucks added to my collection and an assortment of things made me happy.
The 100 days passed by so quickly that I was almost sad that the challenge came to an end. What happened after 100 days was that the happiness streak was high but I don't remember when I started to step back into the comfort zone that made me feel negative. Yes it happens, not just to me, but it could happen to anyone.
Do you see that pic below? It is a snapshot of just a few of the happy days of my life the last year. So what exactly happened when I did the 100 days of happiness challenge?
I would be eagerly waiting for a happy moment.
My days started on a happy note
I began to make a note of all the good things around me
I began to practice gratitude
I was more optimistic
I chose  to be happy
I knew that the good things in my life were far more important than anything else!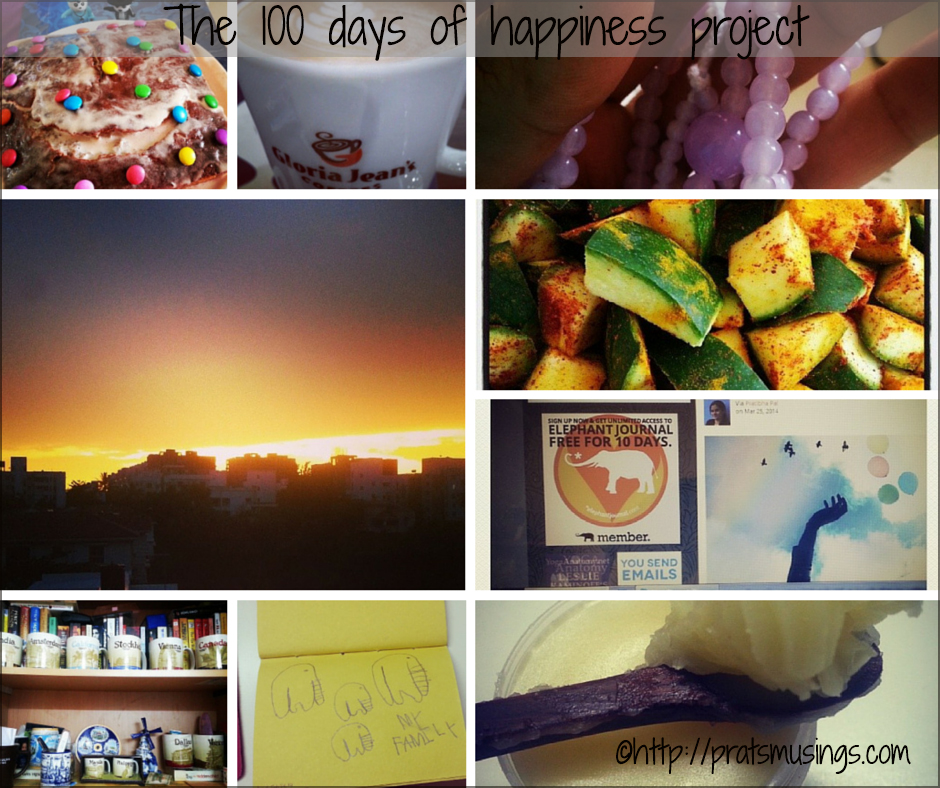 And after a really crazy start to the new year, where the negatives outweighed the positives, I decided that I was ready to acknowledge happiness in my life. I geared for the second round of 100 days of happiness.
The 100 happy days challenge is for myself and not for anyone else. It isn't a competition to ensure that my pics are better than the others, it is a moment I set aside for myself, capturing all the things that make me happy. Yes, I also learned to let go of things that did not make me happy! The most important takeaway for me was that happiness was within me.
As I start the second round of #100daysofhappiness, all I can say is that believe me, its fun. Try it and you will realize how beautiful it is to focus on the happiness!
P.S: Did you know that most people who took up the #100daysofhappiness challenge actually gave it up because they did not have the time for it?  Make time for your happiness! 
Relephant:
Author: Pratibha Pal

Editor: Travis May

Photo: Courtesy of Author
Facebook is in talks with major corporate media about pulling their content into FB, leaving other sites to wither or pay up if we want to connect with you, our readers. Want to stay connected before the curtain drops? Get our curated, quality newsletters below!