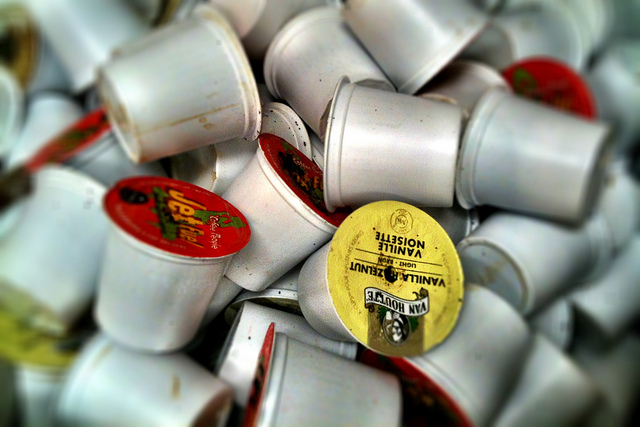 Often in life we regret the things that we didn't do, or that didn't work out the way we wanted them to.
Every so often, we may find ourselves in the position of John Sylvan, his regret is over his invention, of K-Cups, that worked out to be better than his wildest dreams. Sylvan was the original creator of what we all know as the Keurig, single serve coffee maker.
These coffee makers adorn offices and homes, making delicious hot coffees, teas and energy drinks. The Keurig presses boiling water through a pressurized pod to make a drink at the press of a button.
Elephant Journal has historically been against the Keurig, both for it's terrible effects on the environment and for its over the top convenience.
Anyone who can figure out how to operate a Keurig can easily boil water and make coffee through a cone filter, a French press, a percolator or even a drip coffee machine. Not only will your coffee taste better and cost less, you won't be losing sleep about filling up landfills with pods that take decades to break down.
Sylvan recently spoke to The Atlantic about his regrets in inventing the single use disposable coffee pod, last year the company sold a reported 9.8 million pods. Sylvan cited three reasons for feeling bad that he invented the single use pod system:
1. It's not recyclable.
2. Coffee is highly addictive.
3. The pods are expensive.
Sylvan also states he knows how to make the K-cup recyclable but that Keurig Green Mountain is not open to his ideas. While Keurig Green Mountain has pledged to make recyclable k-cups available by 2022, that leaves an estimated 50 million K-cups headed to landfills over the next five years, in addition to the millions already there.
What you can do about it:
Make coffee using a system that doesn't require using a disposable filter, like a french press, or even outfitting your drip coffee maker or cone filter with a fine mesh filter that you can rinse out. You can also make a coffee extract, that you can take to work, and simply mix with hot or cold water and whatever milk or flavorings that you like.
Find a simple recipe for coffee extract here.
If you can't break your addiction to your single serve coffee, using K-cups:
E-mail Keurig Green Mountain and let your voice be heard.
You can also spread awareness by using the hashtag #KilltheKcup
~
Relephant read:
Author: Amanda Ashley
Editor: Ashleigh Hitchcock
Photo: flickr