How to save money and look radiant on a dime.
A few years ago, I went back to school to obtain my esthetics license. I'd always loved skincare and was fascinated by all things beauty and wellness. Like so many other women, I had spent a small fortune over the course of my adult life on health and beauty "aids."
I'd tried over-the-counter scrubs with weird little beads, masks of every color, creams touting amazing results, pore-refining matting lotions, and a disc shaped scrubbing "puff" which left my face shiny and tight.
Dermatologists prescribed oral antibiotics and drying topical solutions which left me nauseous with dry, red patches of skin. Celebrities and models had convinced me that my pores were too large, my eyes looked tired, and that I need to "even out" my complexion.
Once I began working in the spa industry, I purchased and used professional grade products with ingredients I couldn't pronounce, let alone identify. Product lines emphasized the importance of using four to six separate products every time I washed my face, every day. It was expensive, exhausting, and I wasn't seeing any improvement with my skin, or my clients'. As a matter of fact, the more products I used, the worse my skin actually appeared!
Frustrated with the lack of results and pricey products I was peddling at the salon, I became interested in Ayurveda, also known as the sister science of yoga. I met with an Ayurvedic physician and began reading up on the subject extensively. I took Ayurvedic seminars and started applying the principles of creating satva or balance to my daily life. From diet to the time of day you awake, Ayurveda's bottom line is all about creating, then maintaining harmony.
It sounds so simplistic, but that's the crux of it.
Beyond getting a restful night's sleep (which, let's face it, is harder to come by than we'd all like) and hydrating adequately, Ayurveda advises that we use oils, finely granulated exfoliants and pure, all natural ingredients for self-care. I've tried numerous oils, pulverized nuts and even rose petals in order to fine tune what I now consider to be a neat, tidy and inexpensive regiment that I'd like to share. I'm currently on the road as a traveling yoga instructor with a touring musical.
I quickly learned that I needed to streamline my skincare routine. I've got one suitcase that must be below fifty pounds which I've been living out of for seven months and counting. I've also taken a substantial pay-cut, which is not conducive to spending sprees in the beauty aisle or at the spa. These challenges, alongside my Ayurvedic studies have helped me to comprise a streamlined skincare routine that actually works, and doesn't break the bank.
If you're struggling with an anemic bank account, dull complexion, dryness, excessive oil production, or any combination of these ailments, here are a few sure fire ideas that you can apply quickly and cheaply, yet yield actual results.
1. Ditch the cleanser!
Especially for aging or dry/alipidic skin (small pores, no breakouts and little to no oil) store-bought facial cleansers contain many agents that further strip your skin of the very oils that you need.
Try an unscented, pure carrier oil such as almond, coconut or even olive (Gasp! Yes, regular old olive oil!). Take about a quarter sized bit of the oil and rub it in your hands until it's warm. Apply all over your face, neck and neckline using upward, circular strokes.
Don't forget to apply over your lips as well, but don't get any in your eyes. Use a warm, wet facecloth to gently wipe away the oil and you'll see the day's dirt as evidence that oil removes grime and makeup better than soap. This alternate to your pricey store-bought cleanser will cost you literally pennies a day!
Those with oily/lipidic or breakout prone skin should add a pinch of baking soda to the oil and make into a thin, wet paste in one palm; add a few drops of water to emulsify. All skin types can benefit from adding baking soda to the oil and using as a deep cleansing treatment once a week. Just be certain that you never scrub your face; always use gentle upward and circular strokes. To quote one of my instructors "it's a face, not a dish!"
2. Make a fruit mask once or twice a month using half of an avocado, banana, or some mashed cherries. Add one teaspoon of honey for dry skin or one half teaspoon of cinnamon for acne prone or oily skin. Simply mash the fruit in a small bowl, incorporate the add-in or use alone, then apply all over your face, neck and neckline (apply over lips too).
Leave on for ten to fifteen minutes and lie down with your feet up so that you don't drop fruit goo all over your floors! Remove over a sink with a warm wet facecloth, then splash warm water to remove any residual mask. Pat dry with a clean, dry towel.
Who knew that you could make a face mask for less than two dollars?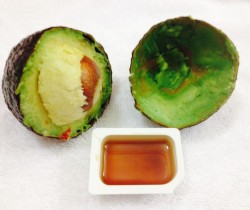 3. Spot treat a breakout with a paste made of a pinch of baking soda, a pinch of cinnamon and warm water. Apply to the breakout and leave on overnight. Rinse with warm water to remove. Look into an all natural mud or clay mask, as this may also come in handy for spot treatment of breakouts. The most common culprit for breakouts is of course stress, so roll out that yoga mat and put on a YouTube video on meditation if you don't already have a a practice. Sooth yourself from the inside, and your outside will reflect how you're feeling.
Less is more! If our skin is acting up, it's time to restore balance. Rest, stretch, meditate and hydrate. Don't let advertisements tell you that you'll need to sell a kidney and buy their expensive cosmetics or skincare lines.
Implement these affordable, quick ideas rooted in the ancient wisdom of Ayurveda, and your skin will thank you for it!
Relephant: 
Author: Anna Maria Giambanco
Editor: Renée Picard
Photos: via the author