I was craving something orange one day.
It seemed like an odd craving, since I don't particularly like the color orange. I have never owned an article of orange clothing and if I had to rank my favorite colors, it certainly wouldn't make it into the top ten. But, where nutrition is concerned, I have learned to rely more on the messages from my body then my questionable taste for aesthetics.
With so many artificial ingredients parading as food these days, and so much manipulation of our taste buds with excessive sugar and salt, our cravings can get unaligned with the needs of our bodies.
If we get back to basics, eating unprocessed (mostly raw) foods, our bodies will guide us to what we most need for health and balance.
It turns out my craving was quite logical—I did a little reading and orange foods have a very credible reputation in the food rainbow. They contain an abundance of antioxidants, vitamins (A and C), fiber and phytonutrients.
Orange foods may help to help to decrease the risk of cancer and are very good for skin, eyes and heart.
With the orange craving on the tip of my tongue, I scoured the refrigerator and started pulling things out at random. I ended up with a small but impressive array that included carrots, papaya and oranges. Since I am also looking for the lazy way out of preparing nutritional meals, the next thing I reached for was the blender.
Carrots and oranges are pretty well known to most of us, but papaya is a super fruit that doesn't often get enough attention. In addition to adding amazing texture and flavor, papaya also contains enzymes that help with digestion, in addition to Vitamins A and C, fiber, magnesium and potassium.
I was looking for a bit of a kick to start my day though, so I went back to rummaging for ingredients. I decided to add a bit of ginger (more antioxidants, anti-inflammatory and digestive aid) and cinnamon (still more antioxidants, anti-inflammatory and helps reduce the risk of heart disease).
With all of these super ingredients together, I had no doubt that it would be a high powered breakfast. An amazing color emerged when I added the cinnamon to the orange ingredients and the fiery kick from the ginger convinced me that I was drinking juice straight from the energetic depths of a volcano.
Here's how it works: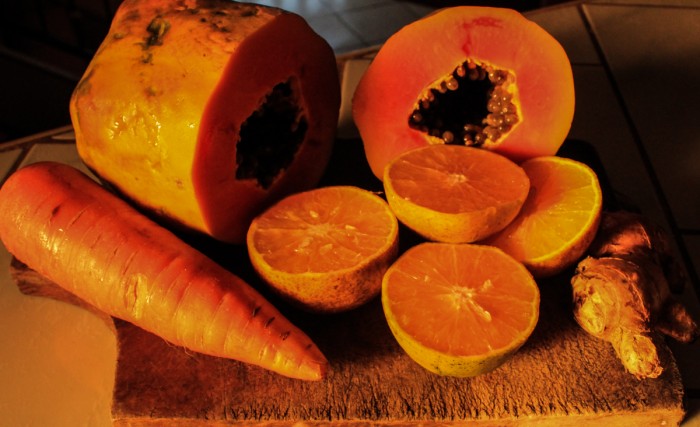 Volcanic Juice
Two cups of papaya, diced
Juice from three, ripe oranges
1 medium sized carrot, grated finely
1 tbsp. cinnamon
1 tbsp. fresh ginger, chopped finely
Smoothies are an excellent way to start the day, whatever the recipe.
The instant energy from fresh fruits and vegetables is invigorating and because raw fruits and vegetables are also easy to metabolize, there is no sluggish or heavy feeling. This smoothie comes with a guaranteed energy eruption to start your morning.
~
Relephant: 
~
Author: Peter Schaller
Editor: Emma Ruffin
Photos: Author's Own
~
Facebook is in talks with major corporate media about pulling their content into FB, leaving other sites to wither or pay up if we want to connect with you, our readers. Want to stay connected before the curtain drops? Sign up for our curated, quality newsletters below.