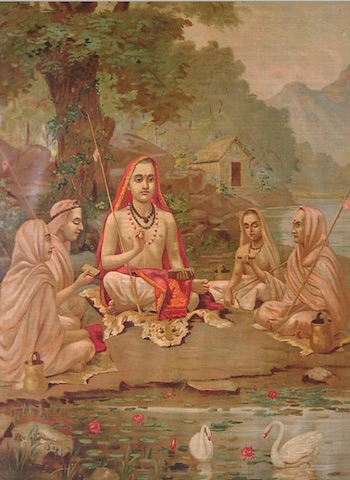 The syllable gu means shadows

The syllable ru, he who disperses them,

Because of the power to disperse darkness

the guru is thus named.

~ Advayataraka Upanishad 14—18, Verse 5
In the Vedic scriptures there is repeated emphasis that one cannot make spiritual progress in life without the guidance of a guru.
Why would anyone need a guru? Could we not obtain enlightenment ourselves without the need of someone else? Many people claim the the guru is within. This is true. However, how many of us claim we can hear him, understand him or even follow his instructions?
If that were the case then it would be quite simple and there would be a lot more enlightened beings walking about.
If we want to dive deep into our spiritual life then we need to work with someone who has mastered the inner world. That would be a guru.
Guru means teacher in sanskrit, one who takes us from darkness to light. It is the living guru that leads us inward. He serves as a lamp to ignite our own inner light or inner guru. He is the lighthouse to our soul. He is our own atman (soul) being reflected back to us.
The guru is the one who shines like the full moon on a dark night. He is the dispeller of darkness. He liberates us from the ignorance in humanity and bestows upon us the ultimate spiritual wisdom and experience which is enlightenment itself.
When we want to learn how to do anything in life we consult a professional teacher. For example, if we want to learn how to play the piano we take lessons from a music teacher, if we want to learn how cook we take cooking classes, etc. A guru is someone who has mastered the inner and spiritual worlds and can help us to do the same.
The guru is a one stop shop. He serves as our own personal life coach, spiritual advisor, doctor, healer, lawyer, psychiatrist, financial consultant and best friend.
The guru can help with all the difficulties in life that we may encounter. Nothing is beyond his scope of expertise. His wisdom and knowledge is beyond the limitations of space and time.
What makes an enlightened being? 
It is a person who has achieved the highest state of evolution. They live permanently in a state of super consciousness and have mastered the science of self-realization. The enlightened being is an alchemist who has the ability to transmit the supreme experience onto us without much effort on our part.
They help us to burn lifetimes of karmic patterns that we carry in which we struggle with intensely to release. A guru is a person who he himself or herself has crossed. They have gone through all possible situations and have the wisdom and expertise to help guide us on our path.
They become a co-creator for our reality. We stop wasting time in trial and error processes. They help us to shorten our journey from what could be a long path with arduous challenges and obstacles. We could waste lifetimes trying to reach the ultimate on our own. Having a guru expedites our spiritual journey and helps us to achieve the transcendent state of existence which is enlightenment.
Having a guru can be one of the biggest blessings one can have in their life.
Author: Sarvasmarana Ma Nithya
Editor: Travis May
Photo:  Wikimedia