Today (April 4th) we celebrate the birth of one of the earth's deepest wells of wisdom: Dr Maya Angelou.
Name a minority, and Maya Angelou was probably in it.
African American. Female. Outspoken. Hell raising, rule breaking earth-shaker. Full of questions that, when answered, were generously share with courage and grace.
She dared to speak publicly about her private life in a time when racism and discrimination were rampant and dangerous.
Maya was born between world wars, when slavery was still very real.
Truthfully, Maya Angelou made the world quiver with every breath she took. And It quivers still, as if her passing has only increased her power.
Her list of accomplishments are miles long:
Author of 36 books
Historian
Actor & Producer
Civil Rights Activist
Achiever of 50+ doctorates
Pulitzer Prize nominee
Fluent in 5 languages
Recipient of the Presidential Medal of the Arts, National Medal of the Arts, and the highest U.S. honour—the Presidential Medal of Freedom.
And on it goes.
But the true impact of Maya Angelou's earthly contributions can only be measured by how she made each of us feel. And this is why I love her.
I love her for simplicity:
"I am the dream and the hope of the slave."
I love her for truth:
"A caged bird stands on the grave of dreams."
I love her for alignment:
"There are some millionaires / with money they can't use."
I love her for cradling me in her wise-woman arms:
"She came home running / back to the mothering blackness… / white tears icicle gold plains of her face… / she came home blameless."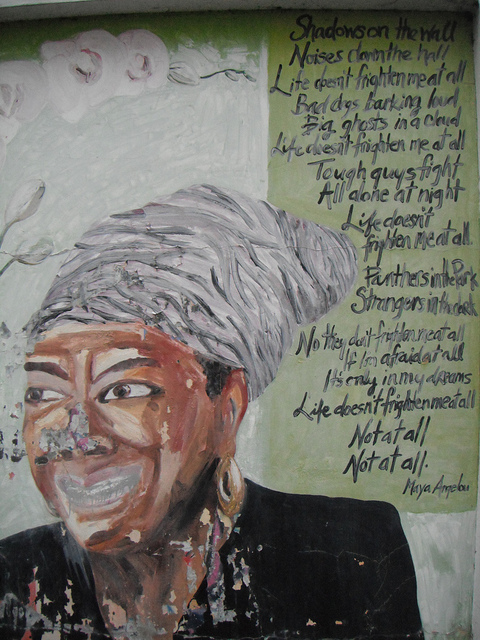 I love her for reminding me of this…
"All great achievements require time."
I love her for having the last word at her own funeral.
And I love her for the world's most thoughtful apology letter.
When I stop to thank all the women who have broken ground before me, I am thanking Maya Angelou.
When I honour the world's immense diversity, I am honouring Maya Angelou.
And when I stand powerfully in my own truth and beauty, I feel Maya's soft, proud gaze upon me.
Happy Birthday Phenomenal Woman, and thank you.
Maya Angelou 4/4/1928 – 05/28/2014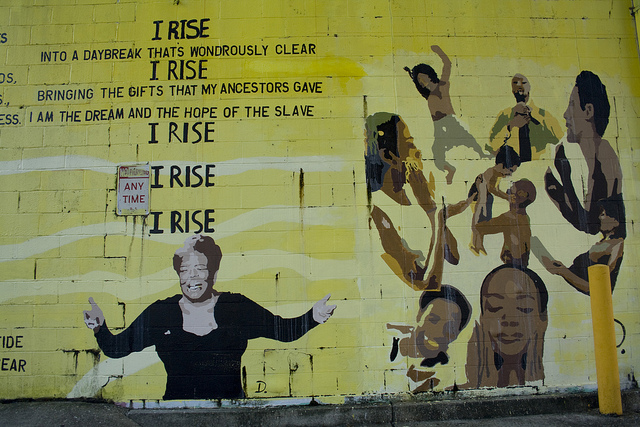 Relephant: 
Author: Crystal Davis
Editor: Renée Picard
Photos: Flickr Creative Commons 
Facebook is in talks with major corporate media about pulling their content into FB, leaving other sites to wither or pay up if we want to connect with you, our readers. Want to stay connected before the curtain drops? Sign up for our curated, quality newsletters below.