Having been a vegan for nearly six years, I have never felt the need to find a substitute for non-vegan things like a steak, or a hot-dog.
I'll take a veggie burger any day and steak is better when it is made out of red cabbage anyway. Cheese though. Man, sometimes, I make a dish and think, "it should just have a little topping of cheese."
Like loaded sweet potato fries. I've made them with vegan cheese sauce (delicious), but not quite the same as sprinkling a little cheese on top of the salsa and guacamole and carmelized onions and roasted peppers. A pile of goodness like that just screams cheese for the top.
And then this cheese happened.
This little, innocent chickpea flour creation that tastes like salty cheese curds (yes I already made vegan poutine to try them out), or spicy jalapeno sharp cheddar, or mild, herb infused cheddar instead. Really you can make it taste like whatever cheese you want, by just adding in your desired herbs and spices. Or heaps of salt and to get cheese curd goodness.
Get yourself some chickpea flour and start experimenting. Your possibilities are endless.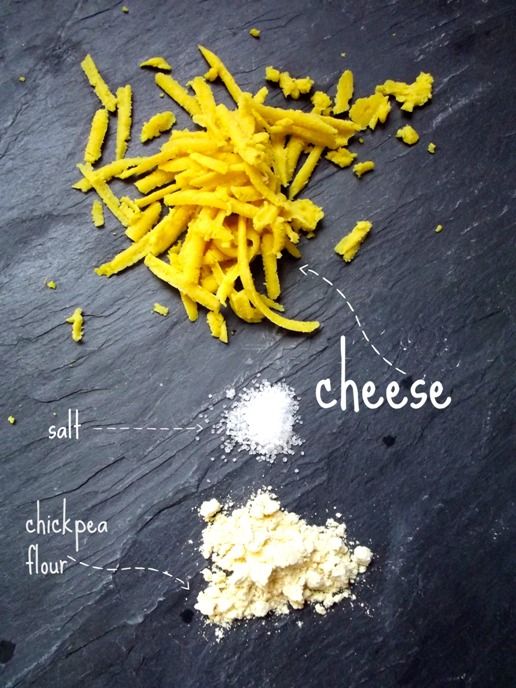 Ingredients: (1 cup)
3/4 cup chickpea flour
1 cup warm water
1 1/2 tbsp nutritional yeast
1 tsp salt
1/8 tsp turmeric
1 tsp apple cider vinegar
Any other desired herbs or spices to taste (jalapeno, chipotle, basil, oregano etc.)
Instructions
Begin by whisking all the ingredients together in a bowl until chickpea flour has dissolved into water. If you would like a flavoured cheese (i.e. jalapeno, smoky etc.), add your desired spices at this time as well, tasting to decide how much to add. I have also tried a herb version and a spicy version which were very good!
Prepare a square or rectangular baking tin by lining with parchment paper and set aside.
Next, pour mixture into a medium saucepan and place over medium heat. Stir constantly to make sure the mixture doesn't burn. It will start to go lumpy and then thicken and smooth out. Taste it to make sure there is enough salt/spices and there is no chickpea flavour left. This flavour should be completely cooked out. Once it is smooth and thick, it is finished and ready to be put in the pan to set.
Spoon mixture into the parchment lined tin, smooth out into your desired shape and place in the fridge to set.
Remove after two to three hours and slice or grate as desired.
Store in an airtight container in the fridge.
Relephant Read:
Can't Give Up Cheese? This One's For You.
Author: Laura Peill
Editor: Catherine Monkman
Photo: Author's Own