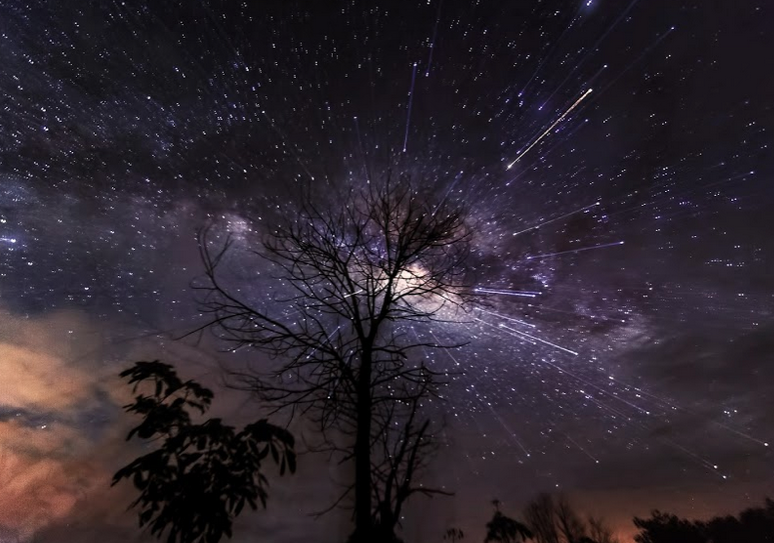 *Vedic Astrology, or Jyotish, is one of the oldest sciences on the planet and considered a relative of astronomy. It is an important and valuable part of the ancient Vedic texts. This complex, logic-based, and also intuitive science, has survived thousands of years in India's Vedic tradition and is still considered a highly valuable tool of guidance and life insight. It is not a religion, but rather a philosophical understanding of human and cosmic existence. In Sanskrit, Jyoti means light. Essentially, the study of jyotish is the study of light and how we interact with the cosmic light- within us and within the cosmos. Vedic astrology, or the sidereal approach to astrology, casts charts differently than Western, or Tropical astrology. The meanings, implications, and purpose of jyotish is therefor different, as are the details used for prediction and the indications given below.
 Editor's note: Astrology isn't a religion. We're not sure it's a science, either. It's magic, maybe. But, as with feng shui, say, things affect things. So as long as we don't go blaming our problems on the stars, as long as we assume responsibility for our own actions…well, hell, a little auspicious coincidence and applicable wisdom can't hurt. And so, with that grain of salt…enjoy!
Now that Sun has moved to its sign of exaltation, Aries, and the beginning of the zodiac, we get a fresh start.
The solar new year has begun!
It's a powerful time to start new endeavors as we receive a month of Sun's intense power and passion. Expect dynamism, charge, focus and determination, but don't get burned out! Use this heat and extra light force effectively in order for lasting, sustainable results. Set intentions and step into your power!
Akshaya Tritiya, the day of lasting achievement, begins late evening on April 20th and continues through the morning of April 21st. It is the only day of the year where the Sun and Moon are both exalted while Moon is in Rohini nakshatra and the third tithi (phase), tritiya. This is an excellent time to start something new and take a powerful action step forward! In the Vedic tradition, it is said that all actions will be fruitful on this day.
During this waxing cycle we will experience two planetary shifts. The strong energy from multiple planets in Aries starts to move forward into Taurus and Gemini, inviting in more creativity and communication. Mercury moves to Taurus on April 26th and then Venus moves to Gemini on May 2nd.
These transits offer an exchange of signs (Venus rules Taurus and Mercury rules Gemini). Extra creativity is available to us right now- and our relationships will be an important part of the creative process. Collaborate, co-create and communicate effectively what you need. Once Mars moves into Taurus on May 3rd, action steps become more important. Use this time to manifest your desires and put action behind them. Get what you want by saying what you mean and meaning what you say; then take it forth.
Full Moon is Sunday, May 3rd at 22:41 CDT while in Libra.
*Horoscopes are based on your Vedic rising sign. You can also check your Moon and Sun signs for further insight. Do the same with your Navamsa signs for further clarity. Do not use these horoscopes with your "Western Sign" as there is likely no correlation. These horoscopes are meant to be used as a broad overview of the current transits and obviously do not address the specifics of an individual's unique chart.
Aries: So much power is available to you right now. It's important that you channel your fire effectively so you don't burn yourself out. Instead of running in high gear all the time, try keeping it in second gear and spread your energy out for more sustainability. Keep your embers burning steady, don't get torched by your inner bonfire. Resources are coming but your creativity and communication abilities will determine the results. Don't forget to pause and take in the nourishment.
Taurus: The time you have been spending nourishing yourself and rejuvenating has been time well spent. Continue to put effort into retreats, rest and meditation as well as travels, but try to relax in the process. Some greater balance is being created in your relationships. Can you feel the support developing? Or are you too confused to notice? Focus on your needs and how to get them met. If the relationship doesn't nourish you, it's time to find a new relationship with it.
Gemini: You're experiencing the results of losses and as a result, new doors are now opening. Fully let go in order to fully invite in. Gains will be a result of making space for new endeavors. Take action steps that get you where you want to go and move you closer to your desires and dreams. Nourishment is so important for you right now. Do you know what you need in order to get the nourishment and support you deserve? Work on balancing inner and outer, rest and activity.
Cancer: You are learning how to regulate yourself more and your emotions are helping you identify what needs some more attention. Your stomach has the most information to share about what you need for nourishment and support. Have you been paying attention? Channel your desires into creative projects and career. There's ample power available to get the job done and gains to receive from your efforts. What you put in is what you get out.
Leo: The power moving through you is unstoppable. Capture this energy and the passion that is inspiring you. This will feed you and be a reminder in the coming months how to make some big, bold life changes. Your passion is contagious. Make sure you are sharing it with others and teaching by being your bold, passionate self. Go for the nourishment and let wisdom be a way to rejuvenate yourself. Take time for meditation and soften the rigidity of your heart. Do what you feel.
Virgo: The change, transformation and upheaval is likely overwhelming right now. The past is returning to help you change into the being you desperately desire to become. Relationships are reminding you what you need and don't need, what works and no longer serves you. Use the discomfort to polish yourself from the inside out. Feel around in the darkness for the light switch.
Libra: Relationships are hot! The fires are burning within you. Are you getting scorched or fed by the passion? Meet and greet. Get courageous about connecting and co-creating. But watch out for old relationship patterns creeping back in. This is an opportunity for you to really look at your personal mythology around relationships. If there are challenges and strong emotions, it's time to hit the pause button and do some deeper inquiry. Get nourished by your career and sharing your wisdom.
Scorpio: As challenging as this deconstruction and reconstruction phase is, the biggest challenge is receiving the support and nourishment that is available to you. This is a time of extremely potent creative potential. This is your main skill: manifesting your desires. Getting your needs met has everything to do with asking for exactly what you want. When the emotion is strong and challenging, it's your job to be aware of what isn't working. This is the message that it's time to get your needs met in a different way. What action steps are you taking to insure you get the support you need?
Sagittarius: The power in your gut is a mighty force of strength and vitality. Are you listening to your gut wisdom and trusting its messages? The food and substance cravings are reminders that you need more sweetness, more joy in your life. How can you get your needs met with deeper more sustainable nourishment? Take time for meditation, movement and emotional body purging. Let your heart and stomach share their dialogue with you. Their messages will tell you how to move forward with your life in a more fulfilling way.
Capricorn: Heart burn or hearts desire? Your heart is a courageous force right now, leading you forward with strength and power. What sets your heart on fire? How can you lead more from the heart? What boundaries does your heart need in order to feel safe, secure and supported? How can you get more resources and wisdom from your heart, your breath, the open and close of your ribcase? Nourishment is available from relationships as well as passion and romance. How available are you to receive it?
Aquarius: Courage is a powerful theme for you right now. Be courageous with your artistry and creativity. Let this nourish and support you, heal and transform you. Look at your relationships from a different angle and courageously confront the challenges they offer you. These are gifts in disguise if you choose to accept them. Working with the discomfort will help you find deeper nourishment but it requires that you dive more deeply. What feeds you and nourishes you? What must be digested and released? This clarity will help you solidify your life offering. Your steady action steps will pay off as you ripen.
Pisces: Endings are leading you towards new beginnings and it's likely uncomfortable. You're like a fire breathing dragon right now! What are you setting on fire? Torch the stuff that needs it, but watch out for acid reflux. Relationships continue to deceive and cause confusion. Listen to your anger intently and notice what needs are not being met. Get creative and channel your anger into passion and courage. Right now, time is your guru.
My Jyotish Basics Classes have begun! Don't miss out on these transformational and healing classes. Registration for May classes closes on April 29th! Sign up for details. Need some extra guidance and clarity? Schedule a session with me. Plan your week in tune with nature. Never miss a planetary update. Sign up for my weekly newsletter.
Relephant Read: 
Author: Saraswati J.
Editor: Catherine Monkman
Photo: Pixoto