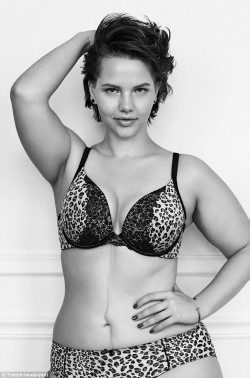 I recently wrote an article about a campaign celebrating the differences in body shapes and sizes and now, Lane Bryant has highlighted this issue once again by causing a storm on social media with a hashtag currently going viral to encourage all women to be proud of their bodies, and reaffirming that all bodies are sexy.
The signal is coming across loud and clear that it is time for media to be shaken up so that all body shapes can be shown with pride in fashion and beyond. For too long the majority of images that are aired are those that do not represent a realistic perception of the female body and that the time has finally come for all body shapes to be shown publicly.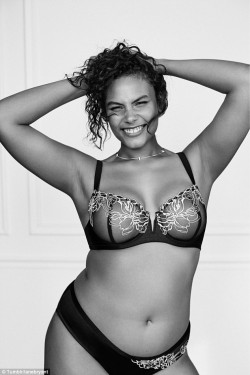 On Monday 6th April, plus-size leading fashion retailer, Lane Bryant launched a campaign to redefine the word sexy by introducing the Spring collection with the hashtag #I'mNoAngel. Bryant wants to send out a powerful message to women of all shapes and sizes that, "All women are sexy."
The average American body size is size 14, and yet, most retailers do not provide a fashionable option for this size or above.
When Linda Heasley joined Lane Bryant as CEO in 2013, she planned to make changes in the fashion world, with her desire being to "change the conversation" so that eventually women of all sizes could receive the same opportunities to purchase fashionable clothes.
The concept of the campaign was brought about by creative agency Laird + Partners and it features models Ashley Graham, Marquita Pring, Candice Huffine, Victoria Lee, Justine Legault, Elly Mayday dressed in stunning beautifully designed Cacique lingerie.
Lane Bryant CEO and President Linda Heasley released a statement saying, "Our #ImNoAngel campaign is designed to empower all women to love every part of herself. Lane Bryant firmly believes that she is sexy and we want to encourage her to confidently show it, in her own way.
"For too long, the idea of sexy has been defined in one way, by one type of woman" she continues. "Our Cacique girls are saying #ImNoAngel because today we know sexy comes in many shapes and sizes. Cacique flatters and accentuates all kinds of sexy."
The project aims to rid society of body shaming and revolutionise the perception of sexy by encouraging women across social media to feel empowered enough by the campaign to share images of themselves with the hashtag #ImNoAngel written on a mirror with lipstick.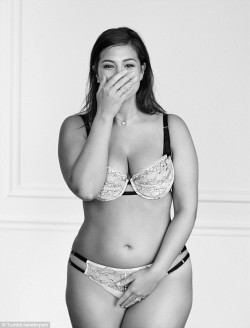 The hashtag is currently going viral across social media sites with many women claiming they feel liberated and sexy for the first time in their lives. Here are a few of the thousands of tweets that are in support of the campaign:
Stephanie Ramirez @stephjayare
So much love for @lanebryant for their ad campaign! I was ashamed of my body size growing up. I'm still learning to love myself. ‪#ImNoAngel

Pam Rukiddingme @PamRlalala
We are more than the size of our jeans! #ImNoAngel
Sheila Zaya @MarketingDork
The Lane Bryant #ImNoAngel campaign is simply brilliant. Anything that celebrates individual beauty. I absolutely applaud this effort!
MissLaughsLot @LDYPrefers2Save
‪#ImNoAngel Love it… And I love that my husband loves me not being an Angel! Thanks LB!
Lane Bryant's mission is to encourage women to celebrate the fact that they are different to the prototype "angel" and to challenge society's standards for beauty, by showing bodies in shapes and sizes that differ from the usual images we have become accustomed to seeing in the world of fashion.
The campaign kicks off with a series of print ads and a TV commercial that debuts tonight (Monday evening). Publicity stunts throughout New York have been taking place all day today, which have included a performance by Salt-N-Pepa.
The campaign has also dropped the term plus-size from its marketing in what is being seen as an effort to steer away from this phrase, as there is currently a debate surrounding the term as it is viewed by some as damaging to a female's self-esteem.
The words on Lane Bryant's website today read, "Confident. Sexy. Connected. Show us what you love about YOU, ladies. Snap and share. Everywhere. #ImNoAngel"
I am in full support of this campaign and I hope that this attempt at revolutionising the fashion world reaches across the world and is placed on every billboard, magazine and social media site.
I believe that until images of all body shapes and sizes are repeatedly shown, society's unrealistic holding on what's all too often (and wrongly) viewed as an ideal body image will remain.
This issue isn't about health. (There were various comments about health on the last body image article.) There is no determining the state of a person's health simply by viewing a body shape or size. This campaign is to bring about an acceptance of viewing all body sizes in the public eye. For far too long we have gotten too used to only seeing images female sizes of 12 and below.
Let's hope this is the beginning of a new era, one in which all women can be comfortable enough to express themselves and liberate themselves in whichever way they chose.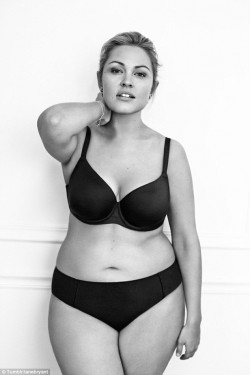 As I said in my last article, our bodies are none of anyone else's business. A woman should be allowed to feel free to dress and to show off her body if she so chooses to do so, for herself and also to empower other women so that they too feel comfortable in their own skin.
All bodies are beautiful, each, and every one—uniquely. Incomparably. It's time that the judgements end and acceptance begins.
#ImNoAngel
~
Enlighten your sex life:

Relephant Reads:
~
Author: Alex Myles
Editor: Travis May

Images: Lane Bryant
~
Facebook is in talks with major corporate media about pulling their content into FB, leaving other sites to wither or pay up if we want to connect with you, our readers. Want to stay connected before the curtain drops? Sign up for our curated, quality newsletters below.