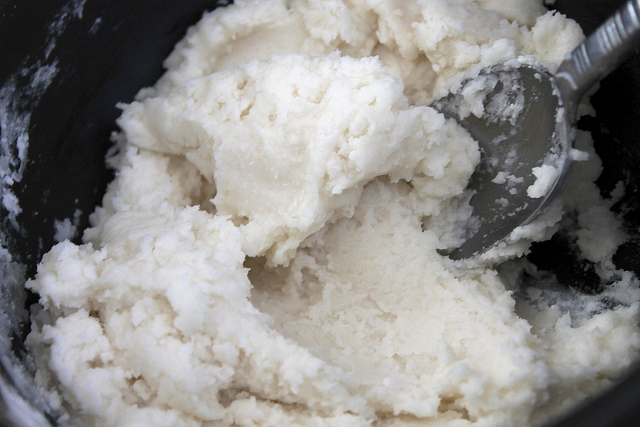 I cut out toxic deodorant about a year ago for good.
I had dabbled off and on for years with every natural deodorant that I came across including the crystal rock type, a salt spray one, and farmers market old school granola stuff. All of them failed. They tried, though!
Then, out here on tour, I stumbled on a great deodorant at a Whole Foods in Portland or Seattle. 
It rocked my world. It worked! Only problem was the price. It cost about twelve bucks a pop, and I started to toy with the idea of replicating it from scratch. After all, I did work for Martha Stewart. . . But, oh yeah, I'm on tour, living out of a suitcase.
Now and then, we get lucky and find a sublet with an actual kitchen! So, here I am in Baltimore, with a kicka*s, fully equipped kitchen and a grocery store up the street. I woke up this very morning determined to go for it, and here's how it went down:
1. Make a double boiler using a glass bowl set over a pot of simmering water on low heat. Drop in six tablespoons of shea butter, one teaspoon coconut oil, and a dash of Argan oil. (Leave the Argan out if you don't have it on hand. I use it for my hair, and thought I'd use it.) 
2. Allow these ingredients to melt, stirring often. Whisk in five tablespoons baking soda until incorporated and there are no lumps.
3. Remove from heat (use oven mitts, please) add eight to ten drops of an essential oil of your choice and stir until dissolved. I used a blend from Aura Cacia that I like called "Love Potion." You could also omit this step and make an unscented version.
4. Let it cool a bit, then carefully pour into a clean jar with a tight fitting lid.
5. Cap it, set it in the fridge to solidify, et voila! DIY small batch crafted, safe-for-your-boobs deodorant!
How do you apply it? I use a small makeup spatula that I keep on hand exclusively for this purpose, scrape out a pea sized bit, roll it between my fingers and rub under arms. That's it! 
Try it and comment with feedback below. Also let me know if you have any DIY recipes that you like!
Thanks for reading, and happy smelling-better!
Relephant:
Author: Anna Maria Giambanco
Editor: Caroline Beaton
Photo: Elephant Archives