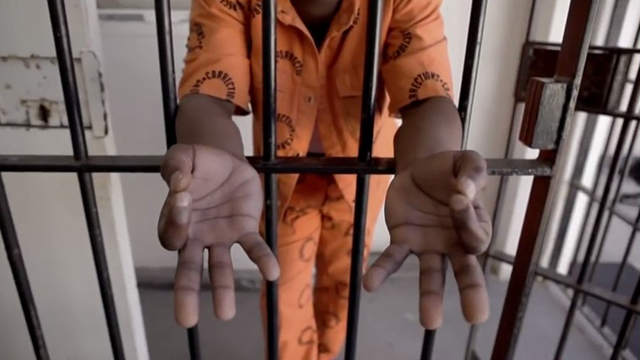 Free Inside is a 12 minute documentary that changed everything I believe about yoga.
Set in the heart of Cape Town, South Africa at Pollsmoor Correctional Services, this film gives insight into the power of yoga to transform even the sickest of souls.
Like many other students and teachers, I have in the past given lip-service to the power of yoga to change the world. but as nice as the idea was, I don't think I ever really believed it then.
I know it changes people. It changed me. I suppose I felt that a belief in its potential to actually make a difference on a global scale was a bit idealistic, even for me.
But when I watched this video about a year ago and then read about The Prison Yoga Project and others like it, I began to believe it, truly.
I know that there are many other yoga teachers out there doing amazing work in their communities and in the world at large, but this project, and other prison projects like it are different for me.
The students here are people who society has all but given up on: they are everything we decent yoga-practicing folk fear and revile.
Especially for me as a South African in this particular case because these are the criminals who make violence and crime a part of everyday life in South Africa: the county I grew up in and love dearly, the country where my family still lives and the country whose future I want more than anything to feel hopeful for.
But SevaUnite sees them as human beings and helps them to see themselves this way again. If rehabilitation is possible, then surely this is the first step?
"Just the slight possibility that there is more than just this in themselves. They are more than just where they have landed up is, I think, just tremendous."  ~ Leela Codron
A few days ago another article on this project was published on elephant journal and I immediately recognised the lead image from the video. But the video itself was not included. After watching it again, I felt I had to share it.
And I share it with the hope that teachers and students of yoga like me will watch it and we will ask ourselves: What can I do to share this singularly powerful practice with those around me, even in the smallest of ways? Or perhaps in the biggest way I can imagine.
Let's be brave enough to take yoga off our eco-friendly yoga mats, out of our air-conditioned studios and into the world as it is in all its ugliness. Not one day, not somewhere over the rainbow, but now. Let's practice yoga for real. Or at least help those who are doing it already.
"Practicing yoga is a privilege. And with this privilege comes a duty to be kind, to share a smile, and to offer the yoga from the mat into the rest of your life." ~ Maty Ezraty
"For those wounded by civilization, yoga is the most healing salve." ~ T. Guillemets
"The process of self-healing is the privilege of every being." ~ Yogi Bhajan
Relephant read:
Author: Khara-Jade Warren

Editor: Catherine Monkman
Photo: Youtube video still