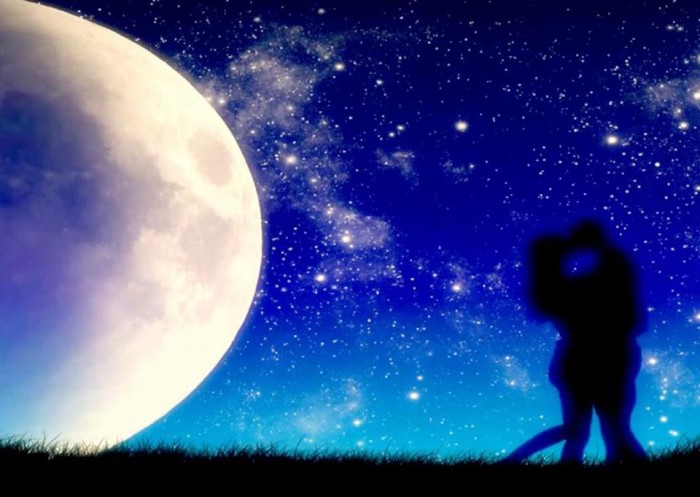 Editor's note: Astrology isn't a religion. We're not sure it's a science, either. It's magic, maybe. But, as with feng shui, say, things affect things. So as long as we don't go blaming our problems on the stars, as long as we assume responsibility for our own actions…well, hell, a little auspicious coincidence and applicable wisdom can't hurt. And so, with that grain of salt…enjoy!
The full moon in Sagittarius on June 2nd is a reminder that it's okay if our life currently looks nothing like we thought it would—even compared to how it looked just a few months ago.
Know that all the pieces haven't fallen together (yet), and though we've made some important decisions in the past few months, we have to make just one more: the choice to make a magical new beginning.
We have been through the wringer lately with the astrology of the past few months! Ever since those Pluto Uranus squares took the last hits at our old small lives back in March and shot it all to hell, we've been on the fast track to finding our authentic selves.
If we have done the work that we needed to, we are at the point now where everything that no longer was serving our highest self has finally been cleared away.
Only once the old is cleared away can the new begin to grow.
2015 truly is a transition year. Right now we are halfway to the amazing life we will all have by the time we ring in 2016. This year is not about unknown change or beginnings that come from nowhere. This is about seeing what was there all along but we just weren't ready to until now. This is the final year since 2012 that will remake our lives in new and exciting ways.
We truly are dawning into the Age of Aquarius, and as a whole we are all being challenged to live our truths every single day.
New beginnings are scary, and they are supposed to be! If we weren't scared, then it wouldn't be able to provide us with greatness. But, we are ready too. It's been a long time coming, and even though the possibility of new jobs, new living arrangements, or even new relationships may have us skip a beat at times, know that the universe won't bring us anything that we're not ready for.
Sagittarius is the sign of optimism, vitality, and good intentions. Anything started during this time period will be supported by the good fortune of this sign. This full moon is occurring right in the middle of a Mercury Retrograde.
Many people still think that to have a retrograde means the need to hide underneath our covers for three weeks, but this simply isn't the case.
A retrograde is really just a slowing down of the planet, so we are asked to slow down as well. We are asked to feel instead of think, to follow our hearts—wherever it may lead us. In this case, Sagittarius is there letting us know we are on the right track.
It's giving us a quiet, optimistic burst of confidence to move forward.
One month ago we had a full moon in the sign of Scorpio, the sign of death and endings. It is only fitting that one full lunar cycle later we are blessed with the chance for magical new beginnings. Because of the retrograde, and Venus being so active in our skies right now, we may be significantly drawn to pursue romantic love—particularly those from our past as Mercury dares us to seek out the one that got away.
Mercury and this full moon are asking us, "What if the one that got away came back?"
For the next few weeks you may find yourself inexplicably drawn to an old flame—go with it.
This full moon is only encouraging us to do what is in our hearts already, and though starting new things isn't recommended during a retrograde—getting together with an old love from our past is.
This time it's all about reviewing what we missed the first (or second) time.
We are being fully supported right now by this full moon to lead our lives with truth and passion.
We are being asked to not hold ourselves back, but to listen to the individual sound of our heart and follow it. When the moon is in Sagittarius we all are being inspired to embrace our free spirit and our desire for freedom. During this time following the rules may become difficult, especially for those with a great deal rigidity in their daily lives.
It's as if we are being asked to embrace our wildness, and to lead our lives as authentically and honestly as we can.
This full moon will be driving us outside in the warm June air as well. Sagittarius loves all sorts of outdoor pursuits, and this is the perfect time for it. Nighttime bonfires, camping trips, or last-minute road trips are all possible right now, since this moon is helping us to seize all of the amazing opportunities that may be coming our way.
The full moon in Sagittarius is giving us the confidence to say "yes" to everything in our lives. We are being asked to take a chance, and make that new beginning. We are being asked to not let a moment pass by in this wonderful life, but to seize each and every opportunity for happiness and adventure.
We are being asked to follow our hearts and fall into great love.
We are being asked to take all the lessons we've learned in the past few years, and start something new.
We are being given the chance to make a new beginning, because honestly—there is no time like now to go after what we want.
"The full moon is a time to rock and roll, to push boundaries, to dive headfirst into the embers, the surf, the divine." ~ Author Unknown
Sources:
Relephant Read:
Author: Kate Rose 
Editor: Renée Picard
Image: Youtube screen shot 
For all the non-believers: