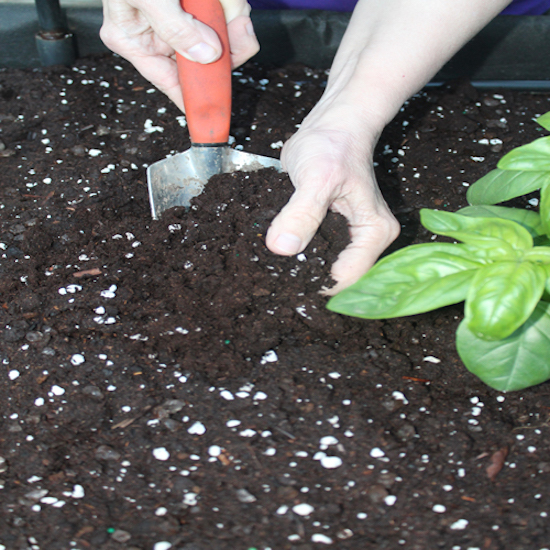 Around this time of year, we begin to see cutesy Pinterest-y memes saying, "At the end of the day you should be covered in dirt" or "I play in the dirt."
Or my favorite: "Gardening is cheaper than therapy, and you get tomatoes!"
Of course, we think that they're trying to jog us out of our winter fugue and get outside. And it turns out that yes, that's probably true, but wait—there's more.
Playing in the dirt can actually help with depression.
A recent blog post from Gardening Know How shows that microbes found in the soil have effects similar to Prozac (without the harmful side effects and dependency issues). The blog states, "Soil microbes and human health now have a positive link which has been studied and found to be verifiable." So that explains hubby's happiness when he's gardening and my sense of calm as I putter around my herb and flower beds!
According to the National Institute of Mental Health, major depression is one of the most common mental disorders in the U.S. The latest statistics (2012) show that approximately 16 million adults (age 18+) in the US had at least one major depressive episode in the prior year. That's slightly less than 7% of all U.S. adults.
There's still so much stigma about mental health and there are so many medications that can help, but which are fraught with side effects and peril if not properly monitored. Not to mention the costs of such medicines. And there are still somewhere between 29.8 and 31.0 million people uninsured—meaning those uninsured who might have depression are not being treated regularly.
That being said, a study published online in Neuroscience identified a bacterium called Mycobacterium vaccae—it's been found to mirror Prozac's effects on neurons. It's found in soil and scientists say it may stimulate the production of the feel-good hormone serotonin. So far, the studies show that this little microbe seems to be a natural antidepressant and shows no adverse health effects. These studies also show that the effects can be felt for up to three weeks (at least that's what the rats are saying).
Again, we're not doctors. We are absolutely not advising anyone who's currently under treatment for depression to pitch their medications.
What we are advocating, however, is to follow the memes: go mess around in the dirt. Find a spot in the yard—or find a community garden—and plant a few tomatoes and some lettuce. Put some basil in a container on the front porch or balcony. Flowers, too—coneflowers and bleeding heart are so simple to grow and they come back every year, reminding us again and again that spring is eternal. And there's nothing wrong with a pot of petunias. Not to mention calming herbs such as lavender and rosemary.
I would take issue with the claim of no "dependency issues." Because once hooked on gardening, my friends, you're definitely addicted: to growing your own food; to planting; to watching and watering; to seeing the beauty blooming each and every day; to harvesting; and to enjoying the well-earned fruits of your own two hands.
~
References:
Nimh.nih.gov: Major Depression Among Adults
~
Relephant Reads
~
Author: Pat Perrier
Editor: Catherine Monkman
Image: author's own