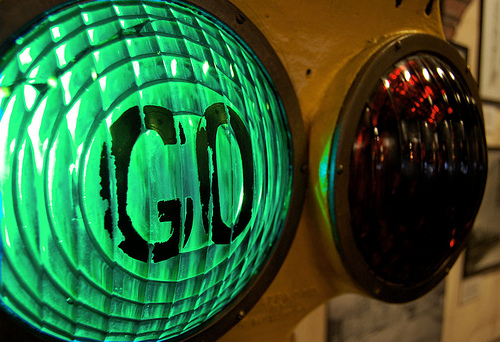 This world, this life, is constantly spinning around me at a startling speed.
It can feel like an unyielding stream of I don't give a f*ck what you're doing, here's a dose of crazy.
A quick shot of real-life choices and challenges that I will never be ready for. It's easy to think that I have my life together, that I can handle anything that life throws at me—until I realize I can't. I won't be ready for some things. Ever. But maybe that's the beauty of it all.
I will never be ready for a career.
What I will be ready for, is a passion to grab hold and give me no option but to blindly follow. I'll be ready for deadlines and let-downs, for successes and inspirations. I'll be ready to devote countless hours to some unknown cause, because it will make a difference. Not big, but what does size matter when you're changing the world? Small changes matter. Changing the world directly around us matters. Because guess what—our own lives matter.
I will never be ready for mornings.
What I will be ready for, is the smell of coffee from the top of the stairs. The first sip from the mug poured with care by my partner, because they know I'm never ready for mornings—and mornings aren't ready for me without coffee, either. I'll be ready for sly glances up from the morning paper, just to catch a look at the beautiful bed-headed creature the universe led me to.
I'll be ready for quick cuddles with our dog on the kitchen floor, for stolen kisses before I go to work, not because we will be apart for the day, but because I'm so grateful for these blessed minutes of early morning peace, together.
I will never be ready to settle down.
What I will be ready for, are the long bike rides through our town, gliding in silence and taking in the world around us. We chose a city built on swamps, rivers and grasslands by settlers long before us. We are just like them, choosing this place to build a home and build a life. I'll be ready to see each passing season through my front window, each year noticing a new beautiful detail of the season.
Like the woman across the street, ceaselessly creating her garden that is landscaped like a work of art, or how the icicles form the same way on the corner of the shed year after year.  I'll be ready for Christmas eve with each other on our sofa, and Christmas mornings with family and mugs of peppermint hot chocolate. I'll be ready for hours spent together in the garden, tending to it only with care and patience—just like we tend to our relationship. I'll be ready to invest in our future, because I only want to build with you. To grow beside you.
I will never be ready for kids.
What I will be ready for, is the look in my children's eyes as they discover the joys of rain, another moment of innocent bliss for them, a sweet sweet memory for me. I'll be ready for long nights of cuddles and cramped beds, because they can't fall asleep without the feel of warm arms around them. I'll be ready for road trips that turn into catastrophes but hilarious memories.
For impromptu bike rides to find bugs, and bee stings cured with magic kisses and a band-aid. I'll be ready for dinners together that turn into sharing ice-cream from the carton. For farmers markets and petting zoos and the naps that follow (which are the best, for we are tired from fun). I'll be ready for scary first days of school and bittersweet last ones. For sweet minutes that turn into days, days that turn into weeks, weeks that turn into years. I will be ready for a lifetime of memories.
I will never be ready for love.
What I will be ready for, is companionship that compares to no other. I'll be ready for silly first dates and shy second ones. I'll be ready for first times, but more importantly, the last first times. I'll be ready to learn alongside my best friend—maybe Spanish, maybe Dutch, maybe Physics. What ever interests us in the moment.
I'll be ready for spontaneous trips 20 minutes away, or 20 hours away. For drives out to the beach, where we'll wander down quiet paths with nothing but the moonlight and our echoes guiding us—until we find the shore and make beds out of sweaters and shirts and pants. I'll be ready to explore old alleys with my old love, both of which faced much and endured even more over the years—aging with nothing but grace.
I'll be ready for quiet nights of facing each other on the couch, our feet lazily intertwined as we read our favorite books. I'll be ready for love that laughs out loud, speaks in kind gestures, and grows over time.
What I will never be ready for are the big moments.
The finality of those surprises laid in front of us.
I will never be ready for life's surprises, but for the surprise moments that make up a lifetime.
~
Relephant Read:
~
Author: Carlene Kurdziel
Editor: Renee Jahnke
Photo: Curtis Newton-Flickr