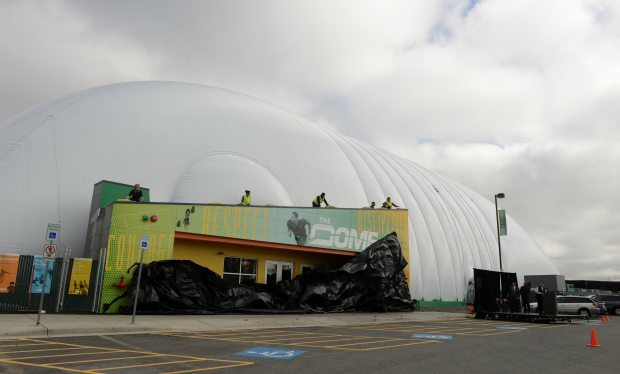 Last summer, my family traveled to Anchorage for an event called Six Days in the Dome, where athletes run around an indoor track for 24 hours, 48 hours, or six days…straight.
They sleep when they can, in homemade forts made of hurdles, towels, and clothing options to last the duration.
Shoes were in abundance.
Along the interior of the outer walls of the oblong building was a ring of tables. The tables were fuelling/hydration stations for each runner. The fortunate runners had a crew member (a significant other, in most cases) manning their tables, replenishing, anticipating, encouraging for days.
These are the unsung heroes of ultra running.
My son was competing. His goal: to set age group records for the 6 hour and 12 hour run and then to accomplish about 130 miles over the course of 24 hours.
After running 31 miles, the arch in his foot fell. He had to drop out, injured.
All the training, planning, expense seemingly for nothing. Everyone in that dome felt his pain and disappointment. Runners stopped their race, took time off the clock to check on him offering advice, tips, and to commiserate.
It was touching.
All was not lost. No experience is ever a waste. I believe there is a reason for everything —if for nothing else but to learn a lesson and to grow.
And, for us, this was the case. Over half the athletes participating in this world class ultra running event were over 60. They are an impressive lot. None look their age, and all have a twinkle in their eyes. Truly, they are testaments to the adage: age is just a number. One guy, 78 years of age wanted to walk 78 miles. Another, at 84, was seeing what he still had in him. One woman broke the 48 hour world record. Each had a personal goal, just like my son.
The winner (mid-forties) completed the race, after six days, with nearly 600 miles under his belt.
For him, this is a new American record. Amazing.
When my son determined his injury was too severe to continue, I expected devastation. After all, he trains hard. But, alas, at 19 years old, he was able to conquer any emotional reaction with maturity and wisdom.
As we left the venue, he was cheerful and ready to see Alaska, having gone from disappointment to vacation mode within the span of minutes. Resilience is a beautiful quality. This is the nature of an athlete.
They do not have time to indulge in self-pity.
The true athlete is already looking to the next event, preparing mentally for the challenges ahead.
On that day in the dome, I saw the older athletes engage in a gruelling test of physical stamina when many their age have resigned themselves to "being old." I saw my son adapt to the reality of what was. I witnessed race officials tackle last minute timing issues that could have shut down the event. I looked as my husband was in the mix, as a bystander, using his skills as a programmer solve the problem and later stay way past when his own family left to support the efforts.
And, I watched the selfless love that crew members gave to their runner and every runner. I saw many of these runners giving high fives to spectators over and over. One athlete, after completing his event, running 100 miles in 12 hours came back the next day and manned an aid station.
Ultra running may not be your thing. Certainly, it is not for me. But, it does have an appeal. Bonding and camaraderie are just part of it. The rest of it simply cannot be explained; just witnessed.
They have my respect.
So much of what I saw can apply to all of us—the way to handle disappointment, the way to show selfless love, the way to support others in their personal goals though they may seem crazy to you. We are all getting older. I learned from masters how to keep living and accomplishing.
They redefined the term, prime years, for me.
Watching the young and the old, of this sport, it is obvious to see that heart, character, the desire to achieve is what drives them all.
Author: Melanie Blenis 
Editor: Renée Picard
Image: via the author