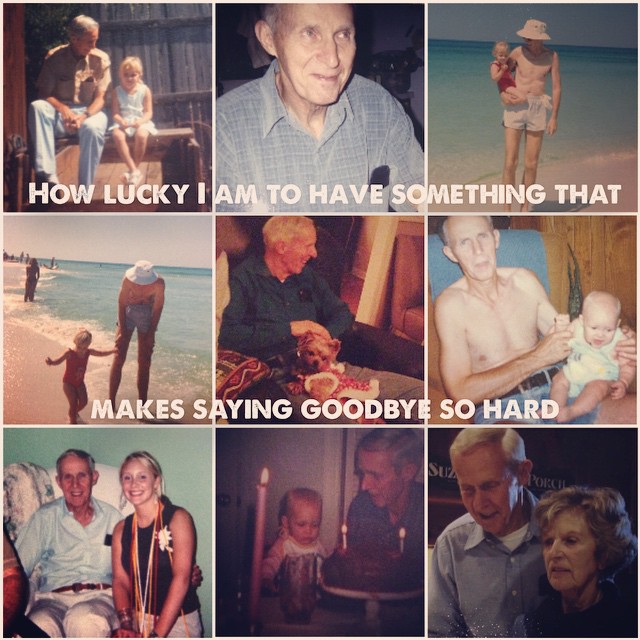 He's been my rock my entire life, my shelter when the storm is near.
He's the candle showing me the light through this life, the one person that truly exemplifies unconditional love.
My constant.
I can honestly say I never in my life doubted the love he had for me.
He's picked me up when I have fallen.
He cleaned my wounds and nursed me back to health.
My biggest supporter and biggest fan…
My world.
Losing you is by far the hardest thing I have ever done.
What will I do without you?
You were my best friend from the moment I was born.
You taught me to ride a bike, to throw and catch a ball, you taught me how to tie my shoes, how to husk corn, to plant and tend a garden, you taught me how to read and do math, you taught me to drive, to balance my checkbook, and you taught me to stand my ground with strength and gentleness.
I have never met another soul in this world that was so strong. Such a fighter at heart. But with ease, grace, and gentleness. You were always firm in your stance, but those baby blue eyes were filled with love and light.
Just looking in to your eyes, I knew what you said was truth and that I should obey and follow!
You raised me as though I was your own daughter when you didn't have to. You made me breakfast most mornings, you told me stories, you played hot potato with me on those rainy Summer days, you let me pick out a cucumber in the garden for my afternoon snack.
You took me on trips to the mountains and the beach, you showed me what life was all about—unconditional love.
My Granddaddy has found his peace he had been looking for for the past four years. Numerous strokes and misdiagnosis debilitated the strongest man I have ever had the pleasure of knowing.
One of his misdiagnosis was Parkinson's Disease.
"Parkinson's disease is a progressive disorder of the nervous system that affects your movement. It develops gradually, sometimes starting with a barely noticeable tremor in just one hand. But while a tremor may be the most well-known sign of Parkinson's disease, the disorder also commonly causes stiffness or slowing of movement.

In the early stages of Parkinson's disease, your face may show little or no expression or your arms may not swing when you walk. Your speech may become soft or slurred. Parkinson's disease symptoms worsen as your condition progresses over time." (Mayo Clinic, 2015). 
This evil disease stole the motivation out of my Grandfather. I watched him slip into a mild depression. He couldn't run anymore with his love, my Grandmother. He could tend his garden or drive a car, much less prepare his own food. He was dependent and this upset him.
But never did I see the light in his eyes disappear. They were always full of love, light, and wonderment.
I felt the shift in the Earth when you took your last breath. It was like a piece of me went with you…but then you have surprised me again. I see you in everything. I see you running down your street, doing your little dance in the kitchen, riding your tractor in the garden, reading at your desk…
Although my heart is broken, I can't help but feel peace for his soul and blessed for all that he did for me, when he didn't have to. I can only hope to be half of who he was and will always be.
And that is just what I will do. 
I will live my life with the goal to make you proud. I will love unconditionally, I will be strong yet gentle, I will make it my life's mission to continuously grow spiritually and mentally. I will strive to be half as amazing as you are, Granddaddy. 
Our family will miss his sweet face every single day, but his spirit will carry on in ours.
Losing a loved one is never easy; everyone grieves differently.
Just know that you are not alone in grieving. You always have a support system there to love you. The most important thing that I can stress, is to remember, that your loved one you have lost no longer has to suffer or endure the pains of this world and what joy you can take in that.
Be blessed and honored that you had what time you did with them. Remember the good times. Remember the bad.
Most of all, remember the love that makes the world go 'round.
Relephant: 
Author: Hannah Hilton
Editor: Renée Picard
Image: author's own