"Beauty is about being comfortable in your own skin. It's about knowing and accepting who you are." ~ Ellen Degeneres
Erica Simone is a passionate photographer based in New York, and she has recently started a campaign called #thepowerofnaked, with the slogan "Nothing Fits Like You."
The aim of the campaign is to encourage others to embrace their "primary state of being" and to feel comfortable in their own skin, with who they are as a person, with their body and mind and their role in society, while being free from the confinements of societal expectations and the projections from media.
Erica has never liked to follow rules, nor has she cared much for wearing clothes.
This prompted her to start a project, Nue York: Self-Portraits of a Bare Urban Citizen, in which she first photographed herself in New York city, naked, with just a tripod as assistance, doing things like window shopping in front of the Ralph Lauren store on Bleeker Street, in Manhattan's West Village: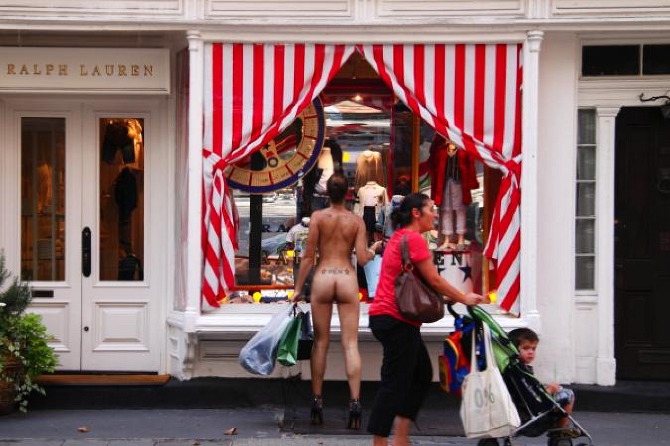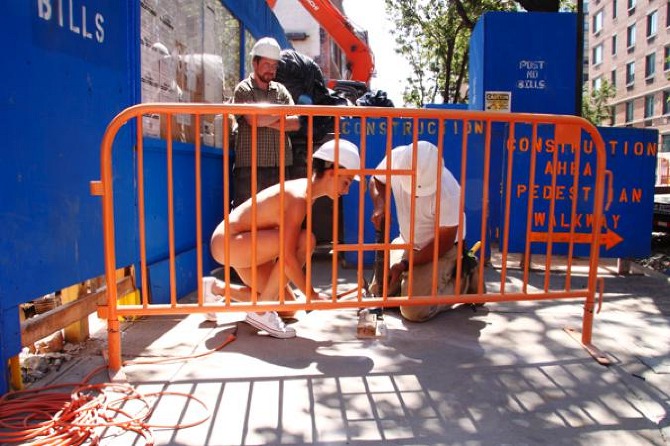 Unlike other body love campaigns recently, Erica focuses on how clothing and fashion are used as a silent language.
How we dress speaks of how much money we make, what type of person we are or want to be, what type of mood we are in, where we are going, whether we take care of ourselves or not and also can be used to draw attention to ourselves.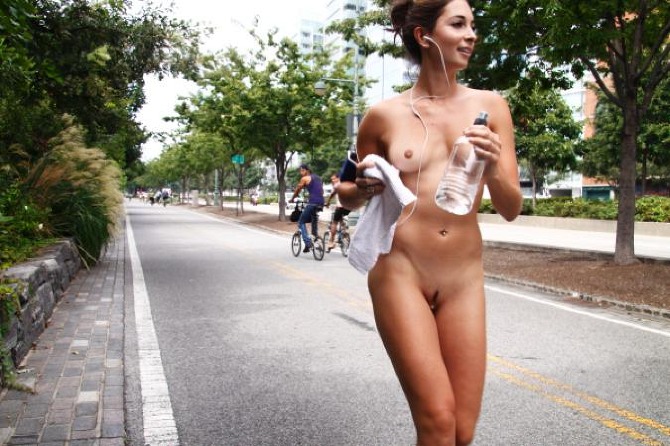 Our style can also communicate who is similar to us or who is not, and then judgments can be quickly made that can affect how we interact with others.
Erica decided to shoot a photo series to question what would happen if we did not use clothing as a means of interacting with one another.
Is it possible to be happy within our own skin, without the use of fashion? And can we be nude without it automatically meaning our bodies are going to be sexualised?
It also brought Erica to ponder about how we have evolved far from our primary state of being that now it is against the law to be naked in public.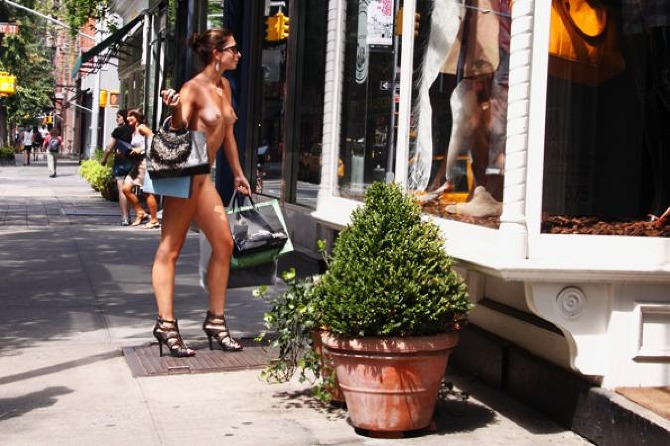 By removing her clothes in public places, Erica hoped to find the answers to some of her questions.
Highlighting the fact that she is not looking to shock people by photographing herself naked, her intention is to engage conversation and provoke thoughts as to why we seem so afraid to embrace the human body in its naked glory, representing us in our purest form of existence.
Erica has photographed herself fully naked on the subway, riding a bike over Brooklyn Bridge, having her hair cut by a barber, snow shovelling, getting "tattooed" by Ami James, stepping out of a taxi, playing pig pong with Susan Sarandon, and so on…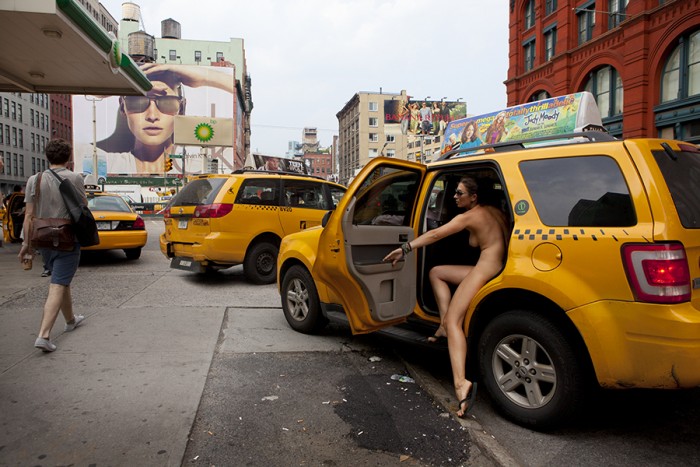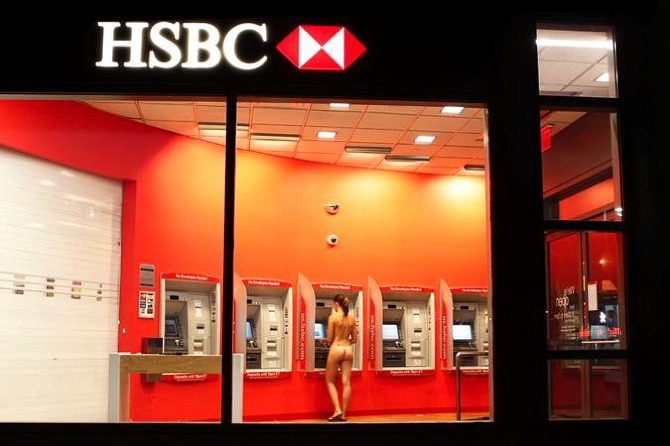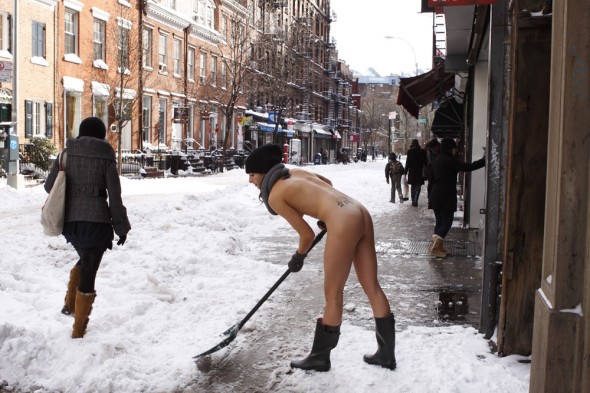 Erica admits, she has had to dodge cops, been laughed at, others have applauded, she has been hit on and landed in a fight with a cab driver.
However, despite being naked in the city, she has never got herself into any serious trouble.
Erica explains on her website:
"Nue York: Self-Portraits of a Bare Urban Citizen bloomed from an initial questioning about clothing and the importance of fashion in modern society. What we wear acts as a silent language allowing us to portray who we are or want to be, suggesting to the outer world an impression on us—whatever that may be. Fashion tends to segregate us as well as adapt us into various social categories, also helping us communicate our moods. This tool of expression is quite precious to civil society and as most people, I organically use clothing as a way of portraying my own image.
New York City is a fashion mecca, where image and stature reign the streets. As I watch an image-absorbed society care more about the sales at Barney's than the homeless people they ignore as they parade by, I began to ponder: 'What would the world feel like naked? What if we didn't have clothing to come in between us? Or if we couldn't show off our social status? What if all we had were our bodies to express our personalities?' These questions raised many various issues and these issues raised many various questions. 'How have we evolved so far away from our utmost primary state of being that it is actually against the law to be nude in public?' Naked is who we are and who we come into the world as.
From there, my photographic project was born. With a tripod and a couple ounces of adrenaline, I took to the busy streets to get a taste of New York in the nude.
The point is not to be nude for shock value. I am simply an artist looking to humorously poke at some interesting thoughts about society and question who we are and embody as human beings inhabiting this home we call Earth. It's now up to you to answer or raise these questions, as you like."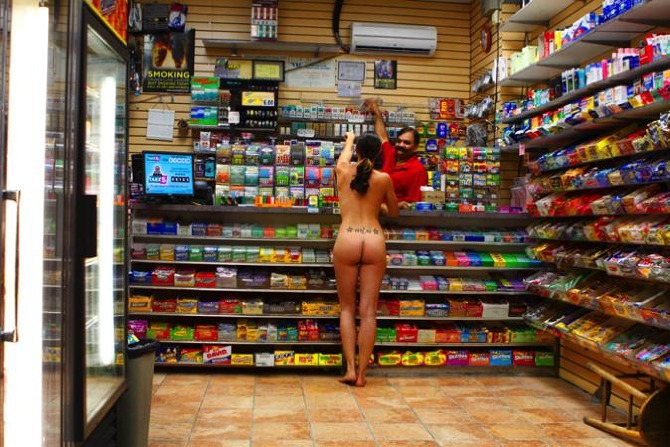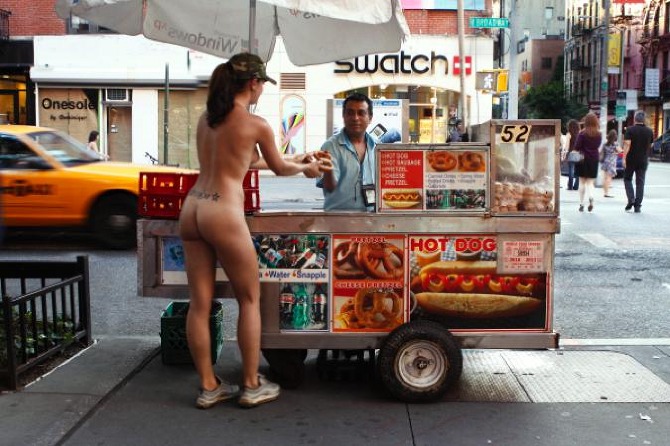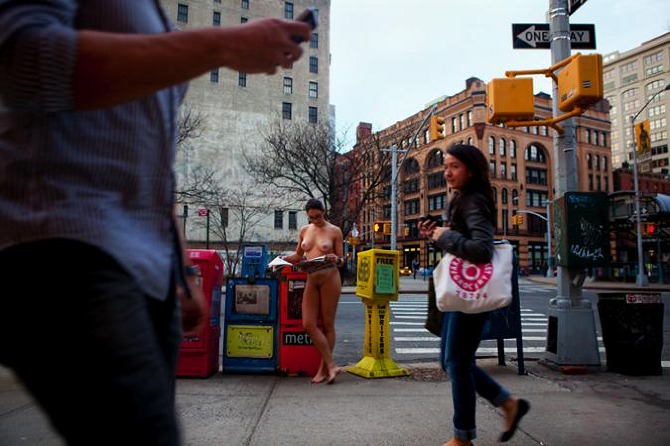 While we wear clothing to protect from the elements, and also to protect our modesty and define our style, many people also use clothing as a means of covering and hiding our bodies—not just due to the fear of showing sexual body parts, but also because we are afraid that other people will judge our naked body for its shape or size.
A recent study by the University of Florida concluded that humans first began wearing clothes around 170,000 years ago, primarily for warmth and protection.
Clothing has since become a fashion statement, and nowadays we are so used to seeing people clothed, that as soon as a certain amount of naked flesh is shown, we are unnerved by it.
This seems to have brought about a sense of body shame.
We feel that if we expose ourselves in any way—not just breasts, even showing a lot of leg or bare back—we are sexualising ourselves and, therefore, degrading ourselves in some way.
It makes sense, then, that a lot of us are now embarrassed and somewhat uncomfortable with our own bodies. If others see them as shameful, then it makes sense that our minds become conditioned into also believing they must be fully clothed and hidden away.
Clothing also hides away any health problems or scarring that we may not feel we are free to expose. I know that, personally speaking, if I am going through a period of my life whereby I am not fit and healthy, my body is a direct projection of that.
I fall back on clothing as a way to mask the things I don't want others to see.
But why? We all have unique bodies, and only a very small proportion of them are the likes we see in the fashion industry and magazines. It seems that, as these images are the ones that are constantly in the media, we then compare ourselves to photographs that have been edited, photoshopped and chosen only after thousands different takes are captured.
The less natural body shapes we see and the fewer naked images we see, the higher chance we have of believing that ours are somehow different to the majority of others and should be hidden away.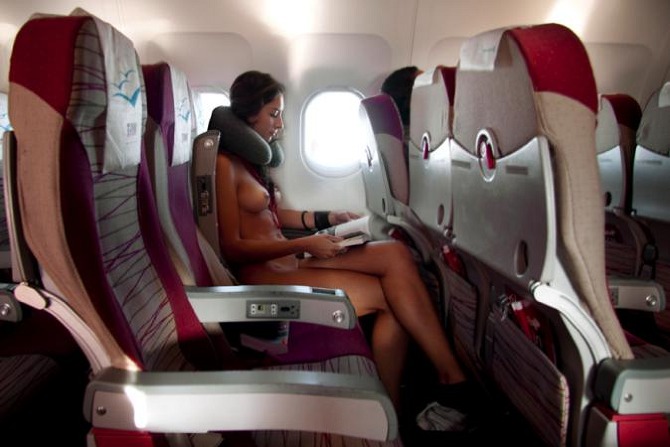 Although I am a firm believer in being comfortable in our own skin, and in removing the feelings of shame that we have toward it and that we project onto other people's bodies, I do also believe that it will take some time before we can remove the sexualisation of the human body so that we are free to express ourselves as we choose, without fear and without judgement.
It seems the more we keep our bodies hidden away and covered up, the more we feel that our natural bodies, flesh and bones, are less beautiful and less important than the fabrics we swathe them in.
How many times do we not feel great about ourselves, until we put on our favourite garments and suddenly our confidence is raised?
How about we raise our confidence before the fabrics adorn us by simply looking at our flesh without judgmental eyes.
Being comfortable in our own skin and accepting it in its full glory, in my opinion, is the first step we need to take to raise our self-esteem.
No bodies should be judged, clothed or unclothed, we are each individual and should be free to express ourselves whichever way we see fit, without other's feeling the need to wade in and comment about how we look.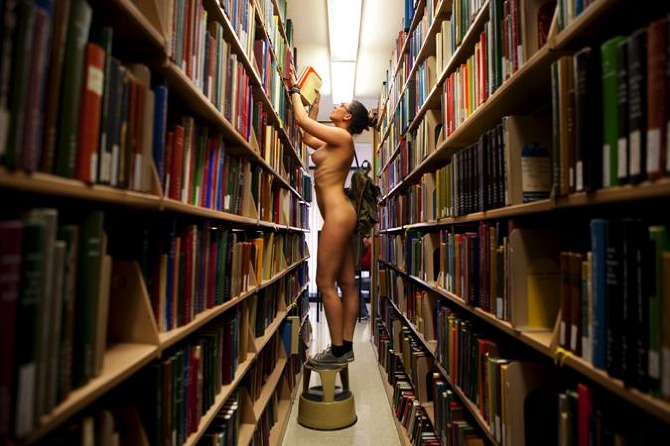 It may take some time for minds to open up and to accept the body naked once more, but until then, when we cover it up with fabric by day and dislike it stripped down by night, we are ensuring that low self-esteem and judgments of all kinds reign over our freedom to be in our most natural form, butt naked and comfortable and confident within our skin, in our most beautiful and primal state.
"The next time you look into the mirror, try to let go of the storyline that says you're too fat or too sallow, too ashy or too old, your eyes are too small or your nose too big; just look into the mirror and see your face. When the criticism drops away, what you will see then is just you, without judgment, and that is the first step towards transforming your experience of the world." ~ Oprah Winfrey
On March 13th, Erica started a campaign through the crowd funding project, to fund publishing a book of these images plus new ones that have not yet been seen, it has so far raised almost $16,000.
Relephant Read:
Author: Alex Sandra Myles
Editor: Emily Bartran
Photos:   Erica Simone See complete Collection Here.
Bonus video by our founder Waylon Lewis: