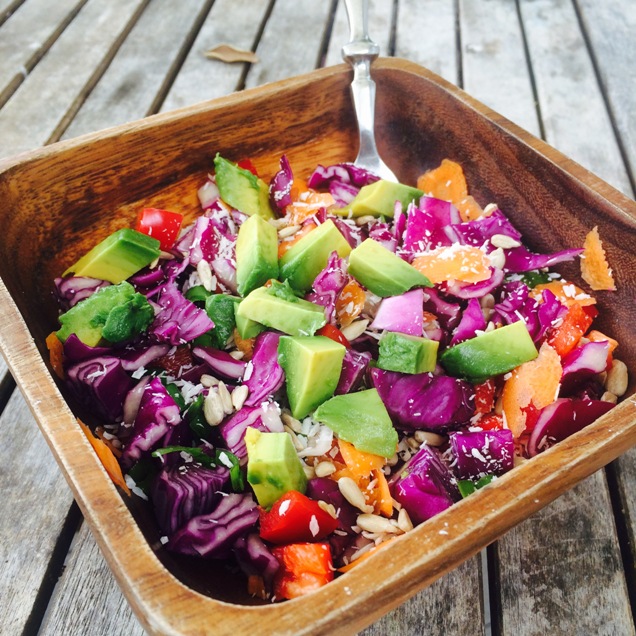 Sweet, nutty, crispy and crunchy.
This dense, five vegetable salad with an apple-cider-peanut dressing is a potluck crowd pleaser and perfect nourishment for hot weather.
Summer is the perfect time to gorge on fresh, sun-soaked vegetables. Raw veggie salads are high in fiber, water, and antioxidants, especially vibrant, colorful ones like this salad of purple cabbage, red peppers, green onions, and orange carrots. The density of this salad also ensures that you will slow it down while eating and that your jaw gets a workout.
Perhaps noshing on this salad will provide: groundedness and safety (red root chakra), a healthy sexuality (orange sacral chakra), unconditional love (green heart chakra), and calm and focus (purple third eye chakra).
If only it were that easy…
It's important to dress your salads with healthy monounsaturated oils allowing for full utilization and absorption of the fat-soluble vitamins A, D, E, and K. The fats in this salad come from a perfect combination of nuts, seeds, and avocados.
The dressing makes this salad so, at only 30 calories per tablespoon, don't be shy. Go ahead, dress it up!
For the apple-cider-peanut dressing, whisk together: 1/4 c raw, crunchy peanut butter + 1/4 c coconut (or tap) water + 1/2 c apple cider (or rice) vinegar.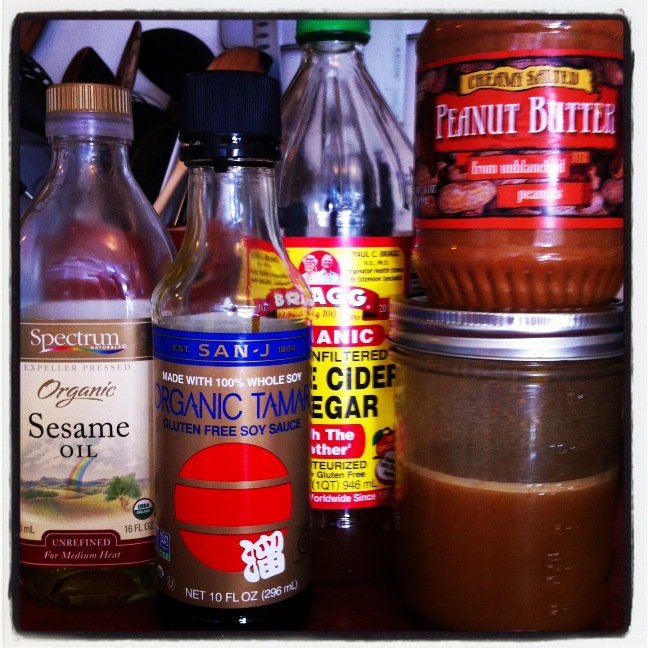 Then add: 3 TBSP raw honey + 1 tsp salt + 1 TBSP tamari + 1 TBSP raw sesame oil
For the chopped salad (high in vitamins A, C, K, B6, and folate and manganese and phosphorous), toss together:
4 cups purple cabbage—finely chopped or shredded
1 red pepper—diced
5 scallions—mostly green parts, chopped
2 carrots—grated
Top salad with: raw sunflower seeds, unsweetened coconut flakes, and diced avocado
2 cups salad mix + 1 T coconut + 1 T sunflower seeds + 1/4 diced avocado + 3 T dressing = 295 calories, 19g of fat, 9g fiber, 16g sugar, and 9g of protein and a lot of chewing!
Relephant: 
When buying ingredients, be mindful of the labels: the difference between non-GMO, organic and conventional: 
Author: Tahirih Linz
Editor: Renée P.
Photos: Author's Own