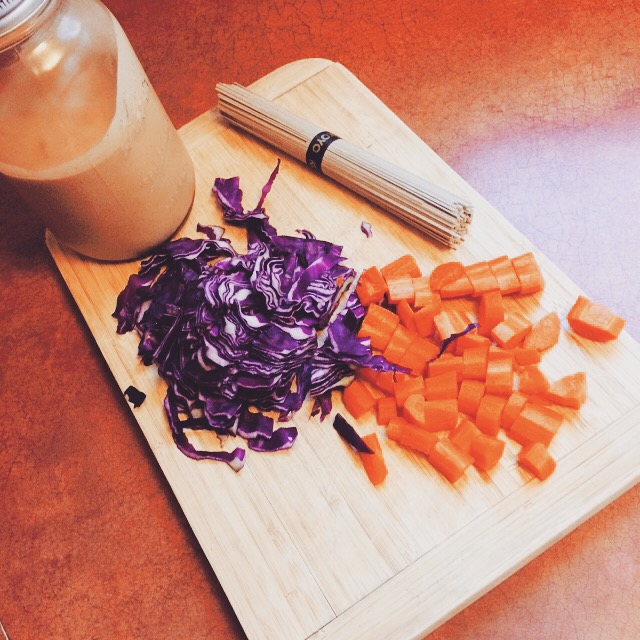 My BFF, Amy, is so cool.
She was eating kale in the late 90s way before it was en vogue.
Back then she gave me the recipe for this tahini-based sauce. It was a revelation to me at the time. These days using nuts and seeds in sauces is quite common; however, if you have yet to try a tahini sauce…well, you must! It's simple and fast to make a creamy, savory dish with no food processor required.
This speedy meal combines gluten-free soba noodles and high-fiber, high-antioxidant veggies with a rich, creamy sauce made from tahini (ground sesame seeds).
Tahini is a powerhouse of minerals such as copper, calcium, and iron as well as the 2nd highest plant source of tryptophan, a pre-cursor for seratonin (the "feel good" hormone).
Soba noodles are made from buckwheat whose unique flavonoid compounds are critical for vascular health. Buckwheat is unrelated botanically to wheat (it's a fruit seed) so it's naturally gluten-free; however, read labels, some brands add wheat flour to their noodles.
Feel free to sub in zucchini, kelp noodles or udon noodles. Also delicious drizzled over steamed rice and roasted veggies.
Ingredients (serves 2):
1 cup carrots—sliced into rounds
1 cup red cabbage—shredded
Soba noodles or kelp noodles or zucchini noodles or whatever
Tahini sauce (makes a lot and keeps for awhile):
1/2 cup tahini
1/2 cup hot water
1 lemon—juiced
2 TBSP tamari
3 tsp maple syrup
2 tsp rice vinegar
Nutrition Info (SAUCE ONLY): 1/4 cup (2oz) = 122 kcals + 8g fat + 4g protein + 2g fiber
Directions: Whisk sauce ingredients together and set aside. Toss carrots into boiling water. Bring water and carrots back to a boil and toss in 2 servings of soba noodles (whatever that looks like to you).
Cook for 3 mins, then add cabbage. Boil for 1-2 mins more (test for done-ness) and drain. Toss 1/2 (more or less) of sauce with hot noodle mixture and top with green onions and toasted sesame seeds.
Savory, creamy, and delicious.
Try this "meatier" variation: Sauté in sesame oil 2 cups sliced shiitake mushrooms, 1/2 cup diced red onion, 2 TBSP fresh grated ginger and a splash of tamari. Toss with sauce and soba noodles and sprinkle with toasted sesame seeds.
This version will be higher in fat and lower in fiber but ginger, onion, and shiitake increase the "healthy" factor so dig in!
Relephant: 
Author: Tahirih Linz
Editor: Renée Picard
Photos: Author's Own