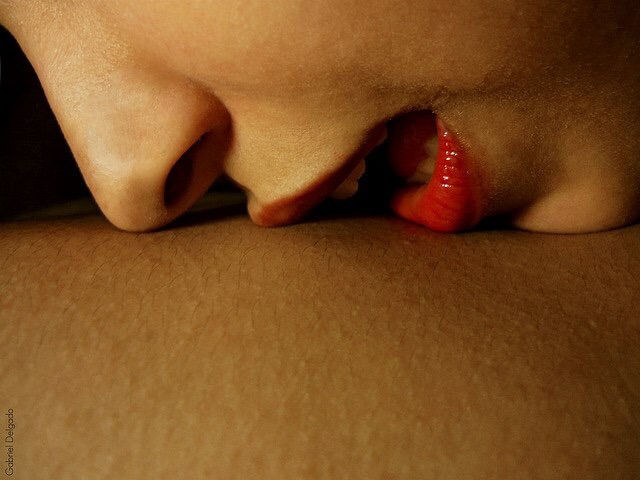 The act of fellatio is not one that is dirty or something to be ashamed of.
To take our lover into our mouths and make them forget about the rest of the world is a privilege—and it should be treated as such.
Sex is a beautiful reality of life, and we shouldn't be ashamed to talk about it.
I love giving head.
Honestly, I could do it every single day and still never tire of it—in the shower, in the car, outside, anywhere!
But to be good at it we have to love it, and to love it, well—we kinda have to be good at it.
What if there was more to fellatio than just giving head? 
Taking the act of sex and giving head—and allowing it to become not just a physical act but a sacred act—is the key to body–and-heart-shaking types of orgasms and connections.
Sex is never just sex—it's always about more. Sometimes, depending on the type of relationship, it can be about power or control, unfortunately. In the best of situations, it's about desire and connection—to literally not be able to think about anything else but pleasing our lover physically.
This isn't dirty! It's okay to think about our lovers sexually (and graphically), and still practice yoga or believe in Karma and Dharma.
To be dedicated to the mindful life is not to exclude the desire for hot, rowdy sex.
If we looked at awakening the Kundalini or Tantric practices—sexual energy is the very vessel to achieve higher consciousness.
What if we attempted to bring that level of mindful connectedness into our own bedrooms? I believe that we should all enter any act of sex with the intention of raising the level of consciousness of our partners.
When I am with a lover, I don't want them to just climax—I want them aroused. I want their senses overwhelmed. I want it to be unforgettable.
I want their hearts pounding and legs shaking because our bodies are so conscious of the energies that we are creating that they can't help but to react.
When I give head, I don't do it because I feel like I should or because I want anything in return—I do it because I love it. I love to watch my lover's face and hear how much they enjoy it while I am. To even come close to giving head that can raise our lover's consciousness, we need to approach it like it's a meal we are getting to finally taste after a month long fast.
We need to be enthusiastic about it.
We aren't just after getting his cock hard, we are after pleasing our lover—which is a total mind, body, heart and soul event. We can take our time on a man in the same way that ladies like to be teased and tantalized before the act even begins.
Just because he is a man doesn't mean he doesn't want to be seduced.
We can start on top—deeply kissing and letting the feel of our own naked body graze the one underneath, kissing their neck and jawline, softly biting them and sucking gently.
Then we can slowly kiss down their chests, letting our fingertips graze the side of their bodies and kissing their ribs and their hips until we are between their legs.
But don't take them into the mouth just yet—because this isn't just about the act, it's about the entire show.
We can begin by kissing, licking and sucking the inside of their thighs, softly biting at times—gently running our lips down his cock and waiting to hear the sharp inhale of desire, letting us know we are on the right track.
Start at his testicles and lick them, even sucking gently, then lick the entire way up his shaft. Let your tongue dance around the head of it, and then take him all the way into your mouth.
While sucking, rotate around and up while using hands to further excite and arouse him. Don't be afraid to cup his testicles gently while giving head—remember a man is just as sensitive as a woman, and paying attention to every part of his body is crucial for giving unforgettable head.
Let him reach the point of almost climaxing, and then pause—let your hair fall over his body, let your fingertips trace the inside of his thighs.
It's important to take the time to delight in the raw ecstasy of being able to bring pleasure to our lover, and the spaces of connectedness that it creates.
We can try different tongue and hand motions and even use our breasts as part of the experience—the point is to leave the inhibitions at the door, and stay present in the moment with our lovers.
Let's delight in the ability to sexually satisfy our lovers. There is no rule that we can't be spiritually mindful awakened adults and also enjoy giving head.
To be an awakened mindful adult means that we have embraced all aspects of ourselves—our light and our darkness, our sensitivity and our strength, our emotions and our sexuality.
So let's not limit ourselves by letting others define our sexuality, but instead let us be brave enough to color outside the lines and delight in the art of sex.
~
Relephant Read:
Author: Kate Rose 
Editor: Yoli Ramazzina
Image: Flickr/Gabriel S. Delgado C.