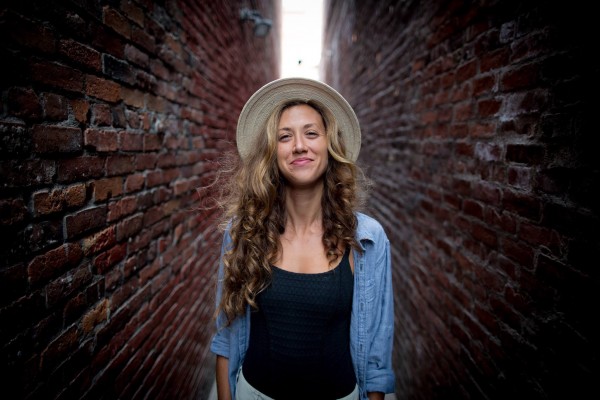 Caution: adult language below! 
I've spent a lot of my life royally sucking at receiving.
I have a "I'll do it myself" attitude, an independence likely birthed from a mom who raised me on her own, working pumping gas in the Yukon with me in her truck in my car seat to get by.
There was no dad to provide.
There were no men in my life who showed up and took care of me.
I'm twenty-six with a track record of broke musicians, broke travellers, and men quitting their jobs to find themselves.
In one of my last almost relationships I paid for the gas money of my boyfriend to get to a self growth course—that I also paid for, along with accommodations and groceries.
I'm used to being the fucking rock.
I used to think that "receiving" meant not doing good enough.
I used to think that "receiving" meant not being independent.
I used to think "My mamma was independent, and you bet your ass I will be too."
This worked well for me until I got pregnant a few years ago—when I needed a rock, he wasn't there. I sat alone, healing mentally and physically and processing my abortion.
I swore never to be the only rock in a relationship again.
I recently landed in the arms of a man who took care of me.
He cooked me food, made me coffee, ironed my clothes, helped me move, helped me find a new place, suggested things like, "Let's go get an organizer for your tax receipts."
He invested his time and energy into supporting my career with connections, conversations and presence.
He believed in me and rooted for me.
He physically, mentally and financially had his shit together.
He had a nice place, with heated floors and Kevin Murphy shampoo—he owns a business and a vehicle.
He is equipped to do things like pay for his friends to go on surf trips with him.
He created a space, for the first time in my life—where I looked around, let my guard down, took a deep breath and realized I could finally take off my heroine cape and crawl into security.
You know how fucking nice it is to be taken care of, to have someone make you coffee and say things like, "You should order some mugs with your poem on them—with the views on that poem if even 2% of your readers bought a mug you'd make x amount of money."
There hasn't been a man in my life I've trusted to really, really take care of me.
I run from these ones.
I gag at domestication and have no intentions of marriage or kids or a mortgage or bridesmaids.
It was so god damn refreshing to be with him, to arrive at his place and find him working away passionately, the CBC Radio playing and a mug of tea at his side.
It was so nice to not be sitting on the floor with a lover who is having a breakdown trying to figure out whether they can be a musician.
It was such a relief to trust someone enough to be vulnerable enough to receive.
Stability is nice.
Security? I kinda like that shit.
While in Guatemala this spring, I wound up in San Marcos, a yoga town full of people "finding themselves."
I joked that everyone was "eat-pray-loving," and finally caved into having my astrology read.
The first thing the astrologer said was, "You're not very spiritual," so I knew he was in the right track.
"You're going to need a man who will be stable," he continued. "You're going to need a man with a home, who will let you be chaos and create and who will feed you and take care of you."
I laughed out loud.
Well, maybe he was right.
I can be a feminist and still want to be with a man who will take care of me.
More awesome from Janne: 
Author: Janne Robinson
Editor: Renée Picard 
Image: Author's own