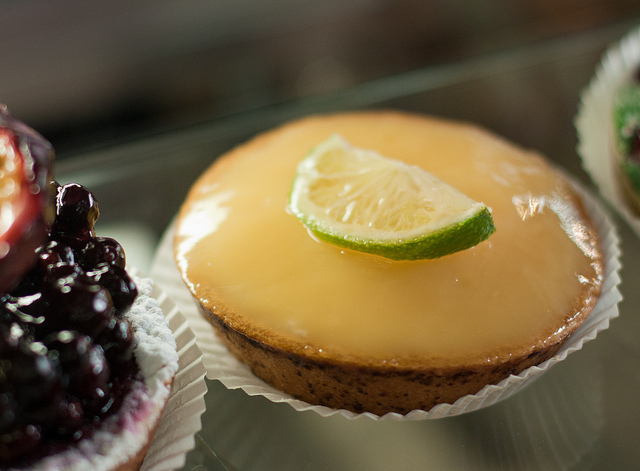 Although I love to cook, I'm no baker.
There's something about the precise measurements needed to bake that messes with my extremely right-brain brain.
I prefer to feel my way around a recipe, and fly by the strings of my proverbial apron.
But, every now and then I need to put together something sweet—usually because I'm having a little dinner party, and it's uncouth to give your guests Oreos.
I discovered this wonderful recipe recently on just such an occasion in My New Roots by Sarah Britton. I did tweak it a little, so it's a bit easier and also a bit more decadent than the original, but hey, who's complaining?
The grand surprise of this delicious dessert is that the mousse-like filling is primarily avocado—but you'd never know it. So, not only is it yummy, it's also jam-packed with healthy oils, fiber, protein and tons of nutrients.
Winning!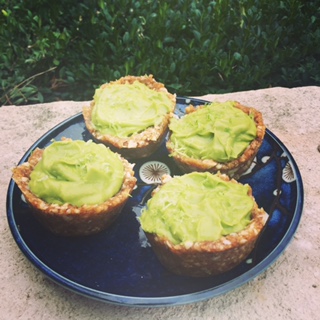 For the crust you will need:
1 cup raw almonds
1 cup raw pecans
2/3 heaping cup unsweetened, shredded coconut
2 cups Medjool dates
1-2 tsp sea salt
Put all ingredients in a food processor and combine until they form a solid mass.
It will still be a little chunky; that's fine.
Line a 6-8 cup muffin tin with plastic wrap (depending on how thick you like your crusts you will get 6-8 tartlets from the dough). Press dough firmly into muffin tin, making sure you build up the edges well. Cover and set aside in the refrigerator for at least an hour and up to 24 hours.
For the filling you will need:
3-4 ripe avocados, pitted, flesh removed
1/4 cup pure maple syrup or raw honey
1 1/2 tbsp coconut oil, melted
1/3 cup freshly squeezed lime juice
2 pinches fine sea salt
grated zest of 1 lime, plus extra for topping if desired
Put all ingredients in a food processor and combine until smooth. Taste and adjust salt, lime or sweetness.
Fill tartlet shells and refrigerate, covered, at least one hour.
To serve, gently remove tartlets and top with your choice of grated lime zest, shaved dark chocolate, or non-dairy whipped topping.
Enjoy!
~
Author: Erica Leibrandt
Editor: Toby Israel
Photo: Neil Conway/Flickr // Author's Own
~