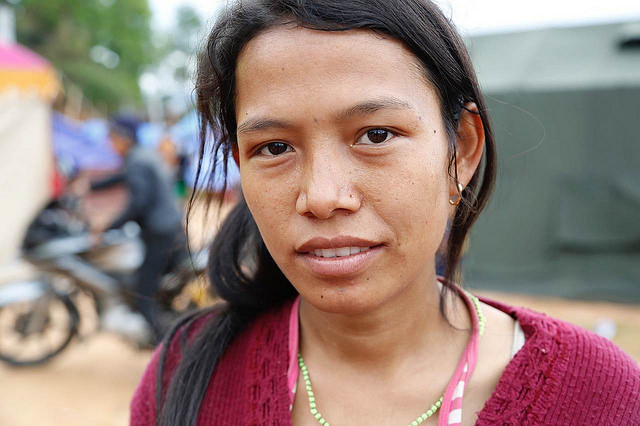 Of all the anythings in the whole wide world, we here at elephant love Bioneers. We've covered it for years, interviewing Paul Hawken, John Perkins, and a dozen other featured presenters. ~ ed.
We each face challenges in our lives and no matter how big or small, what seems daunting right now might just be the seed of a new solution or a new movement!
Each of these inspiring people are changing the game of social justice and environmental protection from the ground up.
They started by looking at the challenges facing their neighbors, friends and community members. Then they decided to take a stand for what they believe is right. They have worked tirelessly for the good of people and planet and continue to lead powerful movements through heartfelt intention, practical action and innovation.
They are a reminder that each of us can truly make a difference right where we are!
> Join all five of these amazing leaders at the upcoming 2015 Bioneers Conference October 16 – 18, 2015 in San Rafael, CA. Get $75 off 3-day passes with discount code: ELEPHANT75 and $50 off 1-day passes with code: ELEPHANT50. Register today—our world needs active, caring community now.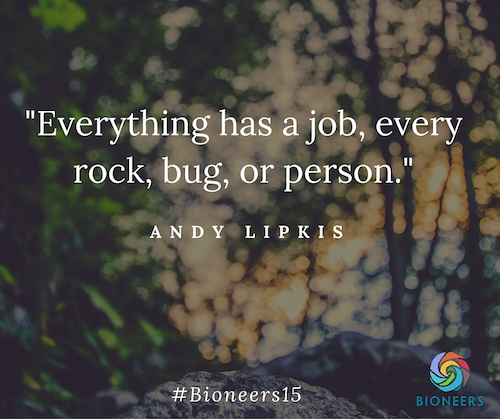 Andy Lipkis founded TreePeople in Los Angeles in 1973 at age 18 when he heard that air pollution was killing trees.
He went on to spearhead an approach using forest-inspired technologies to make cities sustainable while mitigating floods, drought, pollution, and global warming.
Often credited as the inventor of the citizen forestry movement, Lipkis has mobilized volunteers to plant and care for over two million trees in the Los Angeles region. Over decades, his organization has demonstrated how to repair and restore an urban watershed with simple tools like rain barrels, permeable surfaces and tree planting. TreePeople's approach in Los Angeles is now being demonstrated as a model for cities everywhere.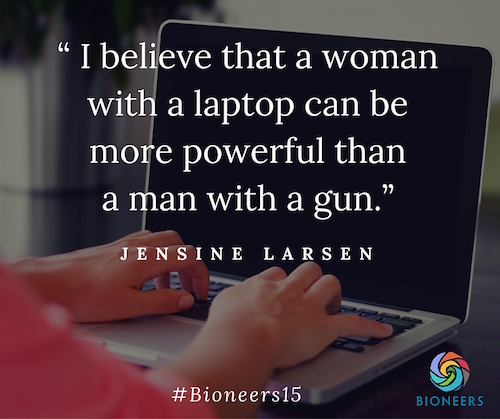 When Jensine Larsen was traveling the world as a young international journalist, she discovered that some of the world's most important stories—the stories of women—were rarely mentioned in the mass media.
She would get a repeated request: "Will you be my messenger and deliver my story to the world?"
So she started a magazine and then expanded to an interactive website. She added media training and started channeling women's voices to the global press. Her project became World Pulse, a digital communication network linking tens of thousands of women from more than 190 countries (including those speaking out using Internet cafes and cell phones from rural areas and conflict zones) into a powerful force for change, impacting more than 2 million lives.
She says,
"I believe with every cell in my body that unleashing the innovation and the solutions of women is the key to solving global problems. What we are up against right now is that it's not happening fast enough. There's great women's empowerment work happening, but the social consciousness is not reaching far enough to the farthest reaches of the globe. That's where the digital media technology comes in as a great accelerator."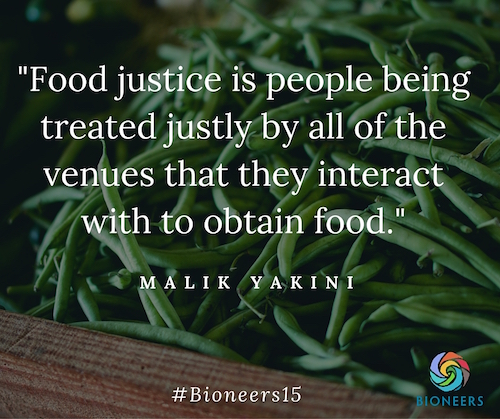 When he was seven years old, Malik Yakini, planted his own backyard vegetable garden in Detroit.
Years later, as he watched his city become a food desert, he took action to empower his neighbors to grow their own food.
Yakini has become one of Detroit's most dynamic, effective and inspiring activists and educators in the food sovereignty movement. As the founder and Executive Director of the Detroit Black Community Food Security Network, he operates a four acre farm and seeds community resilience by training youth, providing nutrition education, hosting festivals and advocating for policy changes.
He says,
"When people spend money on food, they need to derive some benefits from the money that they spend beside just trading food for money…Once people are mobilized and see that they can begin to work for their own benefit, then that's what holds politicians accountable."
Yakini is now helping to develop an international food sovereignty movement that embraces black farmers throughout the Americas, Caribbean and Africa.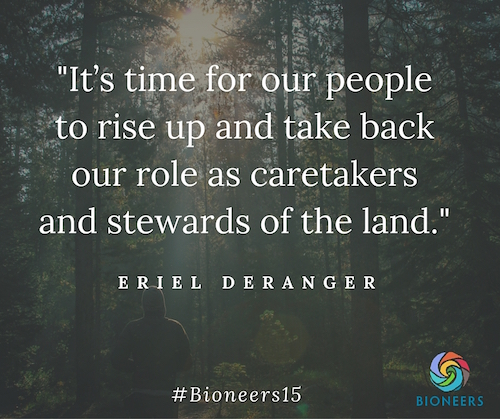 Eriel Deranger is one of the most powerful and tireless activists working to resist the devastation caused by the fossil fuel industry's immense extractive operations in Alberta's "tar sands."
She advocates locally for her people's ancestral homelands in the boreal forest around Lake Athabasca, those living downstream from the oil sands, and for the global biosphere already in the throes of climate change-induced crisis.
"The driver for me," she says, "is that this is my homeland, these are my people…my family. I know people with cancer. I know people who are dying."
Eriel is one of the founders of the Tar Sands Healing Walk, which draws hundreds of people from around the world. She has organized demonstrations and campaigns, initiated lawsuits, and traveled the world speaking to audiences, including at the UN, to defend her people's right to survive and the fragile ecosystems and wildlife habitat of northern forests at risk of annihilation, as well as the very future of life on this planet.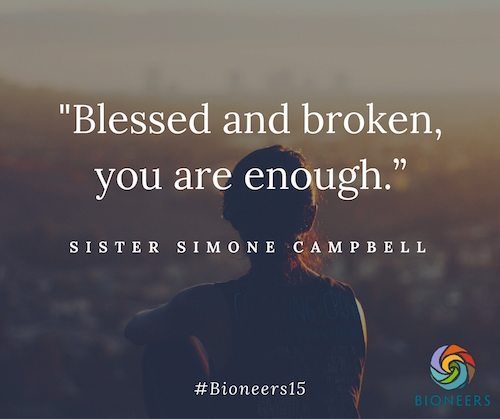 Sister Simone Campbell led the famous "Nuns on the Bus" tour in 2012 to challenge Republican budget proposals in Congress that radically slashed programs for the poorest Americans.
As an advocate for the poor, she lobbies on issues of healthcare, economic policy, and immigration reform. She has become one of the most renowned, influential figures in contemporary faith-based progressive activism.
She says,
"I get invited to where people are hungry. And I'm willing to try to be food for them, just be available, just be present, and listen to their stories or tell mine and—but it's all about keeping my heart open to what's around."
Campbell is currently the Executive Director of Network, a Catholic social justice non-profit. She is also a poet and a highly accomplished social justice attorney who founded the Community Law Center in Oakland, California. Her work with the Leadership Conference of Women Religious has led her to challenge some of the Catholic hierarchy's social and cultural policies. She continues to mobilize with her sisters around the world for social justice across cultural boundaries.
Come see all five of these amazing leaders speak about their work and what you can do to join the movement for the world we want at the 2015 Bioneers Conference this October 16 – 18, 2015 in San Rafael, CA.
Get $75 off 3-day passes with discount code: ELEPHANT75 and $50 off 1-day passes with code: ELEPHANT50. Register today.
Photo: DFID-UK/Flickr