"Keep some room in your heart for the unimaginable." ~ Mary Oliver
Nearly a year ago, in October of 2014, I fell down some steps and sustained a severe spinal injury, including compression fractures in my thoracic spine, bruising in my sacrum and tailbone area, and whiplash in my neck.
Thankfully, my spinal cord was undamaged and I suffered no paralysis or permanent impairment (though I did lose an inch of height due to the compression fractures).
After many months, I have made a significant recovery, with the help of intensive physical therapy and countless other healing modalities, and yet the healing process continues. Though I have been cautious about over-exerting myself, a broken back can't keep a good woman down, so this past June I ventured to Iceland, alone, heeding a call from somewhere in the depths of my soul.
I felt that my intuition was guiding me there, though I had no idea why.
In the Land of Fire and Ice, I experienced several everyday miracles, including a profound physical ordeal that pushed me to my limits, ultimately resulting in deep release and healing.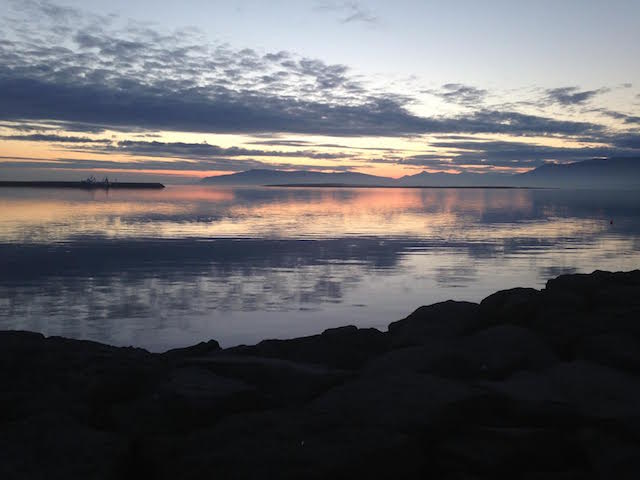 I arrived in Reykjavik just after the summer solstice, when the days linger impossibly, fading to an eerie twilight around midnight, but it never gets completely dark.
On my second day in the country, I joined a day tour to Landmannalauger, a remote area of stark beauty in the volcanic highlands of the country. It took four hours to get there, via a Mad Max-style all-terrain truck negotiating unpaved roads carved out of the rocky volcanic soil.
The route been impassible until only a few days before because of snow and ice. When we finally arrived, the scene looked like something out of National Geographic, reminiscent of the Everest base camp: a completely barren, snow-covered mountain landscape with only a few wooden structures and a number of tents pitched upon the pebbled ground.
Our guide (a spunky, no-nonsense Japanese woman), when initially questioned about the difficulty of the hike, replied rather glibly, "it all depends on how much you trust yourself."
Profound and prophetic words, indeed. (Thanks, Yoda.)
I soon found myself on an unexpectedly rugged trek, rock climbing through lava fields and slushing through steep, snow-covered mountain trails. The hike though the lunar landscape of hardened lava began with a steep incline along a narrow, muddy trail with a stark drop-off to one side. With only enough room to walk single file, we had to alternate with hikers coming down the trail, wedging ourselves into the rock ledges so they could get by.
Those descending wore full trekking gear and made their way with ski poles. They eyed us skeptically, asking where we thought we were going and why we didn't have the proper gear. Um, we were just following our guide, who was by now many meters ahead. Somehow I had imagined that jeans, a thin winter jacket, and beat-up old cross trainers would be sufficient for the outing (the tour description had neglected to mention the ruggedness of the landscape or difficulty of the hike).
By the time I realized what I had gotten myself into, it was too late to turn back. When we reached the first lookout point, surveying the surrounding mountains and the valley from which we had come far below, I knew with a growing dread, "There's no f***ing way I'm going back down there…" So I carried on, not knowing what lay ahead, but certain I simply could not go back the way I had come.
We sloshed through several feet of snow, our group fanning out over a great distance across the icy lava fields as we continued up the trail.
Gripped by a terrible fear of losing my footing, I imagined slipping, injuring myself again, and having to be airlifted back to Reykjavik by helicopter. I wondered how exactly I had gotten myself into this particular pickle; from the comfort of my couch in Austin, browsing tours on my laptop some weeks before, the trip had sounded peaceful and exotic, promising natural beauty and colorful mountain landscapes.
No mention of rugged ice trekking.
But now I was beyond the brochure and in the thick of it. If I had been with anyone I actually knew, I might have allowed myself to sit down and cry. But I had embarked on this soul journey alone and there was nothing to do but keep putting one foot in front of the other.
At the pinnacle of the trek, our group paused and re-gathered to observe a geothermal hot spot spewing steam straight out of the ground. I relished the opportunity to catch my breath, wondering how everyone else appeared so perky. From there the trail began to descend, I noted with relief. After a relatively flat area winding through stark lava outcroppings, the ground covered with slushy snow about two feet deep, we came to another lookout point, and I found myself peering down into a deep gorge carved by a rushing stream. Though beautiful to behold, I felt relieved to be on top of the plateau, merely skirting the chasm.
But inevitably, several minutes later the trail turned steeply, leading directly down into said chasm. Once again, it was do or die.
Somehow I had manifested my very own hero's journey, straight out of Joseph Campell's writings, up here at the northern edge of the world. So many miles from civilization, without any help of being "rescued," I again had no choice but to make my way, one ginger step at a time, down the incline.
And that, as Robert Frost observed, has made all the difference.
As the trail leveled off along the stream bed at the bottom of the chasm, I began to feel giddy with relief, thrilled to be alive and intact. Never before had I felt so humbled and exhilarated all at the same time. Though exhausted, I rejoiced in the affirmation of my own endurance, strength, and basic confidence.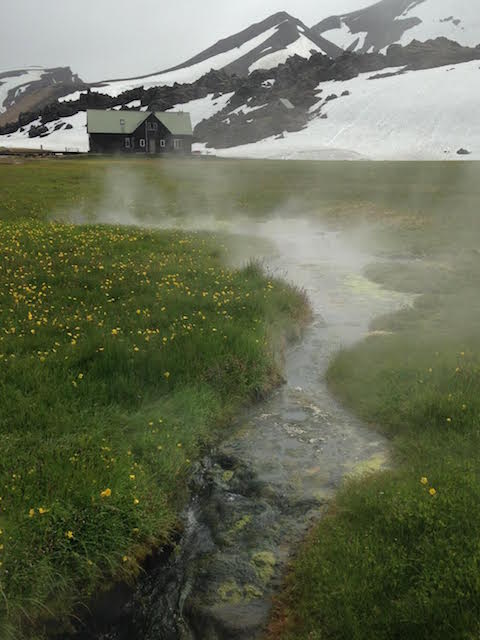 Over the following days, miraculously, I noticed my back pain draining away.
Something had broken loose, all that bracing of my spinal column, all those months of pain, the fear that I might fall again, that I would never fully recover. I felt energized and strengthened. My emotions felt present and fluid. As I continued the trip, visiting old friends and meeting new ones, I experienced a heightening of life force energy, sensuality and romance, deep connections with myself and with others, and a profound healing of my body, mind, and spirit.
Spurred by my Icelandic adventure, I am learning more and more every day to release and let go of the ways I brace myself physically and mentally, to surrender and place my radical trust in synchronicity, in the cosmic order, and in my own intuition and intention, to provide exactly what's needed.
Relephant: 
Author: Melinda Rothouse

Editor: Catherine Monkman
Photos: Author's Own