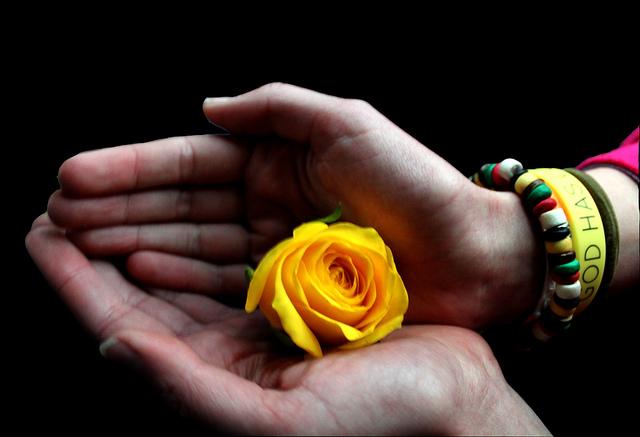 ~
~
I was settling in to being single for the rest of my life. I was looking forward to it. I was relishing it. I was dating, having sex, enjoying my freedom and doing exactly what I wanted to do exactly when I wanted to do it.
Then I met this dude. He rocked my world. We had so much fun together. We laughed. We "got" each other. But when he asked me to be his girlfriend, I held back.
I knew I couldn't do it; I liked dating too much. I argued with him that everything was fine as it was, and that I could not do a relationship again.
I was afraid I would hurt him. I was afraid he would hurt me. I was afraid that I would have to stop dating.
That was when he suggested an open relationship. I was shocked. I had never considered being open before. I had always been pretty harshly judgmental of people I knew who were in open relationships. Now, it seemed, I was about to change my tune.
I had for some time known that the whole happily-ever-after-marriage-house-two-kids thing was not for me, so I figured I was just about to start living more along the lines of my belief system—that it would be much easier. I could be free, and so could he, and we could still have each other.
Simple.
But not.
All of my insecurities, my fear of abandonment, my neglect trauma from my childhood and jealousy came out in this relationship. I was constantly on the edge of my seat, worrying that my fella was going to find someone better suited to his tastes.
Every time he went to meet a woman, I worried. It was messy. As in, I was a mess. I didn't trust any of the women that he slept with, and I didn't trust that they didn't want him for themselves. Every time he returned from a date too tired to have sex with me, I took it as a personal affront.
Over the course of the next year or so, we had many ups and downs, great personal victories when one or the other of us went out with people we were excited by and great struggles when I would feel insecure and my outbursts reached an almost unacceptable level of dysfunction.
But, we talked.
We talked a lot. We talked about my feelings, we talked about his feelings and we talked about the possible feelings of others. We talked about what was important, and we talked, most of all, about trust. We talked about what we would need to trust each other and what we could do to provide a trusting environment within a relationship that we both sincerely wanted to make work.
During the middle of one of these conversations, I realized I had never had one like it with anyone I had ever dated.
In this moment, I saw the brilliance of non-monogamy and what it could do for me over the long-haul. More than any other relationship, this one had the potential to be the catalyst that would finally help me work through and release my significant relationship fears and anxieties.
Because we built a foundation of open and honest communication from the beginning, it got easier and easier for me to ask for what I need—something I have always had huge problems with.
Now, I can't imagine not being in an open relationship. Many of my fears and anxieties have dissipated, and I feel closer to my fella than I have ever felt to anyone. More than that, I am overwhelmed by the patience, generosity and love he has provided me while we have worked through our issues together.
In addition to all this, I have been able to meet and date other people, an activity which has introduced me to some great individuals and provided me with experiences that have greatly enriched my life and helped me grow.
I know that my lifestyle is strange to some and frightening to others, but the reality is that it suits me. I grew up in a home with a woman who had to deny a significant part of who she was to the larger world. I saw the damage that did, and I have always known that no matter what I choose to do, I cannot live in secret. I cannot hide any part of me from the larger world. It is as much of a disservice to me as it is to the world.
For now, I am very happy doing what I want to do—when I want to do it—and being deeply in love with a man who is secure enough to let me be myself.
And there is nothing at all wrong with that.
~
Relephant Read:
~
Author: Sara Young
Editor: Toby Israel
Photo: elzoh/Flickr
~