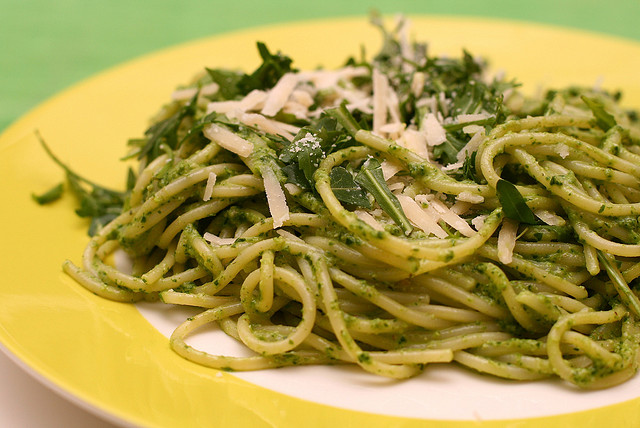 I love pesto!
Before I became plant-based and oil-free, I used to make pesto all the time. It's such a "go-to" thing to have in the house. I used it for pasta, but I also used it for toppings on baked potatoes, mixed with avocados for dip, drizzled over asparagus and even thinned out (with yet more oil) for salad dressing.
I have missed pesto and couldn't find a way to replace it—that is, until I came up with this incredibly easy, wonderful, entirely oil free and vegan recipe which was inspired by one I found in my Forks Over Knives cookbook. (All power to its author, Del Stroufe. for the effort she put into discovering how to make oil-free cooking so delicious.)
An incredible advantage to this recipe is that it brings protein (in the form of tofu) to any dish you use it in.
I have been plant-based in my eating and cooking for a little less than a year and I continue to find that what I thought from the beginning is still true. Plant-based is not a "diet" in which you lose anything—it is more like a "food adventure" in which you gain a whole new way of flavoring, spicing and preparing foods.
As you can see from the video and pictures accompanying this recipe, I used ziti (or penne) pasta for this particular dish. I would put this right up against any pesto I made back in the day, when it was oh, about 1,000 calories per serving!
Here are the ingredients for the pesto:
2 cups packed fresh basil
1/4 cup pine nuts
2 cloves garlic, chopped
Juice of 1 small lemon
1/2 pkg extra firm silken tofu (about 6 ounces) cut into cubes
1 tablespoon nutritional yeast
1/3 cup tahini
Warm water for thinning
Put it all in the blender and blend it until it's smooth and creamy (adding warm water until it reaches desired consistency)
That's it!  What could be easier?  I have kept it in a covered storage dish in the fridge for 3-4 days.
In the dish shown with this recipe, I used pesto I had made the night before and warmed it in a frying pan.  I then added two handfuls of spinach to the cooked pasta and poured the spinach and pasta into the pesto and stirred until the spinach wilted.
Delicious!  Or, as my Born in Italy mother would say, "Mangia!"
More good stuff from Carmelene:
Author: Carmelene Siani 
Editor: Renée Picard 
Image: Diekatrin at Flickr