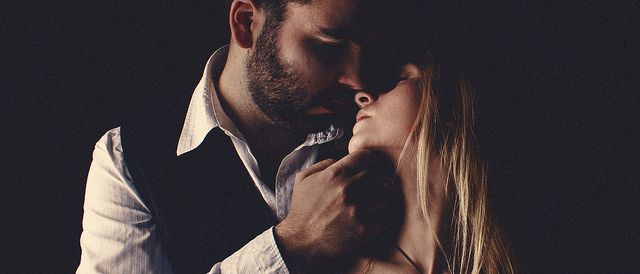 ~
~
"Love is personal and natural. It is a tangible and personal regard of a real person. It is not the unfulfilled desires that are put in us by culture." ~ Mark Whitwell
I met my partner nearly four years ago. We've been "together" for three and a half of those, and at 35, this has been the longest sustained romantic relationship of my life, by far.
I never got the birds and the bees talk from my parents growing up. Instead, I learned about sex (like I learned about yoga) from books. I found a dusty Human Sexuality textbook from my mom's college days which featured anatomical pictures and diagrams that were shocking yet fascinating to my adolescent eyes.
I also secretly read The Hite Report, a collection from the 70s of very detailed answers from North American women surveyed on every aspect of sexuality by Shere Hite. That's how I learned what masturbation was and how to do it. Very handy! (Get it?)
However, my earliest sexual experiences with the opposite sex were terribly shady, to put it nicely. My first kiss at 15, fueled by cheap vodka screwdrivers, occurred at the swim team captain's graduation party and was promptly followed by my first, nearly-forced, gagging blow job. I'd been molested the year prior by a guy seven years older than me in the backseat of a parked car.
After that, in combination with my high school rebellion phase of more backseats of more cars, sex became the logical next step during my first year of college. Waiting for love (much less marriage) was certainly not a viable option in my mind.
I was involved in a slew of short-lived, faux relationships (from meaningless, fun or un-fun one-night stands to "boyfriends" who lasted a matter of months I could count on one hand before disappearing) and on-again, off-again casual dating experiences in my 20s—mostly with super good-looking, stereotypical, noncommittal dudes in the Austin music scene
And let me not forget the two tormented years of pursuing the "love" I had fallen into in 2007 with a career military man. Nor the 2004 summer fling that I somehow became convinced should culminate in marriage, so that I could finally fuck the devout Christian Californian's brains out, you know, in the Biblical sense.
A self-imposed, year long man drought began the day I relocated my life to Central America at 29. I wish I could say that turning 30 changed everything, but instead I fell right back into my old, detrimental patterns with ease as soon as I met Alvaro.
He, too, was a musician but we weren't in Austin anymore. We were in Panajachel, Guatemala, and he was 26 years older than me. We met on the chicken bus. It was totally fated. Our first weekend together, spent entirely in bed, was a magic carpet ride, an oasis of orgasms after such a long walk through the desert. 48 hours of straight-up, no-strings-attached sexual healing.
Alvaro is a talented guitarist and also a career lifeguard. In Spanish, the word for lifeguard is salvavidas, which translates, literally, to "life-saver." In retrospect, there is no doubt that he did save my sexual life. He gave before receiving. He massaged and caressed, licked and fucked away my past.
It should've ended there. Un besito, ciao.
Yet, it continued like clockwork, monthly or so, except, of course, when his French-Canadian long-distance girlfriend was in town (he had, to his credit, told me about her before our first night together) or when any of his grown children (who were around my own age) were visiting.
I had fallen for a man who had not only a wife he'd never divorced but also another girlfriend. There was never any potential future, so I took what I could get. I convinced myself it was all i needed. One of the last straws was when he refused to sleep in the same bed as me after lovemaking, claiming he slept better alone.
"The Demon Lover initially looks like an erotic fantasy come true. But though he sweeps us away to a sweet erotic paradise, he ultimately leaves us drained, with empty hands and hearts." ~ Jalaja Bonheim, Aphrodite's Daughters
I was ready to give up on finding a compatible partner in the Western Hemisphere and set my sights on Asia.
Of course, as fate would have it, I then met the soul mate who would become my baby-daddy and life partner. And he's Colombian! But the least macho, most affectionate, caring, cooking, cleaning Colombian ever. We had excellent chemistry from day one, but he resisted committing to a relationship initially. Then I got pregnant, and we moved in together and lived happily ever after.
Except, some days I hated him. Some days, I longed to be alone again. Sometimes, we'd have sex and I'd feel neglected and unfulfilled.
Once the baby came, the logistics became more difficult, the lovemaking more seldom and more rushed when it did happen. Still, I knew there was great potential and intimacy is not just about mingling genitals.
Gradually, I'm opening up and peeling away the layers of shame and guilt and hurt I had developed around sex. I'm learning to guide him to do what I want and need in bed.
It's an ongoing process, like everything in life, and I'm so grateful to have a wonderful partner and a safe, meaningful relationship in which to explore and practice the true yoga of intimacy.
"To practice yoga without addressing sexuality is missing the point of yoga. Culture has obstructed the deep mutuality that exists between men and women, and we are not present to each other as the whole body, the miracle of life. The notion of there being a distinction between spirit and flesh is a concoction of culture. Rather, to understand the nature of the body and its entire reality requires a total embodiment." ~ Mark Whitwell, Yoga of Heart
Relephant Read:
Author: Michelle Margaret Fajkus
Editor: Catherine Monkman
Photo: Maximilian M/Flickr