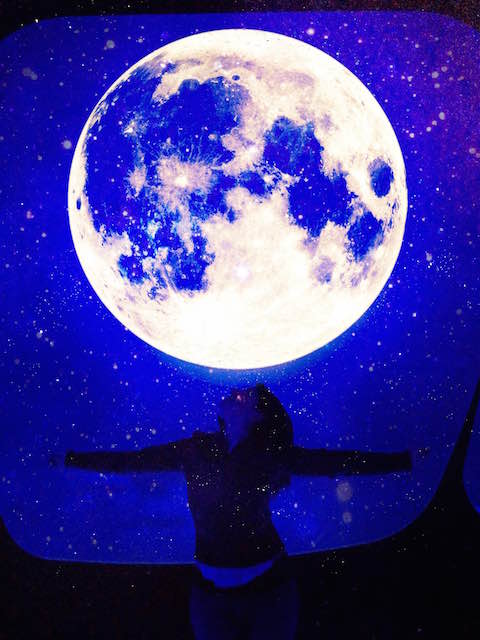 *Eleditor's note: Astrology isn't a religion. We're not sure it's a science, either. It's magic, maybe. But, as with feng shui, say, things affect things. So as long as we don't go blaming our problems on the stars, as long as we assume responsibility for our own actions…well, hell, a little auspicious coincidence and applicable wisdom can't hurt. And so, with that grain of salt…enjoy!
We need this hopeful new moon, so let's welcome her with open arms.
She is extremely powerful and shows up with perfect timing—after the intensity of eclipse season, both Saturn and Jupiter changing signs and a summer-long Venus Retrograde, plus Mercury in retrograde until October 9th.
Seriously, a lot has been happening astrologically! And now, in our midst, we find a beautiful new moon in Libra.
She is the perfect beaded headpiece that we absolutely need to wear. If we are having an intense day, we pick her up, put her on and suddenly become the possibility of beauty, balance and glamour, that may have eluded us recently.
In astrology, new beginnings are powerful—especially the moment of a new moon. (Please see times new moon times for where you live below.)
Use this new moon to reset your thinking, perspective, communication style, writing and speaking goals and psychic abilities. Especially your internal monologue. Think about how you communicate with your partner and your inner-self?
If there is a revamp that could bring you closer to balance, this is a good time to seed it.
The Libra New Moon is interacting with Mercury, Uranus, the North Node and the Sun. Radical, radiant, innovative and so-charming-you-hardly-know-you're-being-revolutionized is the idea here. The Sun-Moon-Mercury-North Node conjunction opposes Uranus, so we are ready to see the world and our deepest-selves and our past in a new way. We can use radical candor to liberate ourselves from outdated modes of thought and communication, so we can move closer to our own personal destiny.
How can we express and manifest our deepest truths, keeping a sense of balance and context?
Libra can sometimes fall into indecision or preoccupation with the opinions of others. This new moon is encouraging us to release some of that worry. Yes, we want to be loved and adored. We are human, after all. But what do we sacrifice in that preoccupation with how others perceive us? How can we pursue harmony while maintaining originality and maintain connection without sacrificing honesty?
This Libra new moon is actually asking us to speak up, speak out and stand out or at least to set our intentions and look toward to area of life in which we most wish to improve. Uranus may bring a flash of genius or sudden change, so stay open. Listen to the words of your important life, love and business partners—especially the words you hear yourself say. Listen to the words you hear welling up from your heart, particularly if they carry a charge of newness and originality.
Honoring the Libra New Moon:
Lunar cycle intention-setting is a powerful practice. Just as farmers have historically planted seeds during the new moon, now is the time to plant deep and sacred seeds of what we wish to manifest. The new moon can be a supercharged, magic rocket that sends your intention straight out into the cosmos, among the stars where it belongs.
Believe.
1. Connect with the Libra vibe.
Venus rules Libra, so place an image of the goddess Venus (or something that reminds you of her) on your altar. Buy a bouquet of pink roses and keep them in view. Put a few drops of rose essential oil on your mattress that night. Burn some jasmine incense.
Or you can make this Venus love potion that I learned from Katelan Foisy:
Venus Love Potion:
hibiscus
rose buds or petals
rosemary
mint
nutmeg or cinnamon
honey
Place all ingredients in a cup. Create a personal balance, with hibiscus and rose as the main ingredients, and then a pinch of mint, rosemary, plus nutmeg or cinnamon and a bit of honey. Say a prayer thanking Venus for her gifts. Pour hot water over all ingredients and hold your hands over the cup as they steep. Sharing this ritual with other powerful goddesses and goddess-worshippers makes it even stronger.
2. Put the new moon time in your calendar (see below) and be present with yourself and your intention at the time of the Libra New Moon. Write your intention down. Tell a friend. Scream it to the sky or whisper to your sacred objects. The manner is of your choosing, just be sure to express it. With intention setting, specificity is key. Keep your intention note on your altar or in your wallet until the full moon, then safely burn and release it.
3. Work with your astrological chart. This new moon occurs at 19 degrees of Libra, so wherever that falls in your chart is the area of life this new moon will impact the most. You can generate a free chart here or seek the help of a professional astrologer. They can help you work the new moon to your advantage.
New Moon in Libra : dates and times.
New York: October 12th 8:06 p.m. EST
Chicago: October 12th 7:06 p.m. CST
Los Angeles: October 12th 5:06 p.m. PST
London: October 13th 12:06 a.m UTC
Hong Kong: October 13th  8:15 a.m. UTC + 8:00
Australia (Victoria): October 13th 11:15 a.m AEDT
Relephant:
Author: Emily Price
Editor: Ashleigh Hitchcock
Photo: courtesy of the author