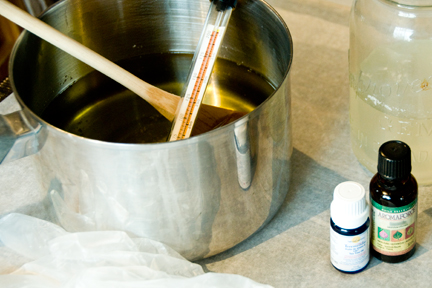 As someone who has had a lifelong love-hate relationship with my hair, I have tried a number of different methods when it comes to caring for it.
In addition to using more hair care products than I can possibly recall, I have at various times experimented with methods that included washing with clay and baking soda and I have even forgone washing my hair entirely for long periods of time.
However, as someone with naturally fine, oily hair, I have found that I need some sort of shampoo on a regular basis.  I enjoy the process of massaging the product through my hair and even though I know that the foaming action of a shampoo is not an indication of how well it works, it just feels so good.
While castile soap is a favorite of many looking for a natural shampoo alternative, using it straight out of the bottle is a bit too drying for my scalp. Plus, I noticed it tends to leave my hair looking a bit dull no matter how much I rinse.
After much experimentation, I found an easy castile soap based shampoo that seems to work for all hair types and does not present the problems mentioned above.
The recipe below is so gentle that I even use it on my kids. Best of all, it can be tweaked many different ways for a variety of hair and scalp issues.
Ingredients:
1/2 cup of liquid castile soap
1/2 cup of water
1 teaspoon of vegetable glycerine
1 teaspoon of jojoba oil
10 drops of lavender essential oil (optional)
Directions: 
Combine all ingredients in an empty shampoo bottle or squeeze bottle. Shake well and allow to sit at least an hour before using.
Use approximately 1/2 teaspoon for short hair, 1 teaspoon for long hair, or 2 teaspoons for very long hair (waist length or longer).
Feel free to experiment with different essential oils. For dandruff or an itchy scalp, replace the lavender with tea tree oil. Oily hair types may want to use rosemary or lemon essential oil. For very dry hair, use 2 teaspoons of jojoba oil and add an extra 1/2 teaspoon of glycerine.
~
Relephant:
~
Author: Kimberly Lo
Editor: Caitlin Oriel
Image: Kim/Flickr