Note: elephantjournal.com received these review items for free, in return for a guarantee that we would review said offering. That said, we say what we want—good and bad, happy and sad.
Turns out, it is actually possible to become a better person just by putting yoga pants on in the morning.
Inner Waves Organics has made slipping into these soft and stretchy tanks and pants a radical act in eco-fashion—wearing their clothes is like wrapping our bodies in an ahimsa hug.
Their clothes are all made of organic cotton from certified organic farms in North America. The fabric is made at a facility in Canada that is now in the process of converting to solar energy. Their dyes are low-impact, and all of the water from the dying process is recycled. All of those pesky fibers that escape during the production process? Scraped off the sides of the machines and used again in the next batch. The freshly-made fabric is then cut and sewn in California. Even the tags on their clothes are made from recycled paper, veggie-based ink, and natural jute.
That paragraph deserves a moment of serious contemplation, followed by a slow-clap of praise and nodding approval.
Have I mentioned that while you are slaying the dragon of fast-fashion and environmental destruction in these clothes, you look fabulous?
Inner Waves clothes don't cling. They're perfectly stretchable and move with your body, without suffocating it.
The Mohala Camisole has a shelf bra that keeps everything in place, and the bodice is just fitted enough not to slide up when we're upside-down, but not so fitted that it scrunches up every five minutes and needs to be tugged down.
The Moana Pants are my new live-in yoga pants. It's probably been too long since I've taken them off, in all honesty. They have fold-over waistband (heaven in waistband form), they don't bunch around the thigh like some of the more stretchy pants, and they come in a handful of rich and dreamy colors. I wear them to yoga class, in yoga class, from yoga class, and while I'm writing articles about what I wear to, in, and from yoga class.
Gentle-yogis, they have clothes for you, too!
The one warning that comes with these clothes: organic cotton is not particularly moisture-wicking. In terms of the environment, this is a good thing—most moisture-wicking fabrics are plastic. In terms of the extra-sweaty yogi, well, you've been warned.
Bottom line? I can't recommend Inner Waves Organics enough.
Their dedication to creating a product that is good for the world is nothing short of admirable, they look great and may or may not be laced with eco-superhero properties, and they've given us a pretty fabulous excuse to wear yoga pants every day (not that we really needed one).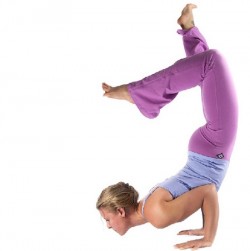 Author: Emily Bartran
Photo: Author's Own