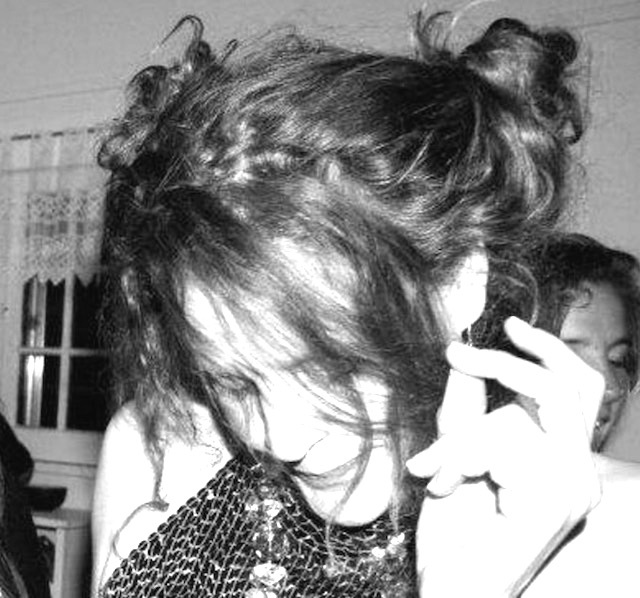 ~
~
I have naturally curly hair.
It's frizzy, it breaks and the ends split.
The ongoing fight with my hair has been driving me crazy my whole life. It's a mess.
One day, as I was sitting quietly, my intuition whispered to me the answer to what was causing all of my spilt ends.
Cutting it. 
What!?
During my teenage years, Cosmopolitan convinced me that it was healthy to cut my hair often. Every six weeks even.
I began to wonder.
I thought back to an old friend of mine, Nikeska. She had the kinkiest hair ever. At the time we were friends, she was 21 years old and had never had a haircut. And her hair was gorgeous—curly, not frizzy, long and no split ends.
But how?
She'd never "taken care of her hair" by cutting it.
My brainstorming experiment expanded to my own little girls. I'd let their hair grow long, never cutting until they were about eight years old. Their hair was gorgeous, long and had no spilt ends.
I was onto something.
I decided to try it out and stop cutting my hair. That was the spring of 2013 and I haven't cut it since.
And it worked!
Today, my hair is a few inches longer, gorgeous, low maintenance and I really don't have any split ends to speak of.
And I've saved a lot of money on haircuts.
The main reason the no haircut lifestyle works for me is because I'm willing to let my hair be its natural length and style. For those who wish to have a desired cut and style, this method would never work.
Where did all the split ends go?
Honestly, it's baffling.
What I do know is that the ongoing battle with my hair is over. I love it.
It's not fancy, but it's practical. I have a wash-and-go hairstyle that I usually put in a bun or ponytail during the day.
Could it really be this simple?
I must let you in on another little secret of mine.
Around the same time that I stopped cutting my hair, I was at an event, talking to a young man with the most gorgeous afro. It was silky smooth, not dry at all, with big bouncing curls. Surprising since we live in hot, dry Colorado. Since I'm not shy. I asked him the secret of his beautiful hair.
Water! Drink lots of water.
He said the more water he drank, the better his hair looked. He swears drinking lots of water made his hair grow faster too.
It's true, drinking more water hydrates our hair, making it stronger and less susceptible to breaking.
Chug a lug!
I started drinking a lot more water. Not only did the condition and look of my hair improve, my fingernails started looking beautiful too. No more dry, cracked nails and hangnails. Now my hydrated nails are perfect and shiny.
The whites of my eyes are whiter too. I swear.
I just keep a full quart jar of tap water on my counter. The chlorine evaporates naturally and I have a delicious, refreshing beverage available at all times.
Water is my favorite drink! 
~
Relephant:
Author: Ashleigh Hitchcock
Photo: Unsplash; courtesy of Rita Bastite